SAFE AND FUN PUMPKIN DECORATING WITH MR. POTATO HEAD
Related:
Mr. Potato Head
,
catching fireflies
,
pumpkin carving kit
,
pumpkin decorating for kids
,
Safety and fun are key with this Mr. Potato Head pumpkin decorating kit that takes sharp blades out of the equation and puts all of the fun into Halloween decorating with the whole family.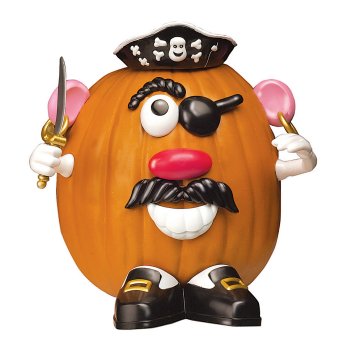 Decorating pumpkins just got a lot safer for your little one with this Mr. Potato Head kit from Chasing Fireflies.
Pumpkin carving and decorating is the quintessential Halloween pastime for families. While it gets the whole gang in the spirit of the spookiest holiday of the year, kids often act as bystanders while adults handle carving utensils, which can take some of the magic and fun out of the event for kids. This year, give your kids a creative outlet that allows them to decorate pumpkins safely (no blade involved), and with a variety of facial expressions and choices, courtesy of the lovable icon Mr. Potato Head.
Kids can create pumpkin personalities with 12-13 interchangeable parts, from hats to eyes and noses that are packed with Halloween spirit. Choose to decorate the toy pumpkin base that comes with the kit, or try applying the pieces to a real pumpkin (not included).
Available online at Chasing Fireflies, a children's boutique with an array of kid-friendly Halloween goodies, you can choose from two pumpkin decorating kit options: witch and pirate, to delight both boys and girls all Halloween-long. The Witch kit comes with a broomstick, witch's hat, and mystical grin, while the Pirate kit comes with appropriate nautical garb, from a typical pirate's moustache and eye patch, to a festive hat and sword.
The "Witch Pumpkin Decorating Kit" is available for $16, while the "Pirate Pumpkin Decorating Kit" is available for $12.
Need a real pumpkin to decorate this Halloween? Check out NYMetroParent's guide to pumpkin picking in your area.
---
Get Your FREE Indoor Activity eGuide!
---
More PRODUCTS Articles
Holiday Fashions for Boys and Girls
Photographer Behind Humans of New York Releases Children's Book
New Book Encourages Kids to Give Up Halloween Candy
Runnin' Wild Kids Shoes Owner Opens Toy Store
Top 10 Audiobooks for Halloween Season