Providence is a city that specializes in throwing festivals.Every third Thursday of the month (except in December), the many galleries in the city are open, and you can stroll around or catch a free "Art Bus" to the ones that are a little further afield.May to October, the three rivers through the city are home to WaterFire, an evening celebration where (contained) fires light the water, and music enlivens the atmosphere.For an extra treat, you can take a gondola ride on the river.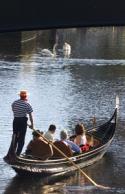 Providence has Brown University, but two other schools make this city appealing to visitors.Rhode Island School of Design has the RISD Museum, with a huge costume collection that children love.The museum also has decorative arts, from furniture to silver, and Egyptian mummies.On the last Saturday of each month, there are free workshops, performance and gallery tours for families.If souvenir shopping is your thing, the faculty and alumni of RISD have a combination gallery/store, RISDworks, where you can be further inspired by design elements.
Johnson & Wales University houses the Culinary Archives & Museum, a must-see for families.Providence is home to the first lunch wagon, a diner on wheels, and an exhibit celebrates the great American eating establishment.Kids can play in a faux diner, taking orders and studying diner lingo.There is also an exhibit, 'On Safari', where kids can 'cook' over a fake fire, and play in a tent.
Many Johnson & Wales graduates stay in the city, making dining out a deliciously complicated choice.Federal Hill has a number of Italian restaurants, a candy company where you can get fresh homemade chocolates, and a large piazza where there is music on warm evenings.
The Providence Children's Museum is not affiliated with any of the city's universities, but it is a great place to learn more about Rhode Island.At the new Rhode Island Story Center, kids can learn about migration to the state.There is also a new Dominican market that focuses on Latinos in the 1960s; it offers a jukebox and vintage games.
One of the oldest zoos in the country, Roger Williams Park Zoo, has an antique carousel, pony rides, paddle boats, and miniature golf in the surrounding park.You can follow the Marco Polo Silk Road with rare animals from the explorer's journeys, and see animals from the Madagascar rainforest.
Getting to Providence is extremely easy — it takes just three hours on the I-95, or by Amtrak.From the train station, you can walk to The Westin Providence, which is also connected to Providence Place, a huge shopping and dining emporium that also boasts an IMAX theater.The Marriott Providence has indoor and outdoor pools, and daily activities including pool games, sand art and a chocolate fountain.
For more info:
—Gallery Night Providence, www.gallerynight.info
—RISD Museum, www.risd.edu/museum
—Culinary Archives & Museum, (401) 598-2805;
—Providence Children's Museum. (401) 273-KIDS; www.childrenmuseum.org
—Roger Williams Park Zoo, www.rogerwilliamsparkzoo.org
—Westin Providence www.westin.com/providence
—Marriott Providence, www.marriottprovidence.com