Since 1999,
Manhattan School of Music
has been offering a special Summer Music Camp for New York City public school students.  Admission is by auditions, which begin this month.   
  The five-week day camp, which is free, provides instruction in classical music, jazz and musical theater and performance ensembles.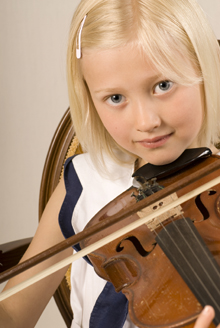 The camp is open to kids in the five boroughs who have completed grades 5-8.  Auditions are in January and February; children must be at an intermediate or advanced level of musical ability and must have studied their instrument for at least one year.  Of the 125 kids chosen last year, 30 were from Queens; over 70 public schools throughout the city were represented.  In 2007, there were over 800 applicants for the 125 spots. Auditions last about 10 minutes and include a musical audition as well as a camper/parent interview  
  Campers get a one-hour music lesson each week in their instrument of voice, plus classes in theory and ear training. Electives include improvisation, conducting and composition.  
  The summer camp staff includes students and graduates of MSM College Division, and NYC Department of Education Certified Music Teachers. Counselors and counselors-in-training include former campers.  
  Camp schedules remember to stress fun, with Friday theme days that may include 'American Idol', pajama day, crazy hair day or twin day. There is also time to play daily in nearby Riverside Park.  
  For kids who have been taking private music lessons, the camp is a revelation; they can participate in an orchestra, band, chorus, musical theater ensemble, chamber music group, jazz combo and Latin jazz band.  There are also recreational activities which include Latin dance, marching band, percussion lessons for non-majors, and stagecraft class, where campers learn about what takes place backstage.    
  Students perform for one another at weekly concerts.  At the end of session, there are camp-wide performances for friends and family.
   Manhattan School of Music also offers a Saturday-only music class, open by audition to kids ages 5-18 from the tri-state area; last year over 450 kids attended these classes (which are not free).  MSM also has an arts-in-education program, which provides music classes in NYC public schools for 2,000 students.
   Auditions are Friday afternoons: January 11, January 18, 25 and February 1 at the Manhattan School of Music, Broadway and 122nd Street.  This summer, camp runs July 1-August 1.  For more information, go to
www.msmnyc.edu
.