After a nationwide search, nine kids from the New York City area were chosen to perform with the cast of "Godspell" on Broadway.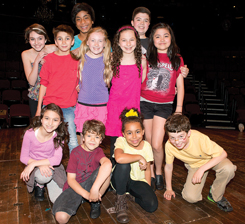 After an open audition this spring that attracted more than 500 budding actors (ages 6-16) from across the country, 10 lucky kids and one understudy were selected as The 'Godspell' Cast of 2032. This troupe of talented children made their Broadway debuts May 22, taking the stage at Circle in the Square Theatre in Midtown Manhattan for a special encore performance following the 8pm showing of Godspell.
Of the 11 kids chosen, nine hail from the New York City area, including:

- Holly Block (swing/understudy), age 13, from Mahopac, NY
- Montana Byrne ("Anna Maria"), age 13, from Morristown, NJ
- Grace Capeless ("Celisse"), age 8, from Teaneck, NJ
- Zoe Considine ("Morgan"), age 11, from Bernardsville, NJ
- Rebecca Goldfarb ("Lindsay"), age 11, from Oceanside, NY
- Gaten Matarazzo ("Jesus"), age 9, from Little Egg Harbor, NJ
- Analise Scarpaci ("Uzo"), age 12, from Staten Island, NY
- Evan Smolin ("Nick"), age 11, from Ridgefield, CT
- Danny Ward ("John the Baptist/Judas"), age 16, from Stamford, CT


"Godspell has always had a tradition of launching the next generation of stars," says producer Ken Davenport. "From the cast members of the original productions like Martin Short, Victor Garber, Andrea Martin, Jeremy Irons, and so on, to the cast members of our current production who I have no doubt you'll be hearing a lot from in the years to come. So we decided, why not get a preview of tomorrow's Broadway stars?"
The current production stars 10 young actors, including Corbin Bleu (of High School Musical fame) as Jesus and Wallace Smith (The Lion King) as Judas. For more information on the show, visit godspell.com.