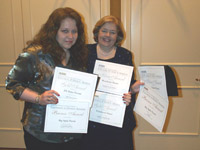 NEW YORK, NY (March 5, 2009) NYMetroParents, Davler Media Group's parenting division, took home eight awards at the 2009 annual Parenting Publications of America (PPA) awards competition held in New Orleans. A panel of judges who have each had significant professional experience reviewed 1,020 entries to choose the winners in each category. This year saw the highest number of publications entered in the contest.
PPA is a nonprofit national organization representing more than 120 parenting magazines and newspapers in the United States, Canada and Australia. "The purpose of the PPA awards competition is to encourage a high level of journalistic performance and service to communities by recognizing editorial excellence and outstanding visual presentation in parenting publications," said PPA Executive Director C. James Dowden.
David L. Miller, publisher of NYMetroParents, said, "We are ecstatic about winning eight awards at PPA. This is a testament to our editorial and publishing team, clearly the strongest in the metropolitan New York area if not in the country. The recognition as being the #1 local parents' website for content is especially gratifying. Our team works very hard to produce a product that is a comprehensive resource for parents in the region."
NYMetroParents publishes six local magazines, Big Apple Parent, Brooklyn Parent, Queens Parent, Westchester Parent, Rockland Parent and Fairfield Parent, as well as www.nymetroparents.com and www.fairfieldctparents.com. In April, Nassau Parent and Suffolk Parent will be added to the family of publications, raising monthly circulation to over 400,000 copies. The company's annual Bar Bat Mitzvah Book (www.nybarbatmitzvah.com and www.ctbarbatmitzvah.com) is the comprehensive resource for planning these milestone events.
Miller further commented, "The three awards won by the Bar Bat Mitzvah Book in its first edition show that the industry's editorial and design professionals recognize the quality of this new magazine. Our team produced a magazine that is aesthetically attractive, well written and smartly designed. Successfully launching a new magazine in these trying economic times is an accomplishment the whole company has taken great pride in."
Below are the winning entries accompanied by judges' comments:
DESIGN
Front Cover/Newsprint: Stock Photo
Gold: Big Apple Parent; "Party Planning;" Mayra Aguilar
Big, simple, colorful rounded images against a plain rectangular background, highlighted by an infectious smile, create a winning cover image. The bold, colorful, rounded type perfectly complements the imagery. Simple, direct, easy to read.
EDITORIAL
Calendar of Events
Gold: Big Apple Parent; Michael Kirwan, editor
This calendar has it all – lots of comprehensive and well-organized listings, interesting break-out boxes and clearly identified photographs. It also promotes its calendar listing on its Web sites by offering free updates delivered via e-mail to readers in a weekly newsletter. It also lets readers know that the Web site for listings is updated on a regular basis – so if nothing in the printed listings for Wednesday look good, you can go online to see if something else is now scheduled. That's great service to readers.
PROFILES
Bronze: Big Apple Parent; "Nick Jonas' Battle with Diabetes;" Danielle Sullivan, writer
Using a popular teen star as a hook for readers — both parents and teens — this piece conveys the symptoms of Type 1 diabetes through engaging, relatable anecdotes that humanize the subject while educating readers about a disease that is rarely associated with teenagers.
WEBSITE
Web Site Content
Gold: NY Metro Parents; Danielle Sullivan; Christine Tarulli, editors
As expected, the sites in this category are rich in content. The site is well-stocked and easy to navigate once you get over the explosion of content on the home page. NYMP shows an incredible investment of time towards building and filling the site, with resources for 35 areas of the tri-state area. The calendar is quite extensive, with descriptions of events, and you can have the calendar e-mailed every week. Great archive of articles, searchable by word and/or category. Reader interactivity with quizzes, contests, blogs and photo submissions.
ANCILLARY PUBLICATIONS
Ancillary Cover
Silver: Westchester Parent; "Bar/Bat Mitzvah Book;" Judy Antell, editor; Jiyon Son, creative director
The charming young men on the cover invite the readers' eyes to the photo. The pair are large enough in the frame to dominate it. The gray background allows the photo and type to stand out.
Ancillary Overall Design
Gold: Westchester Parent; "Bar/Bat Mitzvah Book;" Jiyon Son, creative director
The cover of this magazine combines beautiful photography, typography and a complimentary color scheme. From there, readers won't be disappointed. Each section starts with a colored splash page that is tasteful and bright. The magazine exudes a sense of hip and fun while being useful.
Ancillary Overall Writing
Silver: Westchester Parent; "Bar/Bat Mitzvah Book"; Judy Antell, editor
While a child's Bar or Bat Mitzvah can be a very joyful time for parents, there are also seemingly a million details that go along with it, and this publication does a great job of taking much of that burden off parents. Filled with well written, detailed articles, resource lists and plain old common sense from other parents, this is a valuable publication for families.
GENERAL EXCELLENCE
General Excellence
Bronze: Big Apple Parent; Phyllis Singer, editorial director; Judy Antell, editor-in-chief; Danielle Sullivan, managing editor; Christine Tarulli, deputy editor
Big Apple Parent offers a deep well of information, expertly packaged, to give readers thorough, valuable content. The overall look is bright, cheerful and efficient. The writing is clean, clear, upbeat and fun. Listings are brief but dense with information. Ideas are fresh and delightfully unexpected — "Real World Math Tips" explained math levels by grade and gave parents a road map to progress, for example. The magazine fulfills a critical mission as a complete resource for parents in a complicated city.
Davler Media Group (www.davlermedia.com) was founded in 2004 by publishing entrepreneur David L. Miller and a leading private equity firm specializing in media and communications, Alta Communications. Specifically, Big Apple Parent has been thriving since it was founded in 1984; the company's most recent launches included Rockland Parent in September 2007, Fairfield Parent, September 2008, and, coming in April 2009, Nassau Parent and Suffolk Parent. Davler creates print and online publications that help New York metropolitan area residents and visitors make superior choices about how to spend their time and money. Davler clients gravitate to these most coveted consumers at the precise moment they are making purchasing decisions. Davler Media publications offer targeted guides, listings, directories, and award-winning editorial content that are both timely and comprehensive. In addition to the parenting magazines, Davler publishes City Guide magazine, the largest visitor magazine in NYC, and www.cityguideny.com. Davler's Promenade magazine, which has been published since 1934, is the magazine for affluent visitors who stay in New York City's luxury hotels. For more information, visit www.davlermedia.com.