Flex Your Toes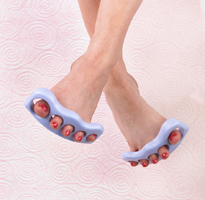 If you little piggies are spending their days stuffed into tight shoes or high heels, the Flex-Tastic is for you. This foam toe stretcher helps realign your feet, and can lead to better balance – and kudos from your yoga instructor! From ProFoot, $9.99 at Walgreens. www.profootcare.com.
Please Squeeze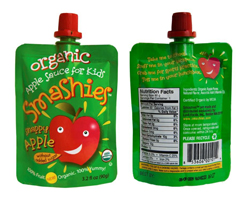 Snacks for kids need to be healthy (for the parent's sake) and fun (for the child's).Smashies fits the bill, and tastes good, too. This organic, no-sugar-added applesauce comes in pouches that kids squeeze directly into their mouths. Great for lunchboxes or in the stroller, with no spoon needed. Each serving is the equivalent of a whole fruit. $1.49 at Whole Foods or www.smashies.com.
Made in the Shade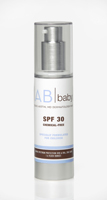 AB Baby, made by a NYC dermatologist, offers chemical-free protection for babies and kids with sensitive skin. The SPF-30 sunscreen is formulated to work immediately, so you don't have to wait the 15 or 30 minutes that other sunscreens need. Made from vitamins A, C, E, and green tea extract, the broad-spectrum cream is also an excellent face cream for adults.$30 at www.abskincare.com.
Baby Soother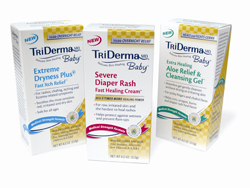 Combat diaper rash, itchiness and eczema with TriDerma MD® Baby products, including All-Purpose Aloe Healing & Cleansing Gel, Severe Diaper Rash Fast Healing Cream, and Extreme Itch & Dryness Fast Healing Cream. The organic aloe used in all three soothes and moisturizes skin. Unlike many diaper rash treatments, this one doesn't leave a heavy white film. And the healing gel is great for little nicks and scrapes. $14.99 at Walgreens or www.triderma.com.
Out, Out D@*! Blood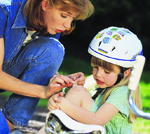 For many kids, the worst part about a cut is seeing the blood.And for many parents, the worst part is hearing their child cry about said blood. BloodSTOP is a gauze pad that forms a gel to stop bleeding in under a minute. After a hour, you wash the gel off with water and apply a bandage. BloodSTOP can also be used for nosebleeds.Ten in a package, $14.99 at www.amazon.com. Get more info at www.lifesciencePLUS.com.
Let There Be Light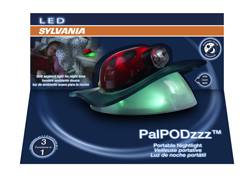 A nightlight in your child's room may scare away monsters, but then there's the hall, the bathroom, and maybe the rest of the house.The new PalPODzzz™ Portable Night-Light is both a nightlight and a rechargeable flashlight, so it can help a kid who is potty trained find his way to the toilet. And since it works on both electric and battery power, it serves as a backup light in a power failure. In ladybug or rocket ship designs, $19.99 at Home Depot or www.sylvania.com.
More From Your Photos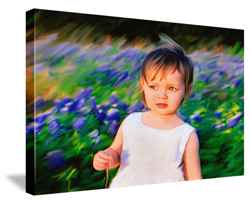 Canvas on Demand is the latest way to showcase your photos, and makes a great Valentine's present. The company takes a high-res image (1 mg or larger) or a crisp photograph and prints it on canvas. These works of art start at $59 for an 8 by 10-inch print, and can get much bigger (and more expensive). Great for last-minute gifts; they ship within four business days