Unless you're Heidi Klum or Angelina Jolie, pregnancy can present some frustrating wardrobe dilemmas. But now there's a new concept in maternity shopping. Mine for Nine is an online boutique that allows women to borrow designer maternity clothes at 75 percent off retail price.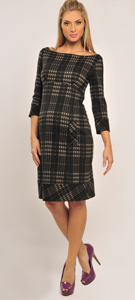 Mine's ever-evolving closet of maternity attire for professional, casual, and special-occasion wear includes dresses, suits, skirts, blouses, pants, coats, and more, in new or like-new condition. All clothing is loaned on a monthly basis, except special-occasion dresses that have a 14-day borrowing window. There are no limits on the number of items you can borrow, no late fees, and returns are made easy with postage-paid packaging. Standard shipping is free on orders over $75. And if you fall in love with something, it can be purchased at full price.

For more information, visit www.minefornine.com.