SILENT TREATMENT
   If you've lived through a child learning to play violin, you will appreciate
Yamaha's Silent Violin
as a godsend!  It comes in red, blue, black or brown, and can be played both with and without sound (when you plug in the headphone, only the player will hear himself).  Unfortunately, it is only for kids a bit long in the tooth — or arm; it's only in a full-size version, which means your 5-year-old will still be squeaking.  But for an older child yearning to play, this offers the perfect silent treatment.  $925; to find a retailer, go to
www.yamaha.com/band
.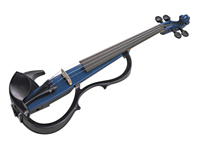 EASE WITHOUT THE WHEEL


   The new
iPod Touch
makes using an iPod even easier.  You tap icons on the screen, instead of using a click wheel, and you can buy music wirelessly  in Starbucks stores!  As long as you have money in an iTunes account, you can buy music that's playing in Starbucks. The Touch also lets you access the web, via a Safari browser.  You can watch videos in wide- or full-screen.  $299 for 8 GB; $399 for 16 GB at
www.apple.com
.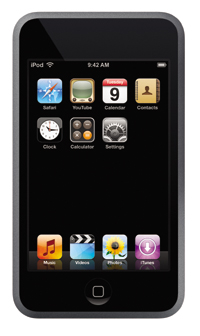 QUICK SHOP


If you have a Blackberry, you probably like to do things on the fly.
Digby
is a free shopping service you can download to your smart phone (Treo and iPhone are coming) for quick and easy shopping.  Digby coordinates with your address book and stores credit card info, so you can shop from Barnes & Noble, Best Buy, Target and more (there are currently 14 retailers), in just seconds.  Download at
www.digby.com
.
EASY SEND


Edit and then share videos with family and friends after uploading them to the free service,
Motionbox
. There is also a premium membership, for $29.99 a year, which offers unlimited storage; for the free service, videos are limited to 100 MB, and storage is capped at 300 MB.  Even more fun: You can take a 15-second clip and have the wizards at Motionbox turn it info a flipbook for $8.99.  Sign up at
www.motionbox.com
.
PRINCE OF PRINTS


Get those photos off your digital camera with the surprisingly affordable Canon printer,
Sephy CP740
($99).  The printer woks right from memory cards or via camera connect with a USB port — no need to download to a computer first.  You can even preview and edit photos first on the 2-inch color LCD screen. Printing is on the slow side; nearly a minute, but colors pop.  Get more info at
www.usa.canon.com
.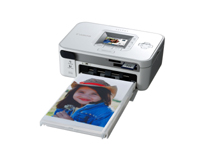 THEY OUGHTA BE IN PICTURES


Kids as young as 5 can star in High School Musical with Disney's new
Flix Video Cam
.  The lightweight digital video camera comes with a High School Musical pack so that kids can act out scenes from the movie and add special effects on a computer (PC only).  The camcorder has 4X zoom, built-in mic, and tripod.  $99.99 at Target and Toys R Us, and at DisneyShopping.com.  Additional Disney Director software titles include Cinderella and Pirates of the Caribbean ($14.99 each).