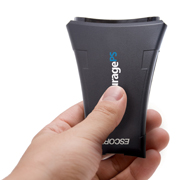 Keeping Track
Even when their kids have cell phones, parents need the peace of mind of knowing where their children are (when the child doesn't answer the phone, or it runs out of power). The ESCORT Entourage PS is a small, lightweight GPS that a parent can stash in a child's backpack. With a smartphone or computer, you can find out exactly where your child is, and when he leaves, enters, or moves from a preset zone, like your house, you get an email and text message alert. The ESCORT Entourage PS is $349.95; monthly subscription fee is $14.95.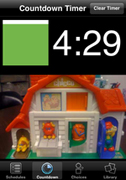 Picture That
iPrompts, a new app for iPhone and iPod Touch, is a picture-based communication tool for kids with special needs. Because visuals are often used to help those with language and behavioral challenges, including autism, Down syndrome, and ADD/ADHD, iPrompts lets you create picture-based schedules of events, countdown timers or choice prompts between two images. There are hundreds of photos and images to select from, and you can add more with the iPhone's camera. The app helps kids transition between activities and communicate with parents and teachers. At Apple's iTunes Store, $49.99; get more info at www.iprompts.com.
Games Highlight

Wii Fun
Family Fun Football (Tecmo, $29.99) is a great way for kids and parents to learn and play the game of football. There are mini games for halftime, but the football action is the draw-up to four people can play. 2KPlay offers Ringling Bros. and Barnum & Bailey ($39.99) with 40 circus games, including juggling and acrobatics. Wii Sports Resort Nintendo, comes with a Wii MotionPlus so you can compete in archery, basketball, and golf, and cycle, canoe and wakeboard. $49.99

DS Games
Professor Layton and the Diabolical Box boasts 150 brainteasers, riddle and logic games. After you solve the central mystery, you can download bonus puzzles. There are also puzzles in Mario & LuigiTM: Bowser's Inside Story and two stories that players follow through. Tween girls will like the fashion play in Style Savvy, where they become clothing boutique owners, building an inventory and putting together outfits for customers. All DS games are $29.99 from Nintendo.

The Winter Olympics
Can't get to Vancouver? Play Mario & Sonic at the Olympic Winter Games, the SEGA game, where you compete in figure skating, bobsled and downhill skiing. $49.99