Related: AllergyEats, food allergy, restaurant, dining out, allergy friendly, guide, kids, family,



A father of three children with food allergies founded AllergyEats to make dining out easier for allergy sufferers everywhere.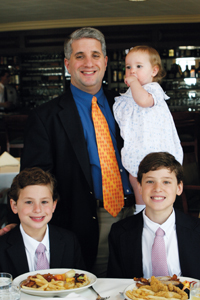 Most families enjoy giving Mom and Dad a break in the kitchen and going out for dinner. But things get complicated when one or more family members has a food allergy. That's why Paul Antico, a father of three children with food allergies, created AllergyEats, a website that lists allergy-friendly restaurants. This easy-to-navigate site provides peer-based feedback about how well restaurants accommodate the needs of food-allergic customers. Go to www.AllergyEats.com for a selection of more than 600,000 restaurant listings across the country.
More News & Tips: Services Articles
Your Driver Is Here Offers Car Service for Minors
Trick-or-Treat for UNICEF
How to Soothe a Camera-Shy Child
The Sunshine Gallery Retail and Consignment Store Opens in Nanuet
10 Things to Do if Your Pet is Lost

Be a good fellow parent and share this with a friend who would be interested
Local News & Tips: Services Sponsors
See Our News & Tips: Services Directory