The NYC School Gardens Initiative has launched a website that will act as a one-stop online resource for any public school looking to build, sustain, and program their own garden.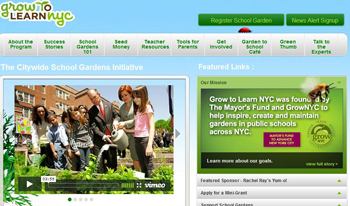 New York City public schools can now go to www.nyc.gov/growtolearn (or www.growtolearn.org) to access information on how to plan a school garden, register a garden, apply for a grant, and ask technical gardening questions. The website also offers discussion boards, connections to educational resources, inspirational success stories, and more. The visually bold and interactive site will be updated regularly in response to feedback from the school gardens community.
While New York City's public education system includes approximately 1,600 schools serving 1.1 million students, there are fewer than 300 school gardens. Studies demonstrate that gardens serve as forums for meaningful academic and nutrition education that can create long-term behavior change. They can also help connect children to the natural world, provide hands-on learning opportunities, instill environmental stewardship, transform children's food attitudes and habits, and increase physical activity.
The NYC School Gardens Initiative launched in 2010 and serves as an umbrella for school garden activities, providing centralized coordination for government and non-government efforts to ultimately ensure that all public schools are connected with needed tools and resources to successfully build and maintain school gardens.
"Just like the gardens in schools across the city grow, our website is a living, ever-changing dialogue with school communities looking to teach, learn, and collaborate," said Marcel Van Ooyen, Executive Director of GrowNYC, a non-profit environmental organization that joined forces with the Mayor's Fund to Advance New York City, the New York City Department of Education, New York City Department of Parks and Recreation, the New York State Department of Agriculture and Markets, and several other government and nonprofit partners to build the website.