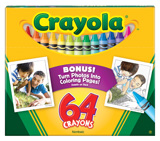 Color Your World
Crayola has a new way to integrate playing on and off the computer. Its Lights, Camera, Color creativity program lets kids remove the color from digital photos, print out the black and white versions, and use crayons to color them back in. They can add graphics and text, too. You can see how the program works free at craylon.com/colorme, but to print out personalized coloring pages, you need the code on specially marked boxes of Crayola crayons. The codes come on 48, 64, 96, and 120 count boxes, and on the 150 count Crayon Tower, $24.99 at amazon.com.

Sweet Memories
Kids with a sweet tooth will love saving their work or sharing photos or music with Hershey's Miniatures memory sticks. The USB memory sticks are shaped like Hershey's milk chocolate, Krackel, and Mr. Goodbar; for those who don't like chocolate, try Twizzlers or Bubble Yum. In 1GB, 2GB or 4GB; $14.99-$29.99 at Best Buy.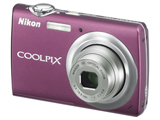 Always Gets the Smile
Nikon Coolpix S220 gets the cheese every time; in Smile Mode, the camera detects a smile and automatically takes a picture. There is a Scene Auto Selector that adjusts the camera's settings to perfect the background, and an auto-fix for accidental red-eye. In six cool colors, including plum and aqua, the slender camera is only $149.95 at Best Buy.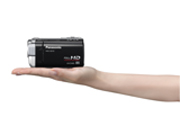 High Def Without Heft
Panasonic has a new half-pound high definition camcorder, the HDC-SD10, with an easy-to-use touch screen, and a Pre-Rec feature that continuously records three seconds; if you are a little late hitting the Rec button, you still get the previous moment. There is also one-touch copying onto a DVD, so you can easily share, and save, videos. $549.95 at amazon.com.