Cancun may be a choice destination for Spring Breakers, and singles, but there's a resort area a 45-minute drive south along the Yucatan Peninsula that is growing fast, and offers much for family vacations — the Riviera Maya.

   The resorts dotted along this 95-mile stretch of Caribbean Sea coast took a hit during last year's hurricanes, but it took only a few months for the hotel industry to get this burgeoning area back on track.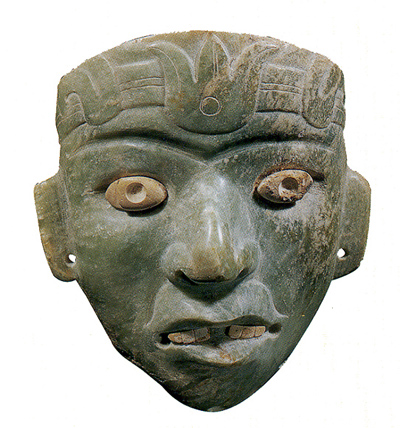 You could just head to a Mexican Riviera resort and stay there.  The white sand/warm turquoise water beaches are clean and beautiful, and the resorts are being built with a commitment to the ecosystem, and to showcase the colorful culture that is Mexico.

   But families usually need some off-site excursions, too — which is where this area has a lot to offer.

History and culture
   The famous Mayan ruins at Chichén Itzá, with their intact Kukulcán Pyramid, are 271 km. away — doable as a day trip.  Closer, however, is Tulum, less than an hour's drive.  While there are hundreds of archaeological sites dotted throughout Mexico, Tulum was the only city built right on the Caribbean Sea, and its intact temple — complete with the altar once used for human sacrifice — sits high on a hilltop, where it once doubled as a lighthouse, guarding the only way in — via sea.  The views are spectacular, and the sense of history awe-inspiring.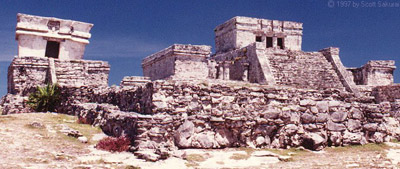 You can continue an exploration of Mayan culture at the National Institute of Anthropology and History (closed Sundays), a small museum on the ground floor of the Convention Center in Cancun.  The rich Mexican cultural traditions can be experienced at a bullfight at the Plaza del Toros, or at a performance of the acclaimed Ballet Folklorico Nacional de Mexico-Aztlan at Continental Villas Plaza.

Shopping!
   Playa del Carmen is the largest town on the Riviera Maya, and is worth the visit — to stroll through the endless avenues of souvenir shops, tequila bars, and nightclubs.  While Mexican silver is no longer the bargain it once was, you can still haggle for good prices on Mayan stone masks, handpainted serving ware, and happy wooden skeletons.

Natural wonders
   The kids will love the iguanas and guinea pig-like agoutis that scamper around Riviera Maya resorts, but a day at one of the area eco-parks will provide many nature and environmental lessons.  We went to Xel-Ha, a 10-minute drive from the Tulum ruins.

   The daily admission price is $33 adults, $23 children, but this is all-inclusive, covering meals and snacks in the several (good!) restaurants, lockers and towels, and equipment for enjoying the varied water sports.  Note that only biodegradable sunscreen is allowed! Mayan for "where the water is born", Xel-Ha is located in a beautiful, natural setting of coves, lagoons, and underwater caves.  The ancient peoples used this area as a port and safe harbor as they navigated the coast.  Now you can easily spend a day here, and the kids may very well ask to return!

   Activities range from very active (snorkeling. kayaking, rope crossing), to moderately active (tubing down the lazy river), to downright decadent (snoozing on Hammock Island, or luxuriating in the on-site spa).  You can try Snuba — a combination of snorkeling and scuba, where you wear a mask and weight belt and breathe through an air hose connected to a tank that floats above the water. No certification is required, just brief instruction.  Kids should be around age 8 and up.

   Or you can swim with the dolphins; the one-hour excursions cost $115 person and kids need to be a minimum 43 in. tall.  The 5-meter jump off Courage Cliff is exhilarating good fun, but it's also lovely to just walk the natural pathways, spotting the native wildlife and tropical flowers.  If you visit between April and November, you can experience the bonus of Marine Turtle Camp.  Responding to the smell and taste of the sand, it's believed these turtles return to place their eggs on the beach where they were born.  Xel-Ha is a safe haven for nesting Loggerhead and Green turtles; each season, park staffers help release over 20,000 baby turtles into the sea and visitors are invited to watch the amazing birth process.

   Divers can experience the famed cenotes on a small scale at Xel-Ha. Unique to this area of the world, cenotes (pronounced sen-oh-tays) are literally sinkholes — fresh water pools connected to submerged caverns. The ancient peoples revered these sources of fresh water, and considered them mystical. The Yucatan Peninsula is also famous for its underground caverns and caves where you can swim and dive in crystal clear, turquoise water, with stalactites hanging overhead. Tours leave all the major hotels, and accommodate beginning divers/swimmers to experienced.  Cavern diving, however, requires certification.

Info:
For more info on the Riviera Maya area, check out these websites:
—www.docancun.com
—www.cancunandrivieramaya.com
—www.travelyucatan.com

Where we stayed:
   Viva Wyndham Maya is perfect for families because it offers resort activities, all-inclusive, at great prices.  Even after a recent $10 million renovation, post hurricanes, the VW Maya offers great value for a prime resort right on the ocean.
   In low season (September-October), adult rates start at $111 per person per night.  Kids are $50.  Even in the high season (January 30-April 15), these increase to just $182.  What's included: all meals and drinks, including the gourmet-level restaurants; use of the fitness center; daily Kids' Club; sports and equipment — for kayaking, canoeing, windsurfing and beach volleyball; nightly entertainment in the open-air theater; and all taxes and gratuities.

   Rooms are all the same at VW Maya — you get either two queen size beds or a king.  But a family can take two adjoining rooms and the price remains the same (you pay by person, not by room).

   What's impressive about the Viva Wyndham Maya (and indeed, the chain's all eight resorts in Mexico and the Caribbean) is the attention to detail that parents, in particular, will appreciate.

   Everyone gets a wristband upon arrival.  This signals your guest status and acts as payment for all goods and services; you can then stow your purse or wallet in your room safely for the duration of your stay.  In every room, there's an iron and ironing board; a coffee/tea maker; and a mini-fridge, which is replenished daily with (free) bottled water and sodas.

   In Mexico, the drinking age is 18.  VW Maya guests under this age get a different-colored wristband, and they won't be served alcohol. 

   You don't have to schlep the family's snorkeling equipment — this is provided free of charges. As are bicycles.

   There's a 24-hour medical clinic on-site, and a doctor available 24/7.  It's unlikely the kids will need this service while attempting the climbing wall or enjoying the trampoline — both activities require a harness and can be done only with staff supervision.

   There is no video arcade but, rather, active offerings like table tennis, basketball hoops, and tennis with free lessons.

   And the flexibility of the Kid's Club is a real plus.  While it runs daily from 9:30am-5:30pm, ages 4-12 can partake in all, or just some of the activities — however they choose.  The list and times are posted each day, so if your single child is shy about signing up for a whole day, he or she can try it out by joining in on sandcastle building or pool basketball — and parents can choose to stay with their kids.  If your kids hate bingo, they can skip that activity.  They can play chess instead on the over-sized lawn set, or take a hammock nap.  Babysitting is available in the evenings, at $5 per hour per child.

   And guests at the Viva Wyndham Maya have free access to the facilities and restaurants at their (smaller) sister resort, the Azteca, a five-minute walk away.  There is just no chance to be bored here.

   Don't forget Mom — both the Maya and Azteca have full-service Renova spas.  Spa services are not part of the all-inclusive deal, but a massage in the breezy cabana right on the beach is well worth it!

   NOTE: European tourists flock to Riviera Maya resorts.  You may want to prepare kids for the European women who often sunbathe topless on the beaches.

   For more info on Viva Wyndham Resorts, call 1-800-WYNDHAM or go to www.vivawyndhamresorts.com.  Ask about special family deals.  In June and July, for instance, each kid under 17 stayed free with a paying adult.

Getting there: The resort is a 45-minute drive from Cancun Airport.  They will arrange transfers for an extra charge (approx. $42 person).