Related: easy recipes, finger foods, recipe ideas, dinner party, throwing a dinner party, oscar party,



The 84th annual Academy Awards are this Sunday, Feb. 26. Here are some easy, tasty recipes from QVC's David Venable that will help make your Oscar party a success.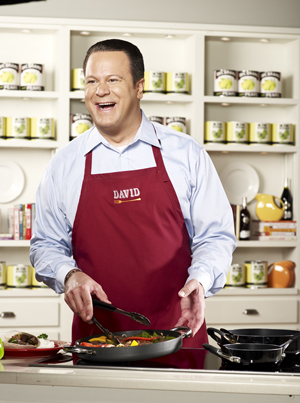 Hosting an Oscar Party this Sunday, Feb. 26? QVC's David Venable, who sells everything from food to clothes and is the host of "In the Kitchen with David," shares tasty recipes for appetizers that are easy to prepare.






BAKED BRIE WITH RASPBERRY JAM, ALMONDS, AND CRANBERRIES
Ingredients:

1 (10-inch x 10-inch) piece frozen puff pastry, defrosted
1 (8-oz) wheel Brie cheese, rind in-tact
2 tablespoon seedless raspberry jam
1/4 cup sliced almonds, toasted
1/4 cup dried cranberries, softened in hot water, drained, and patted dry
1 egg yolk
1 teaspoon water
Crackers (optional, for serving)
Sliced baguette (optional, for serving)
Sliced apples (optional, for serving)
Grapes (optional, for serving)

Directions:

Preheat the oven to 375°F. Combine the egg yolk and water in a small bowl, then set aside.

Slice the Brie in half (like a bagel) so you have two circles. Place the puff pastry on a greased- or parchment-paper-lined cookie sheet. Spoon out 1 Tbsp of the raspberry jam and drop it in themiddle of the puff pastry. Spread the jam into a circle approximately the size of the Brie.

Place one half of the Brie, rind-side-down, on the jam. Spread 1 Tbsp of jam over the Brie then sprinkle the almonds and cranberries on top. Place the second half of the Brie, rind-side-up on top, and spread with the remaining raspberry jam. Brush the edges of the puff pastry with the egg wash then fold up the edges to cover the cheese. Trim any excess pastry and press to seal.

Flip the covered Brie over and brush the other sidewith the remaining egg wash. Bake for 25 minutes, or until golden brown. Remove from the oven and let stand for 15 to 20 minutes before serving. Serve with crackers, baguette, apples, or grapes.

WHITE BEAN DIP WITH GARLIC AND SUN-DRIED TOMATOES

Ingredients:
15-ounce can cannellini beans, drained and rinsed
2 tablespoons of lemon juice
1/4 cup extra virgin olive oil
2 cloves of garlic
1 teaspoon of onion powder
Pinch of cayenne pepper
4 marinated sun-dried tomatoes
1/2 teaspoon rosemary, chopped
1/4 teaspoon kosher salt
1/4 teaspoon ground black pepper
1 teaspoon chopped chives, to garnish
Toasted pita chips for dipping
Directions:
Place beans, lemon juice, olive oil, garlic, onion powder, cayenne, sun-dried tomatoes, rosemary, salt, and black pepper in a food processor. Pulse the ingredients until smooth. Carefully remove the blade, empty dip into a serving dish, and garnish with chives. Serve alongside of toasted pita chips for dipping.

CRANBERRY COCKTAIL MEATBALLS

Ingredients:
2 pounds ground beef
1 cup cornflake crumbs
2 eggs
1/4 cup chopped fresh parsley
1/3 cup ketchup
1/4 cup minced onions
2 tablespoon. soy sauce
1/4 teaspoon garlic powder
1/4 teaspoon ground black pepper
16 ounces of can jellied cranberry sauce
12 oucnes of chili sauce
1 tablespoon brown sugar, packed
2 teaspoon lemon juice
1/2 cup fresh cranberries
3 tablespoon olive oil
Directions:
Preheat oven to 325°F. In a large bowl, combine the ground beef, cornflake crumbs, parsley, eggs, ketchup, onion, soy sauce, garlic powder, and pepper. Mix well and form into small balls, about 3/4-inch diameter.

Add the olive oil to a 10-inch open sauté pan or straight-sided skillet over medium-high heat. Working in batches, brown the meatballs on all sides and set aside. Drain the excess grease.

In the same pan, combine the cranberry sauce, chili sauce, brown sugar, and lemon juice. Add cranberries. Cook the sauce over medium heat, stirring occasionally, until well incorporated. Add the meatballs back into the pan with the sauce. Place in the oven and bake for 30 — 35 minutes. Remove from oven and serve.
See more of David's recipes here and catch him when he hosts "In the Kitchen with David" Wednesdays at 9pm EST and Sundays at 12pm EST on QVC.
---
Get Your FREE Indoor Activity eGuide!
---
More BLOGS Articles
Meet the Intern: Emma Rausch
The Best of the Rest of the Web: Paternity Leave, Sleepless Nights, and Escape to Amish Country
The Best of the Rest of the Web: Kids Are Weird, Multitasking, and Work-Flex Benefits
The Best of the Rest of the Web: Max Gamer, an Accessible Icon, and Celebrating Small Milestones
The Best of the Rest of the Web: Sunny Days, Family Vacations, and The Good Mother Myth

Be a good fellow parent and share this with a friend who would be interested
Local BLOGS Sponsors
See Our BLOGS Directory