Update your Passover recipe repertoire this year with this delicious dessert dish full of healthy ingredients. Plus, see our tips on how to get your kids involved in the cooking.
Pear and Apple Passover Kugel
This hearty, homey kugel is just sweet enough to make it a delicious dessert, but would also be perfect as a side or brunch dish. Serves 12-15.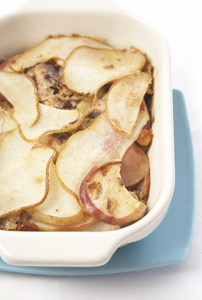 Ingredients:
Vegetable oil cooking spray
4 whole wheat matzo sheets
3 eggs, beaten
1/4 teaspoon salt
2 tablespoons orange juice
1 teaspoon orange zest (optional)
4 tablespoons brown sugar
1/4 cup canola oil
1 teaspoon ground cinnamon, or to taste
2 apples (Gala, Cortland, Golden Delicious or Jonagold apples work well)
2 pears (use Bosc or firm Bartletts)
1/2 cup golden raisins or dried cranberries (optional)
1. Preheat the oven to 350°F, and lightly spray a 13 x 9" baking dish with cooking oil.
2. Core and thinly slice the apples and pears. If desired, quarter the slices for easy serving. Set aside about 8-10 slices for the garnish on top of the dish.
3. Soak the matzo sheets in a bowl or pan of water for 10 to 15 minutes until soft. Drain in a colander and break into pieces, mashing them and squeezing out any excess water.
4. In a separate bowl, blend the eggs, salt, orange juice, orange zest (if using), brown sugar, oil and cinnamon. Add the softened matzo, and mix well.
5. Gently fold in the apple and pear slices (reserving the garnish) along with the raisins or cranberries (if using).
6. Evenly spread the mixture in the prepared baking dish, top with the reserved apple and pear slices down the center of the dish.
7. Cover in foil and bake for 45 minutes, then remove the foil. Lightly spray the kugel with cooking oil and return the dish to the oven for 15 more minutes, or until lightly golden.
8. Remove from oven and allow the dish to cool for 10 minutes before cutting and serving.
Kids in the Kitchen:
Make sure an adult does the slicing and cutting, but get the kids involved with soaking and tearing the matzo, cracking the eggs, and stirring the ingredients together. They might especially like adding the final garnish.