Taking home the trophy for the 24th time, Patrick Browne Jr., a longtime mentor of the New York Giants' Eli Manning, wins the "Masters" of blind golf for the 24th time on June 22, 2012 at the 35th annual Golf Classic.
Guiding Eyes for the Blind, a global leader in elite guide dog training based in Yorktown Heights and Patterson, held its 35th annual Golf Classic on June 22. New York Giants quarterback and Super Bowl XLVI champion Eli Manning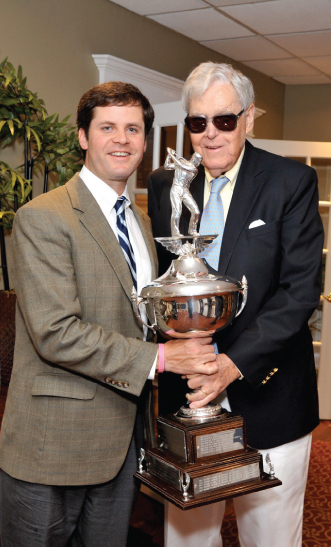 Patrick Browne Jr. (right) celebrates his 24th Golf Classic win with his son and coach, Patrick Browne III. Browne Jr. was inducted into the United States Blind Golf Association's Hall of Fame in 2008.
returned for his sixth consecutive year as host, during which he chatted with more than 288 golfers over the course of the two-day event held at Mount Kisco Country Club in Mount Kisco and the Fairview Country Club in Greenwich, CT.
Founded in 1977 with the help of PGA legend Ken Venturi, the Golf Classic has become the largest annual fundraiser for Guiding Eyes and is considered the "Masters" of blind golf. Each year, more than a dozen of the top blind golfers in the U.S. compete for the coveted Corcoran Cup. Last year's winner, Patrick Browne Jr. of New Orleans, took home the title for the 24th time, while David Meador of Nashville received the second-place Cribari Trophy.
Eli Manning learned of Guiding Eyes' Golf Classic through Browne, a longtime family friend. When Manning was a young boy, Browne taught both Manning and his own son, Patrick Browne III, the game of golf. Having previously been instructed in the nuances of blind golf, Manning lived up to his MVP status at the tournament by covering his eyes with a blindfold and sinking a 10-foot putt.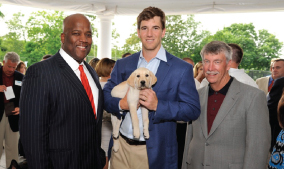 Eli Manning (center) with Rodney Smith (left) and Richard Smith of Entergy,
a Diamond sponsor of the 35th annual Guiding Eyes for the Blind Golf Classic.


"Getting to be here each year and meeting firsthand the people whose lives are changed through Guiding Eyes and its dogs is incredibly rewarding," Manning says. "It's amazing how much more people can accomplish because of these dogs. It's an honor to be part of this."


Guiding Eyes for the Blind provides guide dogs, professional training, and follow-up support services to blind and visually impaired individuals at no cost to them, and it depends on contributions to fulfill its mission. Additionally, Guiding Eyes' Heeling Autism Program places specially trained service dogs with children on the autism spectrum. To find out more about Guiding Eyes, including how you can get involved with the organization, call 800-942-0149 or visit guidingeyes.org.