With the snow on its way, how can I make sure my children have fun outside while still playing safely?

   With everything from sledding to snowshoeing, playing in the snow can be one of the best parts of winter.  In order to make sure your family is able to experience all that winter sports have to offer, it is important to follow a few simple precautions.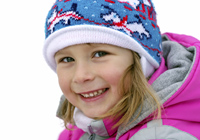 The first step to ensuring a safe and fun outdoor experience is to keep warm. When helping your child dress for the outdoors, it is best to layer clothing. Begin with an undergarment made of synthetic fiber (cotton should be avoided), followed by a light shirt or turtleneck. Add a fleece or sweater and waterproof pants, and finish the outfit with a warm jacket, scarf and hat.  Thick mittens or gloves, waterproof boots and wool socks will help to prevent frostbite.
 
   It is key to remind your child that even if they are having a great time sledding, it is important to come inside when they begin to feel cold.  They should also be told to watch out for frostnip, an early sign of frostbite, which leaves the skin white and numb. If your child does have frostnip, immerse the body part in warm water. If they have frostbite (fingers, toes, noses and cheeks are the most commonly affected areas), immediately take them to the nearest emergency room. Aside from frostbite, the clothing your child wears will reduce the chance of other health ailments such as hypothermia and respiratory illnesses, which are highly prevalent during the winter months. Along with wearing the right clothing, it is also important to apply sunscreen because the bright white snow can reflect up to 85 percent of the sun's ultraviolet rays.

   Activities like ice-skating, sledding, snowboarding and skiing cause most winter accidents, and often it is children who get hurt. Depending on your child's planned activity, various protective gear may be required. Whether they are sledding, skiing, snowboarding or skating, a helmet is very important.  Helmets can vary depending on the sport, so it is a good idea to speak with a sporting instructor or sporting good store employee on the best option for your child. Kneepads, wrist guards and shin guards should also be worn.
 
   Skiing and snowboarding have become more popular among young children. Before hitting the slopes or bunny hills, parents should make sure their child is ready. If your child is interested in participating in these exciting sports, it is best to enroll them in an instructional course. Because these activities can result in many spills, make sure your child is wearing the correct size ski/snowboarding boots because ankle and leg mobility is very important.

   Winter can be a great time for outdoor play for both children and adults. By following these precautions, you can ensure your family has many exciting, warm memories of chilly snow days. 

Dr. Narula is Chairman of Pediatrics, New York Methodist Hospital, Brooklyn.