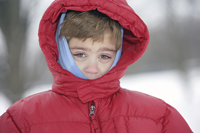 It might look like a winter wonderland, but the cold weather can have dangerous side effects. As families hit the slopes this season, parents must take preventative steps to ensure that children do not get hypothermia and frostbite.  Knowing the signs of these conditions, making sure kids are dressed appropriately and warmly, and following some simple steps can be all it takes to keep your kids safe.
   If your child starts to shiver or becomes clumsy and sluggish, or if his speech is inaudible, hypothermia may be setting in. This means that your child's body temperature has fallen below normal.  If this happens, bring him indoors and call 911.  While waiting for help, carefully remove outer clothing, lay him on a warm blanket, and utilize your own body heat to help warm his body slowly.
   Frostbite is a more visible condition that occurs when skin and other tissue (usually on appendages like little fingers, toes and the tip of the nose) become frozen.  The area gets pale, gray or even blistered.  If frostbite does occur, bring your child indoors immediately and soak the affected body part in water warmed to 104° Fahrenheit.  Do not rub the areas and risk damaging skin; after a few minutes of soaking, dry and cover the effected area with a warm blanket.  If symptoms do not improve, call for medical help.
   The best prevention is to invest in a warm jacket for your child.  L.L. Bean is a great and budget-friendly option, with winter coats for children ranging from $50 to $110.  It is probably best to find a coat that is insulated with a down material; fleece, polypropylene and waterproof fabrics are also ideal for maximum warmth.
   Of course, a winter coat is only the top layer.  According to the American Academy of Pediatrics (AAP), layering during outdoor winter activities is essential.  Clothing for children should consist of thin layers including thermal long johns, turtlenecks, one or two shirts, pants, sweaters, coat, warm socks, boots, gloves or mittens, and a hat.  For babies and young children, the general rule of thumb is to wear one more layer than what parents and teens need to stay comfortable.
   On behalf of the AAP, Dr. Holly Benjamin, of the University of Chicago Student Care Center, says, "With winter sports safety, especially with kids, the temperature and the environment are near the top of the list in importance. Parents have to be really proactive and responsible about dressing them appropriately in layers, covering their heads and necks."
   Dr. Benjamin explains that a child's body has a hard time regulating its temperature, which means that even in the cold, children wearing layers may perspire.  When this sweat comes into contact with the cold, it will cause chills rather quickly.  Thus, kids should wear a moisture-wicking fabric as the innermost layer.  These materials are designed to absorb body moisture and dry rapidly during wear.
   Aside from warm clothing, monitor the amount of time outdoors and take frequent breaks to hydrate with warm fluids.  Also be aware that due to the decreased oxygen at higher altitudes, the risk of hypothermia and frostbite is greater at snow sports resorts than in your own backyard.
JILLIAN RYAN is associate editor at FamilyTravelForum.com (FTF), whose motto is "Have Kids, Still Travel!" After your trip, have your kids visit FTF's newly launched website, travelBIGO.com, where they can share their travel tales with the online community.  They may even win BIGO's $100 monthly reader's choice award, the Punzabo!