A New Orleans-based lifestyle company, Kalencom, best known for its eco-friendly diaper bags and accessories division Hadaki, will support efforts to clean up Louisiana's wetlands and animal life affected by the April Gulf of Mexico oil spill by donating a percentage of its sales during the month of June.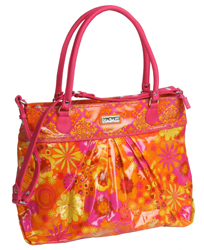 Kalencom, which has been based in New Orleans for more than 35 years, will donate 10 percent of all sales during the month of June to the Audubon Nature Institute's sea turtle and marine mammal rehabilitation program, according to a press release by the company. Area sea turtles will be most affected by the oil spill, as this is the time of year when they migrate to Mexican beaches to nest. The company's donation through the Audubon Nature Institute will directly support the Louisiana Marine Mammal and Sea Turtle Rescue Program.
(Left): The Hadaki Cool Tote, an all-purpose tote that features short straps and a removable, adjustable shoulder strap. The interior boasts pockets in varying sizes. $70.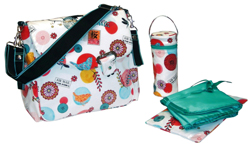 (Right): The Kalencom Ozz Sayonara diaper bag features an off-center snap closure and an adjustable fabric strap, along with a changing pad and insulated bottle bag. $70-$80
Kalencom is best known for its line of trendy diaper bags and totes. The Hadaki line features a wide variety of accessories for teens, tweens, and young professionals, including wristlets, wallets, messenger bags, backpacks, and duffels. The company recently revamped its production so that now all Kalencom and Hadaki products are manufactured in an eco-friendly manner and are free of Phthalates, AZO, DEHP, DBP, BOP, and other harmful chemicals.
Consumers can support Kalencom's efforts during June by purchasing its products at www.hadakishop.com; www.rosenberryrooms.com; or www.luvmybag.com.
For more information on the Audubon Nature Institute, visit www.auduboninstitute.org.