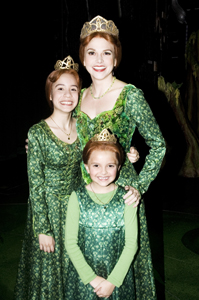 One minute a regular 14-year-old kid from Ronkonkoma, the next a princess on Broadway taking a curtain call next to Tony Award-winner Sutton Foster and musical theater legend Brian d'Arcy James. But that, my friends, is the bare bones version of Laura Laureano's fairytale of a story that ended with her September 19 debut performance as the "Teen Fiona" in Broadway's hilariously enchanting Shrek the Musical. And, as they say in Variety, "She wowed the crowd!"
Laureano was one of the winners of the "Not Your Ordinary Princess" competition, hosted by Nick.com (the other was nine-year-old Sarasota, Florida native Hannah Beatt who was chosen to play "Young Fiona").
Laureano and Beatt's big moment came in the first act when they shared the stage with Sutton Foster singing I Know It's Today - a number tracing Princess Fiona's from-childhood-to-adulthood imprisonment (in a tower, of course), awaiting rescue from the prototypical "handsome prince" - or in the case of Shrek the Musical - "flatulent ogre."
About entering the competition, Laureano explains in a Web site clip: "One of my friends' moms showed me a Web site and I said, 'What the heck' - because you never know... But when they actually called... and said, 'Congratulations, you're a finalist,' I nearly dropped the phone!"
The reason Laureano shot to the winner's circle becomes obvious when you log onto the show's Web site, where you can see not only her amazing audition, but also a video and photographic record of her journey to Broadway. Ms. Laureano - pretty, talented, and with personality to spare - is one young New Yorker who can look forward to a bright and starry show biz career.
For more information, visit www.shrekthemusical.com/princess.html or www.shrekthemusical.com/news.html.