In 2000, Brooke de Lench, the mother of three boys, founded MomsTeam.com, a website geared toward mothers of children in sports. In her new book, Home Team Advantage: The Critical Role of Mothers in Youth Sports (HarperCollins, $14.95), she explores the impact mothers can have on youth sports and the children who play them: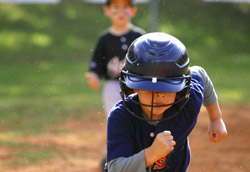 The Over-Involved Parent
Does enjoying your Saturday afternoons and evenings depend on whether your daughter won her softball game that morning? Do you find yourself lying awake at 3 in the morning wondering whether your son will outperform the other players on the team or even make it off the bench? Have you ever brought a pad of paper to the game to keep track of errors your child made so you can have her practice the play when you get home? Are you in a bad mood after your child loses and in seventh heaven after he wins?? If you answered "yes" to any of these questions, then you may be over-involved.

If you feel as if you are getting too wrapped up in your children's activities, you may benefit from playing sports yourself. Better to blow off steam or pent-up stress by leaving the sidelines to take a long walk, participating in a recreational soccer or bowling league, or taking it out on the tennis or swimming pool than to come to your child's game and yell instructions. When I felt myself becoming a bit too involved in my sons' games, I tried to make sure I released the tension by playing squash or taking a vigorous three-mile walk with the dog. When you are calm, you will start to notice your young athlete becoming calm, too.

Enthusiastic parents are vital to all youth sports programs. Being a fan of the team and attending games is, however, only one way for a parent to be involved. If your child needs some space and asks that you refrain from attending her games for a while, or if you know that you just can't resist the urge to yell and scream instructions, or, worse yet, criticisms, let her know that you care by volunteering in other ways. Offer to bring water and oranges, organize the carpool or caravan to games or practices. Volunteer to keep score, help the coach with his substitution grid, or be a soccer referee's assistant. Organize a pizza party or other gathering during the season. Your involvement behind the scenes will allow your child to realize that your interest in his program is genuine.

Who Cares About the Game? I'm Here to See You!
One of my sons was a substitute on his middle school soccer team. I made sure I went to all of his home games and the away games that were close to home. Midway through the season, Hunter came up to me at a home game and said he didn't think he was going to be playing much that game and that I didn't need to stand in the wind and the cold just to see him warm the bench. I told him I came because I wanted to see him and his teammates; not just to see him play. I could tell that my feelings meant the world to him, and that my mere presence eased the pain of not starting.

If your child isn't a star athlete:

—Emphasize the process of being an athlete, not just winning or losing, goals scored, or minutes played.

—Emphasize your child's individual development – how he has improved.

—Encourage your child to talk about how she feels about being a sub. Be a good listener. Remind your child that not everyone can be a star, but that everyone can contribute to and be part of a team.

—Don't criticize or second-guess the coach in front of your child; it only undermines your child's faith and trust in the coach and his or her decisions. Seek feedback from the coach about ways your child can earn more playing time and how you can help. As your child gets older, encourage him to talk to the coach directly.

—Respect your child's feelings; let her know how difficult it is for you to watch from the stands or see the frustration she must feel about not being as skilled as she thinks she should be at the moment. Don't dismiss feelings of being hurt, angry, or bitter, but do help to maintain a healthy perspective on the situation while accentuating the positive feelings which she experiences as well.

—Remind her that it is during practices, not games, that she develops her skills.