Robbi K is not your typical children's performer — her music, which draws from diverse genres including jazz, world music, pop and blues, appeals to the whole family.   Robbi Hall Kumalo, a Long Island mother of two girls, feels her mission is to inspire and mentor children interested in pursuing careers in the performing arts.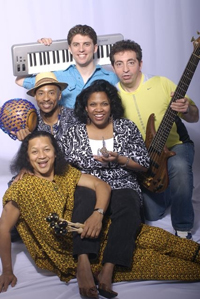 Kumalo, married to Grammy-winning bassist Bakithi Kumalo, has made her music a true family affair.  Music Makes Me Happy, her third CD, released in June, was produced by her husband, while her daughters, Mbali, 11, and Daliswa (Didi), 9, sing back-up vocals.  Both parents travel frequently, but Kumalo says they try to include the girls in their touring schedules as much as possible.
   Growing up, there was always music in Kumalo's home. The family listened to classical, jazz, gospel and popular music; Kumalo studied piano and violin, and her sister went on to become an opera singer.  Because she was exposed to a range of music styles, she says she attempts to do that in her music now.
   Kumalo's kids listened to traditional children's music, but, she says, they would "run out of interest" when the songs were monotonous or repetitive. What they really responded to was what Kumalo calls "the gold standard for kids' music: Ella Jenkins."  Eventually, they segued into Miles Davis, Elton John and Pete Seeger, music she deems "absolutely appropriate for kids to listen to." The girls, she continues, "have always been included in the work we do. They sing, write, play — they are the inspiration for and the subject of the music we do."
   Kumalo feels her daughters benefit from the diversity on Long Island and its proximity to great programming in the New York City area.  Because of their extensive travel, their South African father and her own ability to speak six languages, Kumalo's girls have been exposed to a wealth of influences.
   Kumalo invites other children along with her own to sing background vocals.  She notes that these kids and teens aren't professionals, but many of them have gone on to pursue musical careers. She frequently has them perform with her onstage as well, to give them a taste of singing in front of crowds. 
   Kumalo also gives back to the community by speaking at high school career days, where, she says, "performing arts careers are often woefully underrepresented."  She wants kids to realize that there's a lot of work out there for performing artists.  Many aspiring musicians aim for TV — but Kumalo tries to impress on her young proteges: "That limits you".
   Meant to motivate and inspire, Music Makes Me Happy ranges from original songs like the Calypso-inspired Summer's Here, and the blues-y Got Me Laughing Blues, to adaptations of My Favorite Things and The Legend of John Henry. 
   For more information, visit www.balidali.com..