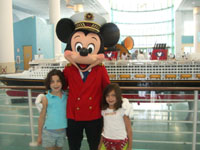 Many guide books focus on how to plan a Disney vacation, but the beauty of a Disney cruise is that once you step on board, Disney's magic staff handles everything for you.  Its two ships, The Wonder and The Magic, offer family fun for everyone.


    Some vacationers on Disney cruises barely look past the ship's prow, but for those looking beyond the Caribbean, Disney Magic is returning to the West Coast in summer 2008, with week-long cruises along the Mexican Riviera.   
  On
The Wonder
, there is a new splash zone for toddlers, with fountains. Kids, 12 weeks to 3 years old can play in Flounder's Reef Nursery while their parents check out the expanded spa and fitness center. If you've forgotten music, or grown bored with your selection, the ships will loan you an iPod Shuffle loaded with inspiring workout songs.  
  The Oceaneer Club, with supervised activities for ages 3-7, has a Neverland theme, where kids can climb a replica pirate ship, dress as a pirate, and do arts and crafts or science experiments.  Kids 8-12 in Oceaneer Lab can use a new computer SIM game to steer the ship, go on an actual scavenger hunt, and build a volcano.  There are hang-outs for teens 13-17, with counselors who make sure teens don't just use the Internet café or watch TV; there is also a dance floor for teens, a smoothie bar, and special activities just for this age group.   
  To learn more about Disney Cruise Line, visit
disneycruise.com
or call (888) DCL-2500.