For my child's spring break, we are escaping the chilly weather and are heading to a warmer climate. The complex we are staying at has both a beach and a pool. What are some safety tips for sunning and swimming to ensure a safe, fun time for everyone?
To help make your family vacation a safe one, here are some safety tips for both sunning and swimming.
Sun Safety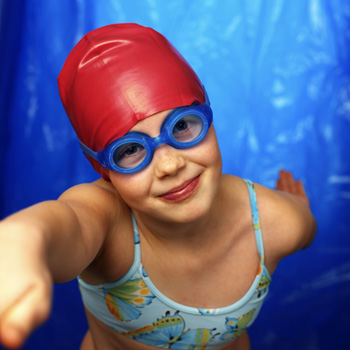 Suntans look great to some people, but prolonged exposure to the sun can cause serious damage to our skin and health. Exposure to the sun can lead to sunburn, heat stroke, skin cancer and wrinkling of the skin. According to the American Cancer Society, nearly 80 percent of skin cancers are caused by overexposure to the sun.
The people who are most susceptible to problems caused by the sun are those with lightly pigmented skin and those with red or blonde hair. Even if you do not fit this description, there are precautions you can take to minimize your risk of sun-related health problems.
Minimize exposure to the sun from 10am to 3pm when the sun's rays are strongest. In addition, using a sunscreen with a sun protection factor (SPF) greater than 15 and wearing clothing made of synthetic and tightly woven fabrics, offer protection against harmful sun's rays.
Other sun safety tips include:
• Drink lots of water to keep yourself well hydrated
• Protect yourself even on cloudy days, when the sun's rays still get through
• Avoid sunlamps and tanning parlors
• Reapply sunscreen frequently
Since most families don't prefer to hibernate in their hotel room while on vacation, the challenge is to safely enjoy the sun and warm weather. By following these simple tips and using common sense, most people can avoid sun-related health problems.
Swim Safety
Drowning claims more than 8,000 lives each year and are the fourth leading cause of accidental death in the United States. It is the second leading cause of accidental death for school-age children and the number one cause for preschoolers. More than half of all drowning is caused by trips and falls from docks, boats, bridges, and pool perimeters. The majority of water-related accidents are preventable. Tragedies can often be avoided by following simple safety rules, acquiring swimming and diving skills, and recognizing hazardous situations.
Water safety tips:
• Seek swimming instruction from a qualified instructor
• Never swim alone
• Children must always be supervised by an adult
• Pools should be fenced in and surface motion detectors employed
• Stay out of the water during thunderstorms or other extreme weather conditions
• Learn and practice basic lifesaving techniques, including first aid and CPR
• Always check the water depth before diving
• Do not attempt to swim long distances in cold water, as cold water will sap your strength
• Do not rely on inner tubes or other inflatable objects for protection
In addition, avoid alcohol when swimming. Keep in mind that many swimming and boating accidents are alcohol- or substance abuse-related.