Check out these stylish clothes, shoes, and accessories for mom, dad, and baby including adorable bear-shaped hair clips by Tous, a dapper diaper bag for dad by Diaper Dude, Cole Haan's latest line of baby shoes, and For Multiples, a new twin-friendly maternity line for moms expecting more than one.


Silver Lining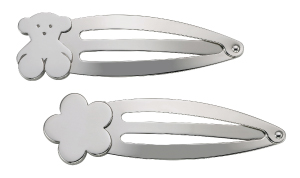 The fashionable Spanish jewelry line Tous, known the world over for their precious teddy bear design (for which a portion of purchases benefit the Children's Hospital of Los Angeles), has an array of wonderfully special baby accessories ranging from sterling silver pacifier holders to walnut-wood frames. The keepsake of choice for little girls just may be these stainless steel hairclips (bear and flower designs pictured; $35 each; www.tous.com). Browse the site for many other gift options, including key chains for the Daddy in your life and a Jennifer Lopez-designed jewelry line (put something on your own wish list).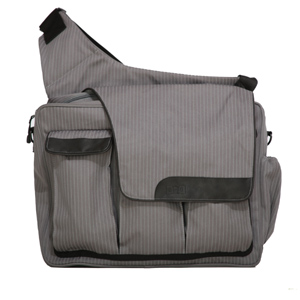 Well-Suited for Dad
We're well past the point of fathers shying away from toting baby's gear, and rugged (think camo, plaid) diaper bag designs are now easy to find. But we love this pinstriped option for a more buttoned-up appearance (it'll still look cool with a little playground dust). With sporty messenger styling, the Messenger II from Diaper Dude has a padded shoulder strap, changing pad, insulated bottle holder, and more-even a handy "Dad Checklist" screened on the inside flap. ($98; shown in gray pinstripe; available in six other fabrics-yes, including camo; www.diaperdude.com)

Happy Feet
For the best dressed babies on the block, deck them out in drool-worthy footwear from Cole Haan's latest line. You won't be able to resist snapping even more pictures than usual of your little guy or girl, and the shoes also make a perfect gift for a new mom. Pictured: the luxuriously soft (and soft-soled) brown leather Mini Paul Strap for boys ($38; www.zappos.com), and an updated classic for girls, the Mini Brogue Boot in blush patent leather with satin laces ($44; www.colehaan.com). Both are available in sizes 1-4.




Twice the Love
Carrying twins, or know someone who is? We strongly recommend a new line of maternity wear, For Multiples, which features stylish casual clothes as well as office attire-with enough fabric to accommodate doubly growing bellies without going up a whole size (and otherwise drowning in your clothes!). Of not finding properly-fitting maternity wear during his wife's two sets of twin pregnancies, company president James Fitzgibbon says, "It was disheartening for me to see my wife so upset about how she looked during a time when I thought she looked most beautiful." Problem solved! The champagne blue tunic pictured is a great option for brightening things up. ($49.99; www.formultiples.com)