Check out some noteworthy products on our radar for children and families, including the best beach blanket, a safer tub for newborn baths, and the Nap Nanny, a baby recliner created by Comcast SportsNet reporter Leslie Gudel.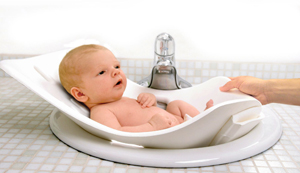 Better Bathtime
Bathing a newborn can involve lots of maneuvering - and worrying about the safety of a squirming, wet newborn can be trying, especially for first-time moms. Enter the Puj Tub: Made from soft foam that conforms to the shape of your sink, the tub cradles and protects baby during bathtime, enabling mom to wash with both hands knowing that baby is safe and secure. The tub is especially helpful for grandparents or moms who delivered via C-section, as there's no bending over a tub necessary. Made from pliable, non-slip, PVC-free and BPA-free material, the product is designed for newborn to 6 months old, or babies up to 17 lbs.
Best Feature: Since tub is foldable, it can be simply hung on the back of a door for compact storage or stashed in a travel bag for safe bathing while away from home.
Price: $39.99 (new lower price)
Available at: Giggle stores or www.babybathtubs.com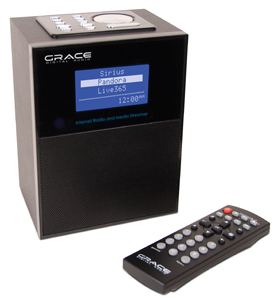 Sounds of Summer
The days of the poolside boombox are long gone, but who could have imagined we'd have such easy access to even more than our iPods can hold? The Allegro Wi-Fi Radio will keep your family grooving all season long: It streams your own music library from your computer, offers access to services like Sirius and Pandora, more than 16,000 Internet radio stations and 35,000 podcasts, and best of all, it's portable. You get the option of powering up with an AC adapter, a rechargeable battery, or 6 regular AA batteries. The alarm-clock radio can come in handy to alert you when it's time to slather the sunblock on the kids again - much better than signaling morning wake-up time.
Best Feature: You can wirelessly stream music straight from your computer by remote control - no need to get out of the pool!
Price: $169.99
Available at: www.gracedigitalaudio.com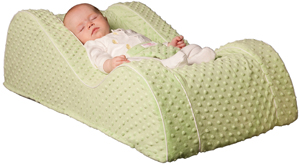 Aaaahh, Naptime!
Created by Comcast SportsNet reporter Leslie Gudel, the Nap Nanny is a baby recliner that enables infants to get a comfy sleep in a semi-upright position. When the sleep-deprived mom's new baby wouldn't sleep flat, Gudel went searching for a solution - and when she couldn't find one, she invented it. Any mom who has suffered with a baby that doesn't nap during the day will relish this stylish and functional creation. The Nap Nanny is made especially for infants 8 pounds or above, and recommended by pediatricians for comforting and improving sleep for babies with colic, reflux, gas, colds and flu. Celeb parents such as Sandra Bullock, Chad Lowe, and Marissa Winokur are fans of the product, which also transforms into a handy toddler chair as baby grows.
Best Feature: Since the design mimics a carseat, you get a unique blend of stability with the comfort of a baby blanket - and it weighs just 3 pounds!
Price: $129.99
Available at: www.napnanny.com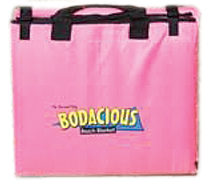 A Shore Thing
The Bodacious Beach Blanket may be just what you need to make your next beach excursion more relaxing. This cushy, waterproof nylon blanket protects you and your brood from bumps in the sand, and comes fitted out with a matching towel, two inflatable pillows and three waterproof pockets that can hold all those little items (phone, iPod, wallet, keys) so you don't have to bring along another bag. Pillows inflate easily, and towel buttons in to stay put. A little sand in the four corner Velcro pockets weigh down the blanket so it stays in place even on windy days. Available in royal blue, aquamarine, pink, lime green, and yellow.
Best Feature: Practicality! The blanket folds up neatly, and straps make for easy transport when heading home.
Price: $59.95
Available at: www.bodaciousbeachblanket.com