Each fall, my family visits my husband's family in Las Vegas, and I look forward to the sense of relaxation I get from the sweeping desert landscapes. But I know I could never leave this part of the country. We can enjoy mountains and lakes, beautiful farmland in Orange or Dutchess Counties, and, of course, the Big Apple with its many attractions. When it comes to outdoor fun, one of our family's favorite destinations is Bear Mountain State Park. It's so close, you can spend an afternoon, or if you prefer, make a full day of it.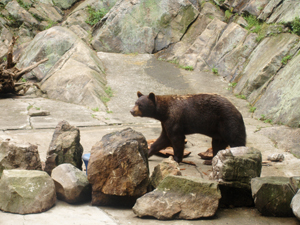 In June, the park opens its rather large public swimming pool for the season, and right across Route 9W, there's a seasonal snack stand with many picnic tables and barbecues. On holiday weekends there can be quite a crowd, but at other times, there's room to relax and enjoy the scenery of the park, which is nestled along the Hudson River where Rockland meets Orange County. June 18 through Labor Day, the pool is open 10am-5:30pm weekdays and 11am-6:30pm weekends and holidays; $2 ages 13 and up, $1 ages 6-12, free ages 5 and under.
If you'd rather be on the water than in it, the park offers rowboat rentals on Hessian Lake now through Labor Day. Although you have to be at least 16 years old to rent a boat, there is no minimum age for passengers. The rental dock is located behind the Bear Mountain Inn, which remains closed for renovations. Each passenger is issued a life preserver and park staff is diligent about enforcing rules for wearing them; just ask my husband. Boats can be rented daily 11am-4pm; $5 per person.
Want to enjoy the scenery of the lake without renting a boat? A paved pathway around its perimeter allows for a pleasant walk, bike ride, or stroll with a stroller.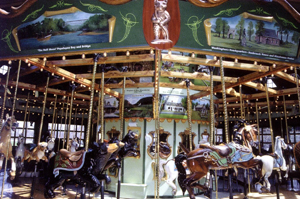 Many orphaned and rehabilitated animals make their home at the small zoo located on the park's grounds. Exhibits aren't fancy but guests can see a variety of local wildlife, including black bears, beaver, coyotes, and bald eagles. Two of the nicest attractions are the small building containing reptiles and amphibians and outdoor aviaries housing birds. Parents with small children should note that although the pathways are paved and smooth, the terrain is a little hilly, which can make stroller use challenging. The zoo is open daily (other than Thanksgiving and Christmas) 10am-4:30pm; suggested donation $1 per person.
Whatever the season, no trip to the park is complete for my daughter without a visit to the merry-go-round, where children can ride on hand-carved and hand-painted representations of wildlife native to New York State. Open weekends year-round; June 29-July 27, hours are Wednesdays 12-8:30pm, Thursday-Sunday 10am-5pm; closed Mondays and Tuesdays. Starting July 28, Wednesday hours are the same as other days; after Labor Day, hours return to weekends only.
Bear Mountain State Park is located off the Palisades Interstate Parkway, Exit 19 or Route 9W. Parking is $8 per car. For more information, call 845-786-2701 or visit nysparks.state.ny.us/parks/13/details.aspx.
Also see: Our Online Calendar, for even more family-friendly events in the New York City area