As winter descends, it can be tough to keep kids entertained indoors. Re-create summer camp activities in the comfort of your home and quickly become the coolest counselor/parent around.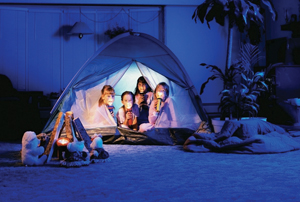 Children love summer camp. While you may never rank quite as high on the cool scale as your kid's counselors, and no one can fight an east coast February, there's no reason why you can't offer a selection of homemade camp activities that will impress the most weathered of campers. Here's a guide to get you started, with input from some inspired directors at day camps and sleepover camps across the New York metro area. (We've got even more creative ideas online, too!)
Pro tips to keep in mind with all activities: Tweak things to make them age-appropriate, consider inviting camp friends over to make a mini camp-reunion, and no matter what, remember: The kids are the camp experts--you're just along for the ride!

1. Campout Night
Original Activity: Pitch a tent, sleep under the stars
Winter Substitute: Pitch a bed sheet, sleep in the living room

Camping out is an easy indoor option that kids can do with minimal parental guidance. Becky Newman, summer camp co-director and program manager at EarthPlace in Westport, CT, promises that all children can create their own indoor tent with just a bed sheet and some creativity. Newman suggests creating a starry sky with old coffee cans or oatmeal containers. How? Print constellation templates off the Internet, trace the images onto the bottom of the can, and use a nail or a pencil to poke out the holes. Grab some flashlights, turn off the lights, and shine the light through the can onto the ceiling. Bonus points if your kids make up their own constellations with inspired names.

2. S'more S'mores, Please!
Original Activity: Roast S'mores on an open fire
Winter Substitute: Microwave s'mores next to a flashlight fire
Skip the authentic fire, but don't skimp on this sweet treat. Have your kids gather scraps of red, orange, and yellow fabric; either buy some felt or cellophane at a craft store, or encourage the use of t-shirts, socks, and other household items. Put out a couple of flashlights and allow each child to create their own "fire," but have an adult help with the S'mores. Todd Rothman, director of Deerkill Day Camp in Rockland County, advises that homemade S'mores can be made in the microwave, over a stove, or with a store-bought S'mores kit. Make enough so the grown-ups can have some too, of course.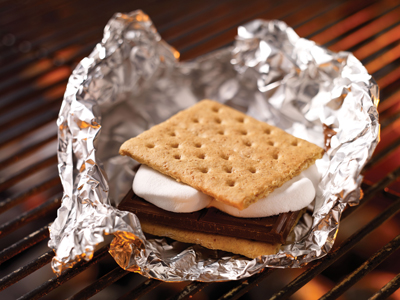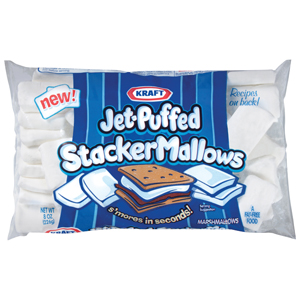 The thin, rectangular shape of Kraft's Jet-Puffed Stackermallows are sized just right to fit a graham cracker, making microwavable, year-round S'mores even easier ($1.69 for 8 oz. bag).

3. Camp of Rock
Original Activity: Talent Show in front of the whole camp
Winter Substitute: Talent Show at the dinner table
All the directors agree: The camp talent show is the pinnacle of each summer. Karla Schickele, executive director of Willie Mae Rock Camp for Girls in Brooklyn, has an innovative suggestion for an instant performance hit with her classic activity "Instant Song." Kids brainstorm through a word association exercise, and Shickele explains that before long "pizza" has turned into "hot" which morphs into "summer" and suddenly your song is writing itself. "The point isn't to write the best song of the century," Schickele says. "The point is to have fun and be creative." Once the song is complete, kids can take any instruments-homemade is better!--and play the song through. Be prepared to watch your 4-year-old start pan-banging, spinning, drumming, and more. Enjoy!

4. Search Without Google
Original Activity: Scavenger hunt on the field
Winter Substitute: Scavenger hunt in the attic
While your kids might be used to running around camp trying to find the largest scarecrow next to the barn or the oldest canoe at the docks, capitalize on the home environment for this traditional favorite rather than trying to compensate. Attics, basements, even neighboring apartments are perfect scavenging grounds. Bob Polcha, director of Knox School Summer Adventures in Long Island, encourages parents to include a little bit of everything to keep kids interested. Make a quirky list that includes things that are specific to your family to make it personal (Dad's favorite bobblehead, your own childhood doll), and throw in a few "summer memories" to keep the camp mood. Asking your kids to find all the socks they lost at camp last summer is fair game, but don't be surprised when they show up empty-handed.

There are hundreds of ways to adapt camp activities to the home, but the best way to recreate your child's camp experience is to go straight to the source: your kids. Jamie Sirkin, owner and director of Summer Trails Camp in Westchester, points out that kids will be enthusiastic about sharing their knowledge. "I would rely on the kids to bring the activities home," Sirkin says. "Ask your children: What were your favorite things about camp? How can we adapt them?" Step out of your usual role as "planner" for this one. "It's very empowering for children to share their camp experiences," Sirkin says. Let your kid shine as they show you how they have fun when you're not around, and before long, the sun will be out--just in time for real camp to begin.

Can't get enough?
• Find more indoor ideas to re-create summer camp fun!
• Thinking about getting a head start on choosing a (real) summer camp? Get info on great local camps so you can make the best decision for your child.