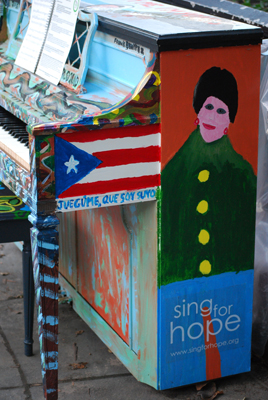 This year, you may hear more than chirping birds announce the shift in seasons. On June 18, music will fill the air as 88 pianos pop up in parks and public spaces throughout the five boroughs. And the best part: Everyone is encouraged to add a tune to the soundtrack. "You don't need a $100 ticket or a degree in music, just go play, go have fun," says Camille Zamora, co-founder of Sing for Hope, the nonprofit organization behind the project.
Sing for Hope's Pop-Up Pianos debuted on our city's streets last summer, as a tangible, playable symbol of Sing for Hope's mission: to make art radically available to everyone. This year the number of pianos increases from 60 to 88 (the number of keys on a piano keyboard), making it the largest installation of its kind in the world. "We're in this cultural mecca of art in our country, but the reality is that so many people are not invited to that banquet," says Zamora, who's also an opera singer and mother to a 6-year-old son.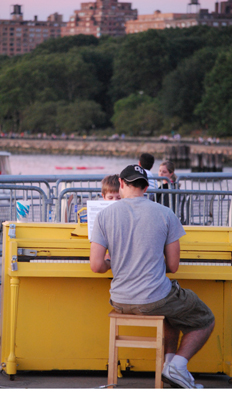 In addition to providing a musical outlet for every passerby, the piano project strives to create community through art. "[These pianos] bring people together," Zamora says. "We see 6-year-olds teaching 50-year-olds to play Chopsticks. It's about charging new little relationships and getting people to interact across their urban boundaries." To deepen community ownership of the project, the pianos will display designs by local artists, from elementary art students to the likes of Diane Von Furstenberg and Isaac Mizrahi.
The project may even inspire your little ones, as it has Zamora's. " He rolls his eyes year-round about practicing the piano," she says of her son, "but in the summertime I can't get him off them."
The street pianos will be playable until July 2, when Sing for Hope will donate them to underserved local hospitals, schools, and communities. For a full list of piano locations and special events, visit www.singforhope.org.
Also see: Our Online Calendar, for upcoming family events in the New York metro area