There's something about really sharing an experience with your child that is incredibly satisfying.   The summer I was 15, I saw
Annie Hall
several times, and when my oldest daughter, Hallie, was 15, my husband and I happened to watch it with her for the first time.  She loved it so much she watched it the next night with a friend.  My husband and I feel we have done well, raising a child who shares our sense of humor.
   So Hallie, now 16, was the perfect companion for
Xanadu: the Musical,
not least because she recognized Tony Roberts (Max in
Annie Hall
).  Having grown up with Broadway shows, she is both able to appreciate a spoof and enjoy the theatricality.  This campy Broadway adaptation lets everyone in on the joke; when one character appears without her sidekick late in the show, she attributes it to the demands of "double-casting".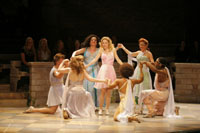 Xanadu
, for those parents too young to remember, was a movie flop in 1980. It starred Olivia Newton-John as a muse with an inexplicable Australian accent.  Now, Kerry Butler not only channels the accent, she manages to also parody Nicole Kidman.  My astute theatergoer knew Butler from both
Hairspray
and
Little Shop of Horrors
, and she also knows Olivia Newton-John, thanks to the
Grease
DVD.
   But even a child born well after the roller disco craze will recognize the absurdity of finding your artistic apex at a roller disco.  Butler is a muse, Clio, who saves Sonny (Cheyenne Jackson), a suicidal artist, and helps him realize his dream while on roller skates.
   Jackie Hoffman is also known to young theatergoers, from her multiple roles in
Hairspray
.  When she exhorts the audience at the end to get up and dance, mocking the people who jump up at the end of
Mamma Mia
, no one dares to disobey her.  Jackie Hoffman could demand we all grab our ankles and quack like ducks and everyone would listen.  Hoffman and Mary Testa are the evil older sisters of Clio, who put a curse on her, making her fall in love with a mortal.  Playwright Douglas Carter Beane offers the funniest possible reason a curse doesn't work on Clio — leg warmers have blocked access to her ankle.
   Stage-struck patrons who are at least 10 years old can get special seats on-stage, where they are occasionally behind the action, but also sometimes involved in it; cast members sit with them, and they get to wave light-up objects during the big roller disco scene. 
Xanadu
is a very civilized 90 minutes. If you don't get the early curtain on Tuesday night, you are still home at a reasonable hour.
Info
Where:
Helen Hayes Theater, 240 West 44th Street


When: 
Tuesday, 7pm; Wednesday-Saturday, 8pm; Wednesday and Saturday, 2pm; Sunday, 3pm.


How much: 
$41.25-$111.25


For more info: 
(212) 239-6200;
www.xanaduonbroadway.com