Teaching children to make responsible financial decisions is an ongoing, worthwhile process. Starting when they are young will help them establish good habits that will last the rest of their lives.  Many banks in our area offer programs for the littlest investors, encouraging them to develop these saving habits — and perhaps to begin early to build their nest egg.  Following are some options: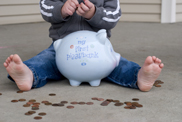 • Bank of America has a custodial account with a $25 minimum deposit, no age limit, and a current interest rate of .20%.

• Capital One Bank has a Minor Savings Account for children from birth to 17 years, which requires a minimum opening deposit of $5, has no minimum balance or low balance fees, features a current interest rate of .25% on balances over $100, and offers a free ATM card upon request. Capital One waives monthly cycle service charges for accountholders under 18, and minors earn interest on all balances.
• Chase offers a custodial account for those under age 18. It is owned by the minor but controlled by a custodian. The minimum deposit is $25, the interest rate is 1% on balances up to $9,999, and there are no monthly service fees. Chase also has speakers who will make presentations about savings at schools, upon request.
• Citibank also offers a custodial account, which is owned by the minor but controlled by a custodian. This type of account is for children under 18. The interest rate is variable.
• Commerce Bank offers both the Young Savers Statement Savings Account and the Young Savers Passbook Savings Account for children newborn to age 21. There is no minimum deposit and the interest rate is .25%. Other child-friendly amenities include Penny Arcade, a special location in the bank where they save change and children win a prize if they can guess the correct amount. On the Commerce website, there is a section called CommerceWowZone, with sections geared for parents, educators, teens, and children. For teens, it presents information about investing in the stock market; for children, it has games that teach about savings in a fun way. Commerce Bank also sends representatives to schools, upon request, to educate children about saving money and to encourage them to start a savings account.  
• Wachovia Bank offers a Personal Savings Account for children under 18, with supervision by the parent, with a minimum deposit of $500, an interest rate of .05%, and an ATM card upon request. There are no monthly fees.
LAUREN RUSH is a freelance writer and editor living in Westchester with her husband and four children.  She has written articles on health, education, parenting, and business for various magazines.