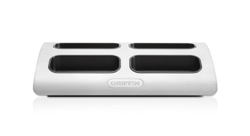 Charge Ahead
If your household has more than one iPod or iPhone, you have multiple chargers – and you probably lose all of them. The PowerDock 4 charging base is attractive enough to sit on a kitchen counter, and can power up to four iPods and iPhones at once, through a single wall plug.And it comes with adaptors to fit different iPod models. From Griffin Technology. $69 at amazon.com. www.griffintechnology.com.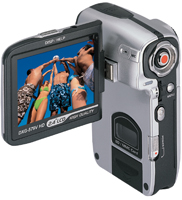 Easy Shooting
There's a new mini-camcorder that records in high-def, for only $150. The DXG-579V has a 2.4-inch screen and is so simple to use that you will be filming your kids before you've even recycled the packaging.The compact HD camcorder can also take good quality photos (eight megapixels) and is being sold bundled with a two-gig SD card (for up to two hours of recording), tripod, case, and rechargeable batteries with charger.Plugs right into the computer for easy uploading.In red, black, or blue, at www.dxgusa.com.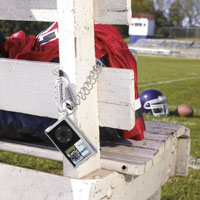 Save the Music
iPods are not only popular gifts, they are popular targets of thieves, and kids who have iPods often lose them.But iCage™ lets you lock an iPod to your backpack, so you won't leave it somewhere, and no one can take it.The iCage, by Master Lock, includes a transparent wrap that protects the music device, and a combination lock so you can secure the whole thing.You set the three-digit code yourself, so you can match your gym locker or use another easily remembered combo.The iCage is also good for forgetful adults – just remember to write down the combination. $14.99 for nano locks, $19.99 for classic. At www.masterlockitup.com.


Tech Overload
Confused by all the new technology in your home? BluePhone is a hotline that offers round-the-clock tech support for up to three home computers, plus peripherals.If you got a new computer over the holidays and have a couple of older ones around that are past their warranty, you can get help by phone or email setting up a network, running virus protection, or just getting the most out of a Mac or PC.One month unlimited service is $24.95; a year is $199.95.You even get a "personal" tech expert.Go to www.bluephone.com.