UPDATED NOVEMBER 2013: Check out our list of fun Thanksgiving events for kids in the NYC area, including Manhattan, Brooklyn, and Queens as well as Long Island, Connecticut, and Rockland County.
While you may not wish your turkey to have thick skin, it may be wise for Thanksgiving to develop one—what with Christmas nipping at its heels before the last gravy-laden dish has a chance to land in the dishwasher. Of course we won't mention that we heard Christmas music playing at the mall even before Oct. 31—we wouldn't want to upset Halloween! This is after all the season of peace and harmony. Everyone—even the holidays—should get along.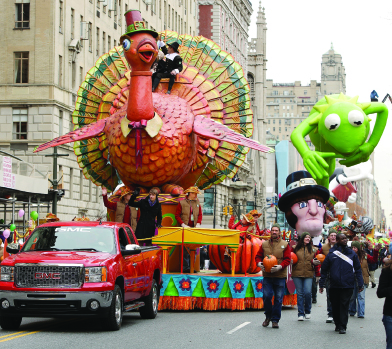 The quintessential Thanksgiving event in the NYC area is, of course, the Macy's Thanksgiving Day Parade. As much a part of Turkey Day as family feasts, post-consumption naps, and watching football, the 87th annual parade will, as always, feature floats, performers, and larger-than-life balloons. The little one's will recognize their favorite characters in balloon form, like the Kool-Aid man, Buzz Lightyear, and SpongeBob. The parade begins at begins at 77th Street and Central Park West and marches down Central Park West, turning east at Columbus Circle and continuing down Sixth Avenue to its end point at Macy's Herald Square. See the full route and get a peek at the 2013 lineup at macys.com/parade.
Here's where to catch a variety of other Thanksgiving-themed events for families throughout the New York City area:
New York City
Long Island
NYC Suburbs