Heidi Cohen and Colleen Demas decided to open The Lanyard Ladies after their summer camp station was a huge success with the campers. Now the duo travel all over Queens and Suffolk and Nassau counties to bring bracelet making to birthday parties.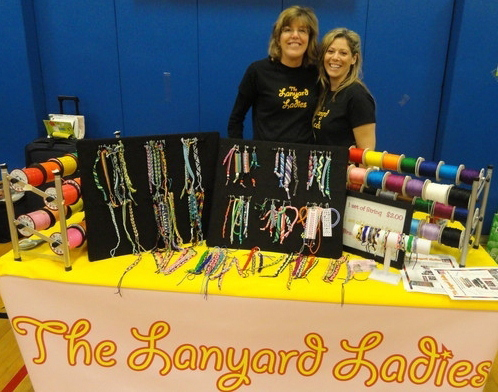 Last summer, Heidi Cohen and Colleen Demas worked at a summer camp where they taught kids how to make friendship and lanyard bracelets. Their station soon became the most popular spot for campers to visit, and the kids' enthusiasm sparked an idea for the women. "I thought, 'I've never seen any birthday parties like this,'" says Cohen, one half of
The Lanyard Ladies
team. After months of talking about the idea, in April Cohen and Demas decided to mail out flyers advertising their bracelet-making party services, and they were blown away by the response. "It's already gone crazy," Cohen says.
Kids ages 6-16 years old across Long Island can request The Lanyard Ladies for their parties—they've done birthday bashes, sweet 16s and bar and bat mitzvahs. The Ladies supply a 6-foot table and 26 colors of string, and they teach the partygoers how to make different accessories, including lanyard pens, bookmarks, and full bracelets. Because The Lanyard Ladies vary the projects depending on the ages of party attendees, they "never make the same party twice," Cohen says.
Each child walks away with a goody bag that comes with projects, directions, and a complete bracelet. Kids "go crazy" for the bracelets because they choose their own patterns and colors and can really use their imagination. Cohen believes their popularity comes in large part from the fact that their projects are unique and make a birthday party stand out. The Lanyard Ladies can bring the party to you or you can go to them. The Lanyard Ladies, ever the fast-growing business, just opened their own party room in East Rockaway. With this space, customers can throw their party at the location rather than their backyards. The Lanyard Ladies also sell their lanyard craft kit and an instructional DVD on their website.