THE ZUMBIES BRING LUCK TO HALLOWEEN
Related:
the zumbies
,
luck
,
halloween
,
dolls
,
toys
,
kids products
,
The Zumbies, a collectible doll, are bringing luck to this Halloween season.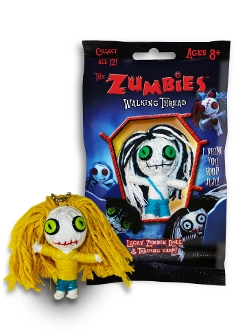 The next collectible toytrend is here. Meet The Zumbies - Walking Thread, a line of ghoulish zombie dolls that hang from a thread, just in time to spook up your Halloween. But don't worry; this new product from Enterplay has better intentions than any real flesh-eating monster. The Zumbies have arrived to repent for their zombie behavior by sending good JuJu (luck) to those who carry them. Each Zumbie doll comes with its own trading card so you can learn more about each Zumbie's unique personality; you can even swap Zumbie trading cards with friends.
The collection features 12 different Zumbie Doll designs, and each character has their own tale of demise into full-on Zombie mode. Zumbie dolls put a visual spin on traditional voodoo dolls and amp up the spooky just in time for Halloween. Perhaps you'll be most intrigued with characters like Unqualified Quincy, a Zumbie who's prior mishap with a Venus Flytrap sent him spiraling into the land of the undead. Girls will love Zumbies like Uninviting Violet, the "meangirl" of the crew, who's sweet 16 didn't end so sweet when she decided to be a little too exclusive with her guest list.
The entire Zumbie Doll line is available for purchase via enterplaystore.com or amazon.com.
---
Get Your FREE Indoor Activity eGuide!
---
More PRODUCTS Articles
Holiday Fashions for Boys and Girls
Photographer Behind Humans of New York Releases Children's Book
New Book Encourages Kids to Give Up Halloween Candy
Runnin' Wild Kids Shoes Owner Opens Toy Store
Top 10 Audiobooks for Halloween Season