When the doorbell rings this Halloween, you'll find more than sheet-covered ghosts waiting for candy. This year, trick-or-treaters from infants to teens will include movie and television characters, and makeovers of traditional costume fare.

One of the retailers leading the way with new and improved costumes is Party City. The chain offers a line known as "Rebel Toons," which are character costumes with a fashionable twist. These include mainstays such as Alice in Wonderland, Little Red Riding Hood, Tinkerbelle and even the Wicked Witch of the West. But this year, says Melissa Sprich, the retailer's merchandise manager of costumes and accessories, "The new Halloween costumes are heavily influenced by what you see on the fashion runways, in the movies and on television."

"I get most of my inspiration from TV shows like Project Runway, or browsing culture websites," says Party City costume designer Chris Guzman. Snow White is among the character costumes he has given a more hip, modern edge.

Party City also is offering its share of movie-inspired costumes. Characters from Batman: The Dark Knight, Star Wars: Clone Trooper, Transformers and Iron Man are among the top picks for boys; for girls, it's High School Musical characters Sharpay and Gabriella. Party City predicts that Shrek, Thomas the Tank and Dora the Explorer will be favorite picks among the infant and toddler set.

The Disney Store is also gearing up for Halloween, with many costumes for the little ones. They can enjoy trick-or-treating as characters from My Friends Tigger and Poo, or in "bubble plush" costumes that transform them into virtual stuffed animals by way of foam padding, character hoods, booties and mittens. New on the bubble plush scene this year are Daisy Duck, Goofy and Pluto.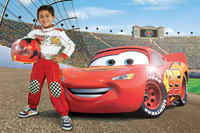 Older kids also have plenty of Disney apparel to choose from. There's Deluxe Belle, Cinderella, Tinkerbelle, Alice in Wonderland and Minnie Mouse for girls. Boys can channel their inner pirate as Pirates of the Caribbean Capt. Jack Sparrow, complete with glow-in-the-dark 3-D bone patches, hat, attached wig and other accessories, or as Captain Hook from Peter Pan. Characters from the movies Cars and Buzz Lightyear are also set to top costume lists.

According to information provided by Disney, the tween market is still sold on Hannah Montana and Camp Rock. Hannah Montana fans can choose from the rock or pop star costumes. Camp Rock fans can be Mitchie for the night with the beach jam scene outfit. High School Musical's cheerleader costume is among Disney's popular offerings, too.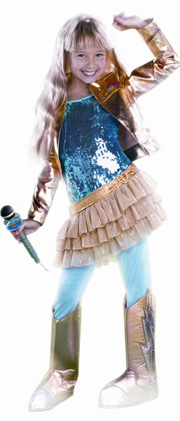 Online retailer Shop.com is already dealing with an onslaught of costume requests. "Kids start shopping for costumes early," says Mary Compagno, its director of merchandise services. "Movie characters are always popular. The Joker from Batman: The Dark Knight is one of our hot times, as are characters from the various Star Wars movies. Kung Fu Panda and Hannah Montana are up, as are Princess Leia costumes and super heroes." She adds that some kids have taken the costume trend to – yes – Olympic lengths. "Believe it or not, we've had requests for swimming costumes, given Michael Phelps' tremendous success at the Olympics!"