Bruce Lansky, father and creator of several successful children's fiction series, offers advice and tips to turn your kids from couch potatoes into avid readers.
If your kids aren't enjoying reading by the age of seven, don't give up. You might just need a new approach. My son didn't read much until he discovered the Garfield cartoon books. After that, he found The Far Side cartoon books and then Dave Barry's humor books. From there, the problem became getting him to stop reading so much. He went on to write a humor book at the age of 17 and a nationally syndicated adventure travel column in his twenties. Today, Doug is an international bestselling author and speaker on the college and corporate circuits.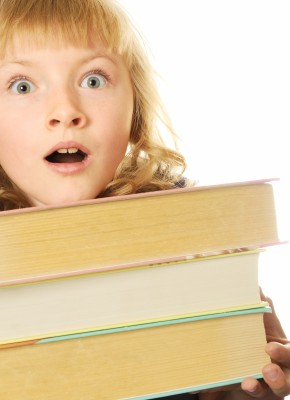 How can you turn a "don't want to" reader into a "can't stop" reader?

First of all, don't make reading a "chore" or a "have to" activity. Instead, read to your child at bedtime. Better yet, read with him or her. Here are three specific tips.
1. Perform books like a reader's theater. I used to let my son be Pooh. He would read aloud, "Tut tut, it looks like rain," whenever Pooh uttered those words in A.A. Milne's book.
2. Check out the website GigglePoetry.com, which has almost 50 humorous poetry scripts that are easy and fun for two or three people to perform as skits. You'll soon be laughing your socks off and your child will be begging to read "one more funny poem."
3. If your child is old enough (over the age of seven), try reading a Can You Solve the Mystery? story together at bedtime. If your daughter has a sweet tooth, try The Case of the Chocolate Snatcher. If your son loves video games, try The Case of the Video Game Smuggler. When you reach the end of a story and you're ready to solve the mystery, offer your services as a "consulting detective." Ask your child how the detectives, Hawkeye and Amy, figured out who-done-it. If your child doesn't know, go back and read the most important passages aloud in your search for clues that will help him or her to solve the mystery.

Never give up on putting new books, newspaper articles, or interesting web content in front of your child's eyeballs. Take your child to the bookstore or library and let him or her pick out any book, audio book, magazine or newspaper that's of interest. If your child likes cooking, pick out interesting recipes or cookbooks. If your child likes sports, offer up the sports section in the newspaper or e-mail an article about a favorite ballplayer.

Think about this: Most children crave attention from their parents. By spending time reading books and solving mysteries together, you'll be giving your child what he or she really wants (time with you), and helping build their deductive thinking skills (which their teachers will appreciate). In trade, you'll get what you want (your child to enjoy reading).
Bruce Lansky is the creator of several successful children's fiction series: Girls to the Rescue, Can you Solve the Mystery? and Newfangled Fairy Tales, plus 20 Giggle Poetry books. Altogether, these books have sold almost five million copies. He divides his time between a new home in Eden Prairie, Minnesota, where it's quiet enough for him to read and write when he gets the urge, and a home in Naples, Florida.