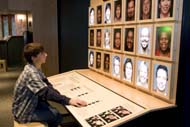 Daily activities for kids and the family are abound in Fairfield County! Whether you want to spend the day with your children at a zoo, a museum, or just outdoors, we've got it all here. Want to see what's going on next weekend or when you have those few days off? Check out the NY Metro Parents'
calendar
!
Story Pirates - Stamford's Palace Theatre
March 09, 2014 - Stamford
Stories by kids for kids. Story Pirates will delight and surprise with puppets, catchy songs and outrageous sketches, all the while motivating kids to pick up a pencil and write down their own fantastic adventures. Story topics run the gamut, from kung fu ninja babies fighting crime to cats flying and tickle-monsters who rule the world.
The Journal News Golf Show - Westchester County Center
March 09, 2014 - White Plains
For golfers throughout the Lower Hudson Valley, it's the first "must-attend" event of the golf season. Check out the latest equipment, apparel, and accessories, and work with area pros to fine-tune your game. Exhibitors and major golf equipment manufacturers will be represented, and a Discount Pro Shop will be open, with equipment and accessories at special low show prices. Test new 2014 clubs on driving range and putting green, and visit the special Women's Golf area. A great opportunity to introduce children to the game of golf. FREE, hands-on 10-minute lessons, demonstrations, contests, exhibitors, and more.
Diary of a Worm, a Spider, and a Fly - Westport Country Playhouse
March 09, 2014 - Westport
This coming-of-age musical based on the bestselling books follows the tale of Worrying Worm, Fearless Fly, and Sassy Spider as they find that it's not easy being a bug, especially on the first day of school. Produced by Omaha Theater Company, the show is recommended for ages 4 and up.
Seal-Watching Cruises - Maritime Aquarium
March 09, 2014 - Norwalk
These invigorating outings seek out the harbor seals and gray seals that come down into the Sound each winter. Educators aboard the research vessel Oceanic will point out these federally protected marine mammals and talk about their natural histories. They'll also help identify such winter waterfowl as buffleheads, mergansers and long-tailed ducks. Maritime Aquarium study cruises are good for ages 8 and older. Bring binoculars and plenty of warm clothes
Exploring the Orchestra: The Case of the Brilliant Brass - Stamford Museum & Nature Center
March 09, 2014 - Stamford
Unlock the mysteries of music with members of the Stamford Symphony. In this :45 minute interactive program, kids will get up-close-and-personal with the musicians and experience the joys of music. Call 203-325-1407 x10 to buy tickets. Parking and admission to the Stamford Museum & Nature Center are included.
Family Art Day: All About Toys III - Westport Arts Center
March 09, 2014 - Westport
Using re-purposed materials, build, assemble, and create whimsical works of art inspired by toys. Finalists for the 2014 Toy Makers III will also present their toy designs to a panel of judges, including Melissa Bernstein of Melissa & Doug toys, and winners will be announced.
Family Art Project: Family Roots - Wave Hill
March 09, 2014 - Bronx
Make a family album featuring your family's global roots and the branches of your lineage. See and sketch trees from around the world and make a collaged, handmade book of your sketches, bound with a found twig. Bring family photos if you like, to adorn your album. Free with Grounds Admission.
Celebrate! Party Showcase - Hilton Stamford Hotel
March 09, 2014 - Stamford
Find the latest and greatest ideas, resources, and venues for bar and bat mitzvahs, Sweet Sixteens, weddings and other milestone celebrations. You'll meet more than 100 party specialists, including photographers, caterers, florists, venue representatives, and more.
Sunday Explorers - Stamford Museum & Nature Center
March 09, 2014 - Stamford
The education staff offers a hands-on, interactive exploration of the Museum's many favorite features. Each week focuses on a different topic and includes self-guided and staff-led activities which run throughout the time period. Children must be accompanied by an adult. Free with gate admission.
The Norwalk Symphony third annual Family Concert - Norwalk City Hall
March 09, 2014 - Norwalk
The program will include Rossini's Overture to the Barber of Seville in a side by side performance with the Norwalk Youth Symphony and Saint Saens' children's classic "Carnival of the Animals". For the Saint-Saens, Music Director Jonathan Yates will be joined at the piano by Gita Abhiraman, last year's concert competition winner. The movement "The Swan" will be danced by Claire Noyer, a 17 year old ballerina from Ballet Etudes dance studio. In addition, 13 year old Madison Howard, the 2014 concerto competition winner, will perform a movement of Lalo's Cello Concerto and the young strings of the Norwalk Youth Symphony will have a spotlight. Go to norwalksymphony.org for tickets and information or call 203-956-6771.
Bridgeport Monster Jam® - Webster Bank Arena
March 09, 2014 - Bridgeport
Fans won't want to miss Grave Digger® driven by Carl Von Horn, Madusa® in her first appearance in Bridgeport, Higher Education driven by Jim Tracy, Iron Warrior driven by Trey Meyers, Shockwave driven by Bill Braukman, and Connecticut's own Pat Summa driving Thrasher. Monster Jam Trucks are subject to change without notice. Approximately 12 feet tall and about 12 feet wide, Monster Jam trucks are custom-designed machines that sit atop 66-inch-tall tires and weigh a minimum of 10,000 pounds. Built for short, high-powered bursts of speed, Monster Jam trucks generate 1,500 to 2,000 horsepower and are capable of speeds of up to 100 miles per hour. Monster Jam trucks can fly up to 125 to 130 feet (a distance greater than 14 cars side by side) and up to 35 feet in the air. Buy tickets at Ticketmaster.com, Ticketmaster outlets, the Webster Bank Arena CLICK IT or TICKET Box Office or call 1-800-745-3000.
Earthplace Harbor Watch Water Quality Workshop - Earthplace, The Nature Discovery Center
Through March 15, 2014 - Westport
Three part, hands on water quality testing workshop for ages 14 and up. For more information visitearthplace.org or call 203-557-4400.
Inside the Artists' Studios: Small-Scale Views - Bruce Museum
Through March 16, 2014 - Greenwich
This exhibition features scale model constructions of artists' studios created by four artists -- Joe Fig, Richard Haas, Lori Nix and Jimmy Sanders -- who also work in painting, printmaking, and photography. December 14-March 16, 2014.
Dear Diary: Update All - Neuberger Museum of Art
Through March 16, 2014 - Purchase
With the advent of social networking and mobile communications, the diary has evolved from private medium to a forum for public consideration and collaborative thought, where the personal becomes a platform for social interaction, reflection, and activism. A new exhibition at the Neuberger Museum of Art addresses private versus public space, how we connect and interact, as the personal and private are merged with the public. "Dear Diary: Update All," will be on view at the Neuberger Museum of Art of Purchase College from January 4 through March 16, 2014. The exhibition of 20 international artists and 30 artworks explores how artists express their individual and collective identities, and the relationships among memory, document, and fiction. The mixed media exhibition presents work that uses online data, remembrance, handiwork, genetics, gaming, and Google to mark the discord, beauty, and banality that occur each day. According to Jacqueline Shilkoff, the Museum's Curator of New Media, Dear Diary will be "an exciting forum for ideas and interaction." Adding another dimension to the show, students from Purchase College, SUNY will be on site during Museum hours to engage in conversation with visitors about the exhibition as well as help them navigate the show and interact with the artwork. "The artists express an astounding range of poetic philosophical expressions," Shilkoff adds. Among the artworks in the exhibition is the installation "A Charge for Privacy" (2013), an electronic phone charging station created by Nick Briz, Paul X. Briz, and Ramon Branger. The work is intuitive, featuring the familiar routine of charging a phone battery and offering viewers to charge their phones. The artists, however, introduce a barrier: an agreement to the terms of use for this charging station. From this entry point, our digital history stored in our phones creates voluntary (and involuntary) representations of ourselves. Another piece, Editor Solitario (2011) by Colombian artist Oscar Munoz, focuses on the interrelation of images and memory, exploring the ephemeral and vulnerable nature of human life. It is a black-and-white projection onto a table depicting photographs: formal portraits and family snapshots, celebrity photos, painters' self-portraits, postmortem photos, and police sketches. An unseen subject extends an arm to place photographs on the table, removing some, exchanging others, pausing, covering, and quickly removing them. Munoz combines personal and cultural histories, merging found images of the living with found images of the dead in an ambiguous narrative of individual and national memory, loss, and hope. Other artists and collaborators in the exhibition include: Kannan Arunasalam, Chloe Bass, Nick Briz, Paul X. Briz, Ramon Branger, Victor Castro, Revital Cohen and Tuur Van Balen, Chris Collins, Eric Eberhardt, Zach Gage, Mark McKenna, Amanullah Mojadidi, Molleindustria, Oscar Munoz, Laura Splan, Aalam Wassef, YoHa with Matthew Fuller. Generous support for "Dear Diary: Update All" is provided by Marcy Kahn. Additional funding is provided by RBC Wealth Management, the Friends of the Neuberger Museum of Art and the Purchase College Foundation. The Neuberger Museum of Art will present various programs in conjunction with the exhibition.
Exhibition: Oysters, Pearls of Long Island Sound - Bruce Museum
Through March 23, 2014 - Greenwich
Found in estuaries around the world, oysters are a favored delicacy for humans and play a valuable role in ecosystems and economies. These unassuming mollusks have sustained Native Americans, cleaned polluted harbors, provided critical habitat, and created waterside cultures. Explore the science and natural history of oysters, particularly the Long Island Sound's native Eastern oyster, Crassostrea virginica. November 2 - March 23, 2014.
Cleve Gray's Threnody: Forty Years - A lamentation on the loss of life in the Vietnam era - Neuberger Museum of Art
Through March 23, 2014 - Purchase
Forty years ago American artist and abstract expressionist Cleve Gray was commissioned to create a site-specific painting for the inauguration of the Neuberger Museum of Art of Purchase College in 1974. Threnody (1972-73), the 22-foot tall, 250-foot long artwork in 28 panels, turned out to be an extraordinary project - a lament for the dead on both sides of the Vietnam War. At the time, college students across the country were demonstrating against the conflict in Vietnam, a war they felt to be unjust and inhumane. Gray saw the significance of the Museum's location on a college campus. An active anti-war advocate himself, Gray saw this as an opportunity to support the students and express his hope for humanity's spiritual and emotional healing. As part of the Neuberger Museum's 40th anniversary celebration, Gray's monumental artwork will once again be on view, in "Cleve Gray's Threnody: Forty Years," organized by assistant curator, Avis Larson. Generous support for "Cleve Gray's Threnody: Forty Years" is provided by the Friends of the Neuberger Museum of Art and Purchase College Foundation. Threnody features 28 contiguous panels installed in the museum's Theater Gallery, effectively converting it into a cathedral with tall vertical forms engaged in a "dance of death and life." "Threnody considers opposites - male and female, love and hate, conflict and peace," notes Larson. She points out that Threnody continues to have an impact on viewers forty years after it was first exhibited. "In many ways we are facing similar issues relating to war and the loss of innocent lives, in addition to the many other situations we have to confront here in the United States, such as gun violence." A "threnody" is a classical song of mourning, a lamentation. In 1975, when explaining the piece, Gray wrote: "I felt that tragedy had been manifested more intensely during those years and in the preceding decade than at any other time in American history. Iniquity, futile death, and destruction surrounded us with little relief. This sense of tragedy in the sixties and seventies insisted itself upon me as the subject matter for the walls I had been asked to paint in the Neuberger Museum, for I felt that the heroic space encompassed by these walls required a heroic subject." Threnody marked a turning point in the artist's investigation of a radically simplified, vertical image, and the large-scale calligraphic gestures that became the hallmark of his mature paintings. To prepare, Gray created several hundred color studies and over 100 figure studies over a period of about 18 months. About his approach to large-scale logistics, Gray wrote that he "had a 20' x 20' easel constructed...it had a hoist so that it could be raised to the vertical position." In addition, he used very large brushes, sometimes janitors' push brooms, and plastic swimming pools in which to mix his paints. Rhythmically spaced motifs in the 28 panels suggest a diversity of imagery, and most vividly, perhaps, a procession of solemn dancers. "The depiction of tragedy often requires an element of hope, so I chose a positive red for the central figure of the 'apse' wall. Unexpectedly but inevitably this figure became the climactic point of the room. In the midst of death it had to offer the hope of life, just as blood is both the palpitating fluid of life and the fleeting evidence of death." Larson believes that the reinstallation of Threnody "impresses upon us the need for humanity's spiritual and emotional healing as we now face the devastation of current wars and the loss of life on both sides. Threnody offers our students and the general public a place conducive to contemplation and meditation." Threnody is part of the Neuberger Museum's permanent collection, and has been exhibited from time to time, most recently in 2007, and before then, shortly after 9/11. On view from January 12 through March 23.
REMNANTS OF THE ORIGINAL ERIE CANAL: Tintypes by N.W. Gibbons - Westport Library
Through March 27, 2014 - Westport
The exhibit chronicles the remains of the once great Erie Canal, completed in 1825, which ran from Lake Erie to the Hudson River, and originally included 83 locks to accommodate the increasing barge traffic between the two points. Through March 27.
Beyond Brushwork - Rowayton Arts Center
Through March 29, 2014 - Rowayton
The exhibit consists of digital art, drawings,mixed ,media, pastels and prints.
Founder's Art - Rowayton Arts Center
Through March 29, 2014 - Rowayton
Founder's Art celebrates the 100th anniversary of artist James Flora's birth. Although Flora is best-known for his jazz and classical album covers in the 1940s and 1950s, he also authored and illustrated 17 popular children's books (including The Day the Cow Sneezed), was a magazine illustrator and fine artist with a wild sense of humor. March 2-March 29, 2014.
'Tornado Alley' - Maritime Aquarium
Through April 03, 2014 - Norwalk
This film invites the audience to follow along with a daring team of "storm chasers" as they work to understand the origins and evolution of tornadoes. Sean Casey, star of the Discovery Channel's "Storm Chasers" reality series, leads this mission to document one of Earth's most awe-inspiring events - the birth of a tornado. Through April 3, 2014.
In The Dark: Animal Survival Strategies - Bruce Museum
Through April 13, 2014 - Greenwich
In this immersive, entertaining, and family-friendly exhibition, people of all ages will discover how animals, including humans, adapt to living in the dark. The show features natural dioramas of caves, deep soil, nighttime forest and desert, along with mechanical, electronic and digital interactives. This exhibition is organized by the Cincinnati Museum Center. January 25-April 13, 2014.
Touch A Jellyfish - Maritime Aquarium
Through April 20, 2014 - Norwalk
The Maritime Aquarium is turning conventional beach wisdom upside down, by inviting its visitors to do something they've been told not to do all their lives: touch a jellyfish. This special exhibit will let visitors safely touch live moon jellyfish, one of the most common species in Long Island Sound. Open weekends, holidays and school vacation weeks January 18–April 20.
Exhibition: Six Ladders - Katonah Museum of Art
Through April 21, 2014 - Katonah
Bright swaths of vibrant colors transform the Katonah Museum of Art's exterior in its newest outdoor exhibition, "Six Ladders," by artist Andrea Lilienthal. Lilienthal created a series of giant bamboo ladders for the Museum's stately Sculpture Garden that are whimsical and enigmatic; their brilliant colors electrify the natural surroundings. Five ladders, with their cheerful colors and playful patterns, lean against the Museum's enormous spruce trees in various positions and at different angles. On the building's facade, a sixth, 30-foot ladder extends just short of the roofline - its form and ribbons of color energizing the wall and lending sculptural dimension to the flat expanse. Each of the ladders are hand-constructed from sturdy commercial bamboo, harvested in China, and painted with high-gloss outdoor enamel paint from Holland. Their surfaces are smooth and reflective, in contrast to the course-textured tree bark. According to Katonah Museum of Art Curator Ellen Keiter, "These are not functional structures - their bottom rungs are too high to mount and the ladders fail to reach the top of their intended destinations. These are instead beautiful works of art; Andrea Lilienthal responds to the inherent geometry of ladders and the repetitive rhythm of their rungs. She finds beauty in their simple, minimalist construction." "Lilienthal's ladders instill a sense of wonder and suggest that seemingly unreachable goals can be attained," she says. Keiter explains that bamboo is a hollow-stemmed, woody plant that "bows, sways, and splits, so slight imperfections, even substantial cracks, add distinctive character to each ladder. No two ladders are painted the same, yet their similarly saturated hues coalesce into a lively visual harmony." She adds, "The bands of luscious color wrap around the bamboo like candy confections, and bright confetti patterns alternate with stark black-and-white designs. A causal link exists between the artificial colors and the natural bamboo. On one ladder, Lilienthal painted white rings around the growth nodes of the bamboo; on another, the nodes demarcate the lengths of painted blue and orange sections." Says Lilienthal: "These magnificent and mysterious trees [at the Katonah Museum of Art], whose tops are not even visible, dwarf the people and furniture below. In response to their super scale, I chose the ladder, a form with human scale and multiple readings: utilitarian ancient, mythic, and universal. The severe and stately trees support the bamboo ladders in an implied partnership; rooted and stable, the trees assist the ladders in their attempt to ascend. But ultimately, how do you mount an 80-foot Norwegian spruce tree? My answer was to climb it with imagination, affirming our connection to the natural world." Lilienthal has used bamboo in her artistic practice for several years. In earlier installations, she aligned multiple painted, wrapped, or taped bamboo poles along a wall - works awash in color, but still relatable in size. However, her current exhibition at the Katonah Museum of Art is in keeping with the majesty, diameter, and spacing of the giant spruce trees. Adding to the intrigue of this exhibition are enlarged photographs of the Garden's spruce trees displayed in the Museum's two west windows adjacent to the lone 30-foot ladder. On first impression, the images appear as reflections. In this way, Lilienthal reinforces the relationship between the ladders and the trees while further playing with the viewers' perceptions and expectations. Historically, ladders carry rich and universal associations. In many faiths and fables, ladders are a symbol of ascent, of travel, of reaching upward. In modern times, they represent progress and growth, allowing us to reach higher than we would otherwise be able to go. Ladders symbolize elevation: from darkness to light, from ignorance to knowledge, and from the material to the spiritual. They are featured in art from prehistoric cave paintings to contemporary times. Jacob's Ladder, the metaphysical passage between heaven and earth, is mentioned in the first book of the Bible, and is represented in such disparate media as Renaissance paintings and popular video games. There is a popular African-American spiritual, "We Are Climbing Jacob's Ladder," Eric Carl's beloved children's picture book, "Papa, Please Get the Moon for Me," and innumerable colloquialisms regarding "the ladder of success." On view through April 21, 2014 during Museum hours: Sundays: 12-5pm; Tuesdays through Saturdays: 10am-5pm. Closed Mondays.
The Orchid Show: Key West Contemporary - New York Botanical Garden
Through April 21, 2014 - Bronx
A mosaic of classic and exotic orchids greets visitors in the Enid A. Haupt Conservatory - a living design inspiration taking its cues from a modernist Key West estate garden. Throughout the exhibition, varied events and activities capture the artistic and cultural appeal of the Keys through live weekend music, a curated poetry walk, Orchid Evenings, and more. During The Orchid Show: Key West Contemporary, step out of the bustling city and into the Florida Keys, where the dramatic beauty of a flourishing tropical garden is amplified by vibrant architecture to recall this particular island's charm and ambience. The Enid A. Haupt Conservatory's sprawling glasshouse galleries are transformed into a modernist Key West estate garden inspired by a garden originally designed by award-winning landscape architect Raymond Jungles for Susan Henshaw Jones, who is President of the Museum of the City of New York, and Judge Richard K. Eaton. Immerse yourself in an effusion of orchids blooming among still, geometric reflecting pools, soaring angular pergolas, and sleek benches.
'Thingamabob' Exhibit - Maritime Garage Gallery
Through April 25, 2014 - Norwalk
Machines, gadgets and all things technology inspire the artwork at a new exhibit at the Maritime Garage Gallery."Thingamabob" features art that is in the eye of the mechanically inclined in a group show of artists, including John Jackson of Jefferson, New York, Tom Hlas of Norfolk, CT, Lewis Schaffer from Ridgefield, Deborah Rauh from Westport, Sara Roche from Weston, and others. The Maritime Garage Gallery is part of the Norwalk Parking Authority's "Art in Parking Places" initiative, an effort to support art in public spaces making Norwalk a more vibrant destination. January 29-April 25, 2014.
Wonder Women of Fairfield - Fairfield Museum and History Center
Through April 28, 2014 - Fairfield
Discover the vision and determination of Fairfield's most famous women, who forged new avenues of achievement not open to earlier generations. Through portraits, biographical information, objects and documents,the exhibit highlights the fascinating lives of notable women who helped build and shape our community, including Pepperidge Farm founder Margaret Rudkin and Connecticut Audubon Society founder Mabel Osgood Wright February 27-April 28, 2014.
Fairfield's Rockin' Top Ten - Fairfield Museum and History Center
Through April 28, 2014 - Fairfield
This interactive exhibition takes a look at some of America's most renowned musicians—such as Keith Richards, David Brubeck, Jose Feliciano and Chris Frantz and Tina Weymouth--who have called Fairfield and surrounding communities home and have shaped our musical legacy. March 1-April 28, 2014.
The Greenwich Art Society presents 'The Art of Lina Morielli' - Greenwich Hospital - Garden Cafe
Through April 30, 2014 - Greenwich
This exhibition is comprised of paintings and mixed media from the artist's personal collection. February 1 – April 30 at the Garden Café at Greenwich Hospital. Lina Morielli was born in Montreal, grew up in Darien, CT and is a graduate of Parsons School of Design. As an artist/arts activist she has been in involved in many aspects of the local art scene in the Stamford area for over twenty years. She was president of Stamford's Loft Artists Association and received three City Arts Partnership Program grants to produce their Annual Open Studios and Performance Series. February 1-April 30,2014.
LOST EGYPT: ANCIENT SECRETS, MODERN SCIENCE - Connecticut Science Center
Through May 04, 2014 - Hartford
Lost Egypt blends ancient artifacts and hands-on activities to create a learning experience for families, students, and all those with a passion for Egypt and Egyptology. The interactive exhibit features real human and animal mummies, as well as mummy scans and forensic facial reconstructions. Visitors can explore a re-creation of an Egyptian tomb and see authentic art and artifacts from the daily life and funerary culture of ancient Egypt, plus the first ever life-size rapid prototype of a mummy in a stage of "unwrapping". They can also build a pyramid, sit atop a friendly camel and read hieroglyphics as ancient Egyptians did thousands of years ago. Feb 1- May 4, 2014.
Forrest Bess: Seeing Things Invisible - Neuberger Museum of Art
Through May 18, 2014 - Purchase
Self-described "visionary" artist Forrest Bess (1911-1977) is a unique figure in the history of American art. He eked a meager living fishing and selling bait by day in Bay City Texas, while, in his free time, he read, wrote, and painted prolifically. He created an extraordinary body of mostly small-scale canvases rich with enigmatic symbolism based on symbols he saw in his dreams. Bess drew meaning for these symbols from various disciplines such as medicine, psychology, anthropology, and philosophy, eventually formulating a theory, which he referred to as his "thesis," that the unification of male and female within one's body could produce immortality. Despite his remote location, Bess gained recognition in the New York art community, showing his work between 1950 and 1967 with the prominent artist and dealer Betty Parsons. "Forrest Bess: Seeing Things Invisible" is organized by the Menil Collection, curated by Assistant Curator, Clare Elliott, in collaboration with contemporary artist Robert Gober, expanding on a project he created for the 2012 Whitney Biennial. It will feature a selection of over 40 paintings, along with rare works on paper and selected letters, and will be accompanied by a fully illustrated catalogue. At the Neuberger Museum the exhibition is organized by Chief Curator Tracy Fitzpatrick. Through May 14.
The Art of Video Games - Hudson River Museum
Through May 18, 2014 - Yonkers
One of the first major exhibitions to explore the 40-year evolution of video games as an artistic medium, "The Art of Video Games" focuses on the medium's striking graphics, creative storytelling, and player interactivity. Organized by the Smithsonian American Art Museum, the exhibition travels to the Hudson River Museum for its only appearance in the New York Metro area, from Feb. 15-May 18. "The Art of Video Games" features the most influential artists and designers across five eras of game development, from early pioneers to the contemporary artists, who created some of the best games for 20 gaming systems that range from the Atari VCS to PlayStation 3. Video games - a compelling and influential form of narrative art - use player participation to tell stories and engage audiences in the same way as film, animation, and performance. The exhibition features 80 video games selected with the help of the public to demonstrate the evolution of the medium. The games are presented through still images, video footage, and video interviews with developers and artists, historic game consoles, and large prints of in-game screen shots. Five featured games are available for visitors to play (Pac-Man, Super Mario Brothers, The Secret of Monkey Island, Myst, and Flower), which show how players interact with the virtual worlds, highlighting the innovative techniques that set the standard for many subsequent games. "Video games are a prevalent and increasingly expressive medium within modern society," said Chris Melissinos, former chief gaming officer for Sun Microsystems, founder of Past Pixels, and guest curator of the exhibition. "In the 40 years since the introduction of the first home video game, the field has attracted exceptional artistic talent. Video games, which include classic components of art, offer designers a previously unprecedented method of communicating with and engaging audiences by including a new element, the player, who completes the vivid, experiential art form by personally interacting with the game elements." Visitors to the exhibition are greeted by excerpts from selected games projected 12 feet high, accompanied by a chipmusic soundtrack by 8 Bit Weapon and ComputeHer, including "The Art of Video Games Anthem," recorded by 8 Bit Weapon specifically for the exhibition. An interior gallery includes a series of short videos showing the range of emotional responses players have while interacting with games. The Smithsonian invited the public to help select the video games in the exhibition. A pool of 240 games was selected by Melissinos and an advisory group consisting of game developers, designers, industry pioneers, and journalists. More than 3.7 million votes were cast by 119,000 people in 175 countries. "The Art of Video Games" is organized by the Smithsonian American Art Museum with generous support from the Entertainment Software Association Foundation; Sheila Duignan and Mike Wilkins; Shelby and Frederick Gans; Mark Lamia; Ray Muzyka and Greg Zeschuk; Rose Family Foundation; Betty and Lloyd Schermer; and Neil Young. Promotional support is provided by the Entertainment Consumers Association. The C.F. Foundation in Atlanta supports the museum's traveling exhibition program, "Treasures to Go." On view through May 18, 2014.
Great White Shark - Maritime Aquarium - IMAX
Through June 30, 2014 - Norwalk
No other modern animal may command both fear and fascination as much as the great white shark ? but The Maritime Aquarium's new IMAX?film suggests, instead, that these predators mainly need help and respect. This film unravels the mystery of the creature by telling the true story of its role atop the oceanic food chain. "Our mission is to change people's attitudes toward the great white," said Steve McNicholas, co-director of the film. "It's not the menacing, evil predator it's made out to be. It's simply performing its crucial role at the top of the ocean's food chain. Great whites are not monsters any more than the polar bears or lions that we revere." The 40-minute film takes viewers around the world to great-white hotspots and examines the animals through the eyes of several people whose lives and work have become inextricably linked to the great white, including shark expert Michael Rutzen, who openly scuba dives among them. October 11-April 3, 2014.
Sensory Jump Time - Pump It Up Norwalk
Through June 30, 2014 - Norwalk
Pump It Up has partnered with Autism Speaks to offer Sensory Jump Time, a program for all children on the autism spectrum. They have created a sensory-friendly environment specific to the Sensory Jump Time program. Children who attend have the opportunity to make new friends, jump, slide and play sensory-friendly games within a controlled, safe environment. This program is open to children on the autism spectrum and their siblings only. Advanced registration is encouraged as this program is not open to the general public in order to provide a safe environment for the children. Pump It Up is a proud supporter of Autism Speaks. The program takes place on Tuesdays and Saturdays.
Fun & Games with Miss Melissa at Pump It Up Norwalk - Pump It Up Norwalk
Through June 30, 2014 - Norwalk
Children enjoy a select mix of games, stories, crafts or other fun filled activity depending on the theme Miss Melissa has planned for that day. Takes place Tuesdays, Wednesdays and Thursdays.
Story and Animal Program - Earthplace
Through August 10, 2014 - Westport
Children 5 and younger can visit Earthplace every week for story time and an animal encounter. Thursdays and Fridays year-round.
Tiny Titans: Dinosaur Eggs and Babies - Yale Peabody Museum
Through August 30, 2014 - New Haven
This family-friendly exhibition features amazing collections of dinosaur eggs, nests, embryos and young with video presentations summarizing the latest findings of dinosaur experts. It will be on view from February 8 through August 30, 2014.
New and Improved Healthyville - Stepping Stones Museum
Through September 01, 2014 - Norwalk
Enjoy updated versions of old favorites such as riding a bike next to a skeleton, shopping for foods in the market and brushing a giant mouth, while new activities allow children to explore even more about fitness and nutrition. Study circulation and digestion, learn about go/slow/whoa foods, play food detective, get an up-close look at a giant nose, row a boat in tandem with a skeleton and create a warm up and cool down routine. Children and adults will have hands-on opportunities to explore topics in ways that help them understand their bodies, understand the importance of making healthy choices and apply concepts in everyday situations. February 1, 2014-September 1, 2014.
Meerkats - Maritime Aquarium
Through December 31, 2014 - Norwalk
Meerkats are members of the mongoose family that live in social ?mobs? in the Kalahari Desert, in the southern African nations of Botswana and South Africa. No mere cats, meerkats are fascinating for living in structured but cooperative societies, including a foraging strategy where adults take turns standing guard upright on their hind feet, watching for predators, while the others eat. The meerkats? exhibit offers opportunities for climbing, digging and exploring, with several feeding locations to keep them on the alert for incoming crickets. A viewing bubble lets visitors pop up right among the meerkats.
Animal Feeding at Earthplace - Earthplace
Through January 01, 2015 - Westport
Ever wonder what you feed a turkey vulture? Curious about how a box turtle chews with no teeth? Join Earthplace staff in the Animal Hall and Connecticut Birds of Prey exhibit for scheduled feeding times. Earthplace staff will be able to answer all your questions while giving each of the animals their daily meal. On Mondays, Wednesdays and Fridays watch the animals in Animal Hall get fed. On Tuesdays, Thursdays and Saturdays it's time to feed the Birds of Prey. The activity takes place year-round.
Toy Boat-Making Workshop - Maritime Aquarium
Through December 31, 2015 - Norwalk
Visit the toy boat-making area on weekends for a fun 20-minute boat-building project. Build and decorate a toy sailboat to take home as a special keepsake of your visit. Saturdays and Sundays year-round.
Creating Community: Exploring 375 Years of Our Past - Fairfield Museum and History Center
Through December 31, 2015 - Fairfield
This new, hands-on exhibit invites visitors to look inside a Native American wigwam, climb into an American Revolution fort, decipher spy code, and learn how factories fueled the area's growth. Young and old alike will enjoy learning how people worked, lived, and built a community over time by exploring original objects, individual stories, and engaging activities. October 27-December 31, 2015.
Africa: From the Desert to the Sea - Maritime Aquarium
Through December 31, 2015 - Norwalk
Explore the aquatic wonders of Africa, including amazing fish from the Nile River, the lakes of Africa's Great Rift Valley and the Red Sea. Species highlighted include exotic air-breathing lungfish that can survive for a year if their waterhole goes dry, and colorful cichlids and coral reef species that shine in shimmering rainbows.
Born to Be Wild - Maritime Aquarium
Through June 30, 2024 - Norwalk
Academy-Award winner Morgan Freeman lends his voice to this film which follows orphaned baby orangutans and elephants, and the people who rescue and raise them for eventual release back into the wild. Through April 3,2014.