Thanksgiving's more fun when the kids get involved. Here is a fun-filled craft for that all-important table centerpiece.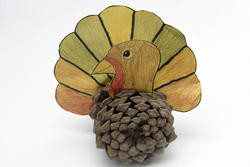 What You Need:
 Two-inch Styrofoam ball
 Newspaper
 Brown paint
 Paintbrush
 Tacky glue
 Pair of googly eyes
 Scissors
 Black marker
 Construction paper (red, yellow and orange)
 Basket to serve as the turkey's body (approximately three inches tall and at least six feet wide)
 Colorful cloth napkin
What to Do:
1. To create the turkey's head, cut the Styrofoam ball in half.
2. Cover your work surface with newspaper. Paint the head with brown paint. Let dry completely.
3. Glue the googly eyes on the round side of the head. Cut out a yellow construction paper beak and red construction paper wattle, then glue in place. Glue the turkey head to the basket. Let dry completely.
4. Cut out lots of colored feathers that measure eight to 10 inches long (depending on the height of your basket) and one-and-three-quarter inches across at the widest point. You can draw feather marks to make it look more realistic.
5. Laminate the feathers to make them sturdier, longer lasting, and resistant to damage from food that may be used in the basket. Glue the feathers to the back of the basket on the inside. Let dry completely.
6. Line the basket with a colorful cloth napkin.
NANCY A. CAVANAUGH is a freelance writer, web designer and editor. Her website, www.holidaycrafts4kids.com, is full of fun and easy holiday crafts and activities for ages 3-7.