Why not make your child's next birthday party a sleepover for a good cause? See how the Pajama Program, a nonprofit charity, helps children in need throughout the U.S. and can turn a birthday bash into a fun pajama party!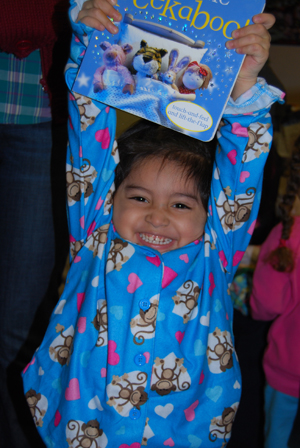 Suze Orman wrote in her best-selling book The Money Class, "A friend recently made her five-year-old's birthday party into a pajama party, asking children to come in their PJs and to bring a new set of pajamas instead of a gift. The pajamas were donated to the Pajama Program, a charity that gives new pajamas and books to children in need in the U.S. I thought this was a great idea that created a real opportunity to teach small children about our obligation to help those less fortunate."
This year in celebration of a decade of giving, the national nonprofit Pajama Program is issuing a Call To Action to the nation's children and their families to hold pajama drives, parties, and fundraising events to help reach a goal of serving 500,000 children in need by year-end (they've already reached the one million mark!).
"I grew up in Yonkers and wanted to bring our very successful reading program here," says founder Genevieve Piturro. "Our first Reading Center is in Yonkers thanks to support from the Andrus Center. The children we see have such a traumatic history and are in desperate need of comfort and support. New, warm pajamas and a bedtime story help get them through difficult nights. I haven't had any children, but my husband tells people I have 500,000 kids!"
The Pajama Program operates 79 chapters in 42 states and provides new pajamas and new books to children waiting and hoping to be adopted while living in group homes, shelters, and temporary facilities. Some are living with their families below the poverty level. Download materials for throwing your own pajama drive and learn more-including where your local chapter is located-at www.pajamaprogram.org.