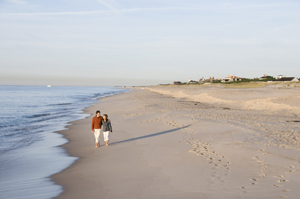 Two Long Island, NY, beaches were named among the best in the country this year. Coopers Beach in Southampton, NY, ranked #1, while East Hampton's Main Beach took the #5 spot in the recently released 20th Annual Top 10 Beaches list, produced by Dr. Stephen P. Leatherman, director of Florida International University's Laboratory for Coastal Research.
TOP 10 BEACHES 2010
1. Coopers Beach
Southampton, New York
2. Siesta Beach
Sarasota, Florida
3. Coronado Beach
San Diego, California
4. Cape Hatteras
Outer Banks of North Carolina
5. Main Beach
East Hampton, New York
6. Kahanamoku Beach
Waikiki, Oahu, Hawaii
7. Coast Guard Beach
Cape Cod, Massachusetts
8. Beachwalker Park
Kiawah Island, South Carolina
9. Hamoa Beach
Maui, Hawaii
10. Cape Florida State Park
Key Biscayne, Florida
While both beaches have been ranked among the best beaches in America in the past, this is the first time a New York beach has taken the Number One spot. A list of 50 criteria is used to evaluate the beaches, including water and sand quality, as well as safety and environmental management. "Dr. Beach" Leatherman, an internationally known coastal scientist, has selected the Top 10 Beaches annually since 1991.
Coopers Beach, on the east end of Long Island, New York, in Suffolk County, is located at 268 Meadow Lane near the intersection of Coopers Neck Lane in the Village of Southampton. At just about 500 feet long, it's part of a longer seven-mile stretch of white sand beaches in Southampton. Coopers Beach and Main Beach in East Hampton cach compose a small part of the more than 100 miles of oceanfront that runs along Long Island's South Shore.
Southampton, in the world-famous Hamptons region, is known for its quaint villages, miles of farmland, wineries, art, history, fine dining, and lodging. It is steeped in a history dating back to 1640. Parking is pricey ($40 daily) so the best way to visit the beach at no charge is a short bicycle ride from the Village of Southampton.
"This is really a recognition of the people in our community who respect the beach and take care of it; it's a reflection of our community," said Mark Epley, Mayor of Southampton Village. "I'm proud of all our beaches; they are raked and cleaned on a daily basis. Coopers Beach is a large white sand beach, well-maintained, with great dunes and beach grass that surround it. We have visitors come from all over the world. On any day in August, you can probably hear 15 different languages being spoken on the beach."
The Long Island Convention & Visitors Bureau anticipates that visitors and residents will be inspired to visit Long Island's other stretches of white sand public beaches, as well as its historic sites, hiking trails, golf, wineries, villages, restaurants, and of course, hotels.
For a free Travel Guide, call the Long Island Convention & Visitors Bureau at 1-877-386-6654 or visit www.discoverlongisland.com.