Walt Handelsman, the Pulitzer Prize-winning cartoonist for Long Island's Newsday, presented a special workshop for kids at Huntington's Usdan Center for the Creative and Performing Arts.
Pulitzer Prize-winning political cartoonist Walt Handelsman, a Long Island dad of two whose nationally acclaimed work is featured daily in Newsday as well as more than 200 newspapers across the United States, presented an engaging workshop for students at Huntington's Usdan Center for the Creative and Performing Arts on July 24. It was Handelsman's fourth visit to the renowned summer arts day camp, which is now in its 45th season.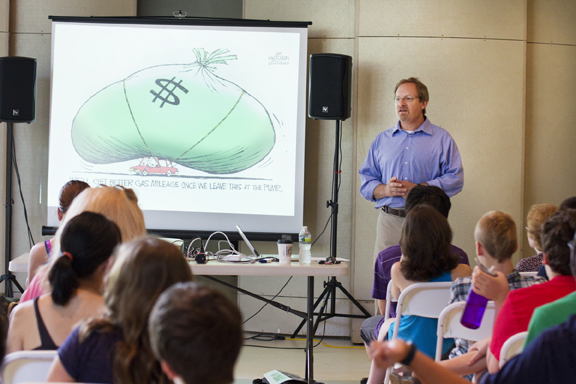 Handelsman's work frequently runs in Newsweek, Time, The New York Times, USA Today, The Washington Post, and the Chicago Tribune, and he has won every major journalism award for cartooning excellence, including two Pulitzer Prizes.
The unique humorist showed highlights of his recent work, which spoofs issues such as the economy, our culture's obsession with texting, and the current presidential election, explaining how his work reflects his opinions. The students also viewed videos by Handelsman such as the hilarious Worst Slide Story, a parody of the musical West Side Story that makes a statement about the current economy through song, for which Handelsman created the art, wrote the script, and performed the characters' voices.
"It's not about the art, it's about the message," Handelsman told the students. "Think about what you're going to say, rather than how you're going to say it." Speaking about his work process, the cartoonist said he draws 95 percent of each cartoon by hand, then finishes them in Photoshop. "I can't schedule when I'm going to get an idea," he added. "Sometimes it's 11 in the morning and sometimes at 4:30pm, with a 6pm deadline."
The presentation was followed by a one-on-one discussion with the students.
For more information on the Usdan Center and its creative arts programs for kids ages 6-18, call 631-643-7900 or visit usdan.com.