Kristen's work in her local hospital's maternity ward involved an array of important responsibilities to support mothers and newborns. She provided assistance by updating patient charts, aiding nurses, handling admissions documents, delivering gifts, escorting parents to special care, and anything else that was needed at a moment's notice. Remarkably, Kristen is just 15 years old but, as a volunteer, she was truly an integral part of the maternity ward. The arrangement proved to be mutually beneficial, filling a need for the hospital while providing Kristen with a meaningful experience.

   "The skills that I developed while volunteering were definitely valuable," Kristen says. "I learned patience and how to be proactive. My people skills and networking abilities improved because I came in contact with a lot new people, whether they were new mothers, nurses, or visitors. I also learned dedication by having to be in a certain place at a certain time."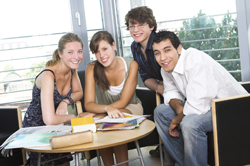 Teenagers are at a critical stage in the career development process. As they are preparing for college or the workforce, they face a big decision: "What do I want to be when I grow up?" Suddenly this is no longer a fantasy; it becomes a real question for teens as they attempt to seriously narrow down their career interests from the vast array of possibilities. This might feel like an impossible task. Teens often wonder, "How could I possibly decide what career is the best fit for me when I haven't tried anything yet?" Volunteer work is an excellent answer. It's a great way for teens to test drive their career options.

   A young person who wants to gain exposure to a certain industry might feel shut out when approaching an employer. When a teen hasn't worked before, he/she is faced with the dilemma of needing experience to get experience. While it's often a challenge for students to land jobs in particular fields, volunteer opportunities are plentiful. There are so many organizations that need the extra help and are willing to provide on-the-job training and education. Students who volunteer get an introduction to the world of work and acquire transferable skills to land paid positions or competitive internships later. And the sense of accomplishment from a successful volunteer project might help your teen to realize new interests and talents.

   Additionally, community service is a great family project. While Kristen volunteered, her older brother, Glenn, also interned at the hospital. Sharing this commitment was a wonderful bonding experience and an opportunity for the siblings to process what they learned together. Glenn agreed that he gained a great deal from working at the hospital. "It helped me to get a real view of what life would actually be like in this field." He had the opportunity to shadow doctors and conduct informational interviews to gain inside advice on careers in medicine. As a high school student, Glenn received a jump-start on his career through a work experience that many students do not typically engage in until their college years. He has established professional contacts, excellent resume material, and a stronger grasp on his career plans. "This experience made me confident that I definitely want to go to medical school," he says. 

   While the hospital solidified Glenn's decision, Kristen is still exploring. "Although this opportunity may not be something that I would pursue professionally, it taught me a lot about the working world," Kristen acknowledges.. "I know that volunteer work will always be a resourceful experience to look back on when I actually go into the working world. I'll feel better prepared for the challenges ahead. It also felt good to give so much back to the community, which was really all the payment I needed."

Locating volunteer opportunities
   School guidance offices and public libraries can provide information on local community service and volunteer projects and can refer students to appropriate resources. Parents and guardians can also provide helpful guidance. In fact, research suggests that a caregiver's involvement has the greatest impact on a young person's career choice. In the same light, a successful volunteer placement requires family commitment. Support your child's interests by communicating the importance of exploration and helping to identify prospective organizations that can nurture his/her curiosity about
careers. Online resources such as volunteermatch.org and volunteersolutions.org are great ways to help your family to get started. www.westchestergov.com/kids offers excellent regional volunteer ideas.

The following list provides more Westchester resources:

   The Volunteer Center of the United Way serves as a hub of information for volunteerism. Specifically for students, they offer a Youth Volunteer Program that connects young people to community organizations seeking volunteers. By visiting www.volunteer-center.org, families can access the "Youth Volunteer Guidebook" as well as an extensive database that lists numerous volunteer projects and opportunities. Some organizations include:

—American Red Cross:  http://westchestercounty.redcross.org:
Age 9 (with adult); 10 & up for youth volunteers. Andrea Grimaldi, Director of Community Volunteer Services
[email protected]   (914) 946-6500 x450

—Westchester Medical Center Behavioral Health: www.wcmc.com
Any age (with adult); 14 & up for youth volunteers. Corinne Bartholdi, Coordinator of Volunteer Services
[email protected]  914-493-1905

—Friends of Karen: www.friendsofkaren.org
Any age (with adult); 11 & up for youth volunteers. Denise Tredwell, Volunteer Coordinator  [email protected]
914-277-4547

—Make a Wish Foundation, Hudson Valley: www.hudson.wish.org
Any age (with adult); 8 & up for youth volunteers. Kristen Piccione, Manager, Community Outreach  [email protected]   914-478-9474 x104

—Rye Historical Society: www.ryehistoricalsociety.org
Ages 9 & up. Kristina Bicher, Director  [email protected]   914-967-7588

—Westchester/Putnam Special Olympics: www.nyso.org/HudsonValley/home.php  
Ages 11 & up. Tom Hay, Executive Director   [email protected]   845-878-9722

—SPCA of Westchester: www.spca914.org   
Age 9 (with adult); 15 & up for youth volunteers. Alice Shanahan, Director of Volunteer Services [email protected]  914-941-2894 x28

For more information on youth volunteer initiatives contact:
The Volunteer Center of the United Way: 914-948-4452;  [email protected]

   Family Services of Westchester (FSW) is a not-for-profit agency that offers an array of programs and services to the community and many volunteer opportunities. FSW's headquarters is in Port Chester and additional centers are located throughout Westchester County, in Mount Kisco, Tarrytown, Peekskill, Mount Vernon, Yonkers, White Plains and Pelham. Gerry Goldberg, outreach coordinator, works individually with families with children of all ages to develop meaningful volunteer projects. An example of an ongoing opportunity is "My Second Home", an Adopt a Grandparent Program where students serve as friendly companions and participate in leisure activities with seniors. Gerry also empowers young people and families to be creative and design special projects for themselves. For example, students can initiate their own service campaigns such as food or toy drives to donate their collections to the FSW Head Start Program. 

   Students, ages 14 to18, who demonstrate a commitment to making a difference in the community, can inquire about the Westchester County Junior Youth Council, a teen-run youth advocacy program through FSW. Council participants develop fundraising and community outreach projects as well as serve as a voice for teens on various health, mental health, and societal issues.

For more information on the Westchester County Junior Youth Council and other volunteer programs contact:
Family Services of Westchester: www.fsw.org
Gerry Goldberg, Outreach Coordinator  [email protected]   914-937-2320, ext. 134

TARA M. BLACKWELL is a Nationally Certified Counselor and a Licensed Mental Health Counselor in the state of New York. She serves as a Career Counselor at SUNY Purchase College and is in private practice in White Plains. For more information about academic and career planning services and to contact her, visit www.taramblackwell.com.