The Tony Award-winning "War Horse," now playing at Lincoln Center in NYC, brings two horse puppets to life to give theatergoers one jaw-dropping experience. Read on for details on this stunning play based on a story that's captured the hearts of millions, from the book up to the big screen.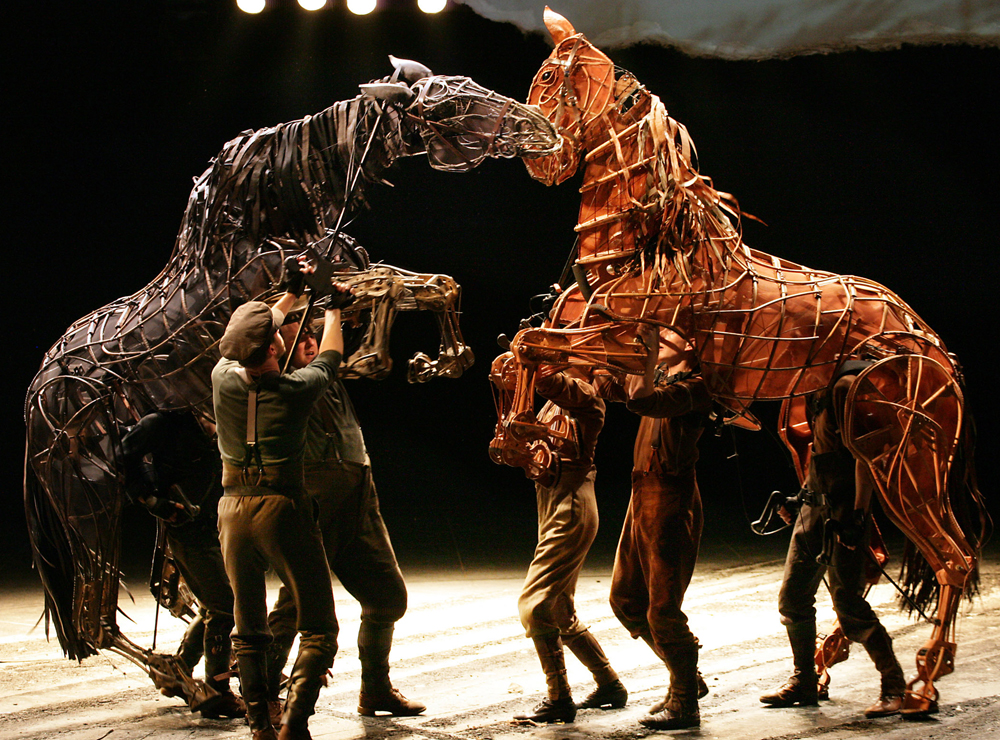 Because hot-ticket Broadway shows are almost always musicals, when a play gallops into the long-running winner's circle, there's generally a good -- make that exceptional -- reason. In the case of War Horse, 2011's Tony-winning play based on the novel by Michael Morpurgo, the springboards are many: direction, acting, design, and, most strikingly, the life-sized horse puppets (and their handlers) that infuse the show with jaw-dropping stage magic.
If this strikes you as a little over-the-top gushy, you have yet to experience War Horse at Lincoln Center. A production for the ages, the play that was adapted for the stage by Tom Morris is a one-of-a-kind phenomenon featuring fantasy equines born of molded cane, nylon, triggers, gears, and cables that are so real to theatergoers that suspension of disbelief is never an issue.
The two fully articulated horses -- Joey, the title character, who appears first as a spirited foal and moves on to adulthood under the nurturing care of his human soul-mate, the young farm boy Albert, and Topthorn, the aristocratic thoroughbred Joey bonds with on the battlefields of Europe during WWI -- come alive with staggering emotion and technical skill. Three puppeteers apiece are required to ensure that the horses' ears will move realistically and that their eyes will flash, their flanks will shiver, and their tails will twitch as they charge valiantly through the epic storyline.
The scenario tracks Albert and Joey from their early days together on the farm, where the headstrong colt adapts to wearing a harness and responding to Albert's whistle, moves on to their traumatic separation (Albert's father sells Joey to the British Army cavalry at the start of the war), and progresses to Albert's odyssey to locate his beloved companion who -- like the million English horses who served during the devastating conflict -- suffered not only fear and exhaustion, but artillery fire and treacherous barbed wire barriers. Through a series of dramatic twists, Joey ends up serving on both sides of the war, and Albert, still too young to serve, lies about his age to join the army and bring Joey home.
Equal parts family drama, military history, and intimate portrait of men in battle, the show that built its reputation on mesmerizing a multi-generational audience was called a "landmark theater event" by Time magazine.
And while the original production debuted at Great Britain's National Theatre in November 2007, when it arrived in New York it was recast with an all-American company, including Seth Numrich as Albert -- a role he will be turning over to another American actor, Andrew Durand, following his final performance on January 12. "We were very nervous about this very British story and about a war that we have less of a relationship to in the United States. We were protective of these horses; we wanted people to believe in them and if they didn't, we'd all just be crushed," Numrich recalls.
But the cast's fears were allayed after the first night of previews. "We knew the audience believed and they would go on this journey with us," Numrich says, citing that Joey's first appearance onstage as a colt was a kind of "love at first sight" moment. "People were staring with their mouths open -- enraptured. Children and adults alike."
The Passing of the Torch
It's early December and Andrew Durand, whose last Broadway appearance took place in 2006 when he stepped into the role of Georg in the acclaimed musical Spring Awakening, has recently begun rehearsals for War Horse. "I have not seen the show," he says, adding that he hasn't decided whether or not he will. "If I do, it won't be 'til much later in the rehearsal process -- once I've gotten a solid idea of what I want to do with the role."
One thing is certain, however -- Durand is totally psyched to be doing a straight play, due to the fact that his professional experience to date has been exclusively in musicals.
"I had such a strong connection with Albert from the first time I read the play -- so much so that the auditions actually felt more like rehearsals," he says, going on to describe the subsequent rehearsals as exhausting, but so rewarding. The show is a mountain to climb technically, physically, and emotionally." Still, he admits, there is no other project on which he'd rather work.
And although Durand and Numrich have distinctive approaches to playing the boy whose devotion to his horse draws him to risk his life, both have been dazzled by the skill of the teams operating the horses, and the puppets themselves.
Numrich: "[The horses] immediately came to life for all of us, as real animals with very specific characters."
Durand: "The first time Joey walked up to me, I was so giddy and intimidated that I just laughed for about two minutes straight."
'War Horse' in January: Half-and-Half/Your Call
In a daring move on the part of Lincoln Center, Durand is not the only newcomer to War Horse. In fact, an amazing revolving door will be in play mid-month as the majority of the original Broadway company is taken over by a new American cast. "Usually as a replacement you are just being plugged into a show that already exists," Durand observes, "but since we have so many new people, we get to make it our own. I can't say how different it will look from the outside, but from the inside -- from the actors and creative team's point of view -- it will be a very different show."
And as for age range, while the production has kid appeal on a number of levels, it's suggested that 12 is a pretty good starting point due to the somewhat graphic war scenes. As Durand puts it, "I think this is a really great show for kids because it is not just mindless entertainment -- it's a powerful, moving, thought-provoking experience. There is violence and death in the show...after all, it is World War I. But everything is very stylized and theatrical."
For The Record
Steven Spielberg's new film of the same name is a powerful cinematic version of the Morpurgo novel. Breathtaking in its own right, the movie is not a reproduction of the play. Nevertheless, variations in characters, literal settings, and real horses make it well worth seeing for comparison's sake. Nothing, however, comes close to watching Handspring's awesome puppet creations morph into magnificent beasts on the stage of the Vivian Beaumont Theater. Unprecedented. Unforgettable.
The Details
What: War Horse
Where: Vivian Beaumont Theater, 150 W. 65th Street, Lincoln Center
Ages: 12 and older; children younger than 5 are not permitted in the theater
Running Time: 2 hours, 40 minutes (including intermission)
Reservations: 212-239-6200; www.warhorseonbroadway.com