HALLOWEEN COSTUMES FOR BABIES: TINY TILLIA ANIMAL COVERALL
Related:
tiny tillia
,
halloween costumes for babies
,
animal coverall
,
If you've been wondering how your newborn can get in the Halloween spirit, wonder no more. These adorable Halloween bibs and animal-print coveralls scream "spooky scary" for babies in your life.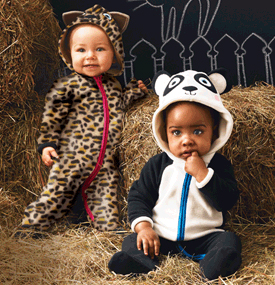 Sure, maybe your 6 month old bundle of joy won't remember their very first Halloween, but we're sure you'll take photos to capture the memories, right? So it's important for even the youngest of trick-or-treaters to have the perfect Halloween costume.
That's where Tiny Tillia by Avon comes in.
The company boasts animal-print coveralls for babies ages newborn to 9 months old, and with adorable hoods (sporting animal faces and 3-D ears!) how can anyone resist? The coveralls are 100% poly micro-fleece, are man-made, and are machine-washable (would we ever tell you about a product that isn't?!).
If you're worried the coveralls are too much for your child, a simple alternative is Tiny Tillia's "My First Halloween Bib." The product comes as a set of two bibs with roomy catchall pockets for less mess and easy cleanup. The PVC-coated polyester bibs have a hook-and-loop closure and can easily be wiped clean.
The company also has an adorable Halloween sock set (featuring the word "BOO," a candy corn elephant, and a yellow and orange striped design) and a fun, age-appropriate Halloween memory game that allows kids to practice memory skills by matching 3½" x 4¾" cards that feature the Tiny Tillia friends dressed in their favorite costumes.
So don't fret! Just because your newborn can't yet walk, that doesn't mean they can't experience the absolute best first Halloween ever.
All Tiny Tillia products can be found online.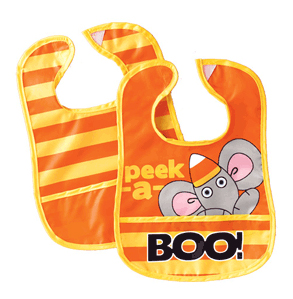 More Halloween Articles Articles
7 Tips for Trick-or-Treating with Your Toddler
New Book Encourages Kids to Give Up Halloween Candy
Halloween Activities in Bucks County, PA
DIY Alien Monster Egg Halloween Decoration
Toddler-Friendly Halloween Events in Fairfield County, CT