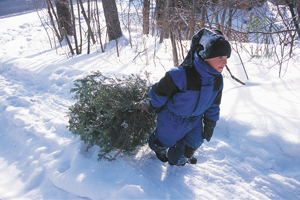 Whether choosing and cutting your own Christmas tree is a decades-old ritual in your family or a new addition to your holiday tradition, consult our guide to find a location in New Jersey.
Before you visit any of these Christmas tree farm, here are some tips - or reminders - to help you and your loved ones get the most out of the experience.
1. First, make sure to dress in warm, practical clothing when visiting any of these locations - a sturdy pair of shoes is an essential accessory for every member of the family.
2. Before you pack the gang into the car, call or visit the Web site of your intended destination to check that weather conditions are favorable and that the type of tree you're looking for is still available-this becomes more important as it gets closer to Christmas when the snow really starts to fly and the tree supply has been picked over (some locations may sell out of trees before their listed close date).
3. Most farms allow dogs, but call to check before you pack up your pet.
4. Check to see if the tools you'll need, like a saw and netting to pack up your tree, are provided. Most farms provide you with tools and optional assistance in cutting down and carrying your tree, but it's best to be prepared. If you have to bring your own tools, opt for a handsaw and steer clear of axes or chainsaws, as they're usually not allowed.
5. When you've chosen your tree, cut it as close to the ground as possible so you'll have enough trunk left to cut it a second time at home. This second cut allows the tree to soak up more water, which makes for a healthier, greener tree come Christmas morning.
6. Once your tree is placed in your home, keep the room temperature a bit lower, around 65 degrees (or at least keep the tree away from direct heat), to help keep it looking and smelling fresh throughout the holiday season.
7. Water your tree daily. Fresh trees tend to be very thirsty, so check your tree regularly to make sure the base is always covered with water.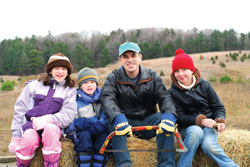 8. Enjoy!
Click here for our complete 2009 Guide
For other region-specific guides, visit: Southeast New York; Long Island; Fairfield County, Connecticut

WHERE TO CUT YOUR OWN TREE IN NEW JERSEY

Anne Ellen Christmas Tree Farm & Shop
114 Daum Road, Manalapan
732-786-9277; www.annellenfarms.com
Open daily, Thanksgiving weekend through December 23, 9am-8pm. Tools and assistance provided. Holiday shop with wreaths and other Christmas decorations.
Barclay's Christmas Tree Farm
35 Orchardside Drive, Cranbury
609-799-1855; www.barclaystreefarm.com
Open weekends between Thanksgiving and Christmas, 9am-5pm. Tools and assistance provided. Fresh plain or decorated wreaths and tree stands for sale.
Cherryville Farms
14 Joe Ent Road, Flemington
908-806-4580; www.cherryvillefarmsnj.com
Open weekends starting November 28, 9am-dark. Tools and assistance provided. Wreaths, crafts, and refreshments available.
Edward's Trees, Wreaths and Crafts
338 Jacobstown-Cookstown Road, Wrightstown
609-758-7729 or 609-234-2628; www.edwardstrees.com
Open daily November 27 through Christmas Eve, 9am-4:30pm. Tools and assistance provided. Precut trees available. Wreaths, crafts, and other holiday accessories available.
Fleming Farms
55 Kings Highway, Long Valley
908-852-6996; www.flemingfarms.com
Opening November 29, 10am-4pm; open weekends in December, Saturday 9am-4pm and Sunday 10am-4pm. Free netting available. Tree stands for sale. Free coloring book for kids.
Hidden Pond Tree Farm
End of West Field Road, Mendham
973-865-6362; www.hiddenpondtreefarm.com
Call for hours. Precut trees also available. All trees grown at the farm are pesticide free. Refreshments available, free hay rides.
Holiday Tree Farm
44 Augusta Hill Road, Augusta
973-948-7488; www.holidaytreefarmnj.com
Open Friday, Saturday, and Sunday November 27 through December 20; 9am-5pm. Saws provided. Christmas shop on premises with wreaths for sale.
Shale Hills Farm
98 Pond School Road, Sussex
973-875-4231; www.njchristmastrees.com
Open weekends between Thanksgiving and Christmas, 9:30am-dark. Precut trees also available. Santa appearances throughout the day.
Simonson Farms
Two locations: 260 Dey Road and 59 George Davison Road, Cranbury
609-799-0140; www.simonsonfarms.com
Open daily through December; weekdays 12-7pm, weekends 9am-6pm (fields close at dark). Saws available. Trees can be netted at the farm for $1.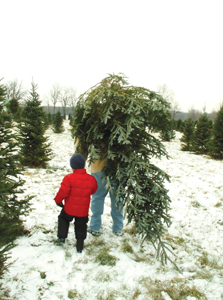 The Evergreen Farm
4 Bass Lane, Lebanon
908-236-9550; www.theevergreenfarm.com
Open beginning November 1 for tagging, by appointment. Open for the season on weekends beginning November 21, 9am-dark.
Wyckoff's Christmas Tree Farm
249 County Road 519, Belvidere
908-475-4508; www.wyckoffs.com
Open daily November 27 through Christmas Eve, 8am-4:30pm. Country gift shop with holiday decorations open weekends only.