UPDATED Feb. 4, 2014: Maple sugaring is a favorite family activity during February and March in Southeast New York and Connecticut. Here is a list of farms and nature preserves in the area, including Orange County, Putnam County, Rockland County, and Westchester County, where you can tap trees for sap, learn about the maple sugaring process, and sample fresh maple syrup at a pancake breakfast or brunch.
CONNECTICUT
Great Brook Sugar House at Sullivan Farm
140 Park Lane Road, New Milford, CT
860-354-4600
Maple Sugaring Festival: March 8, 10am-3pm. Celebrate the natural and cultural history of making maple syrup. Everyone tries the bit brace drill, witnesses some maple sap flowing, and gets to sample the syrup. The day also includes blacksmithing demonstrations, pancakes with fresh syrup and hot cocoa or coffee for all, themed crafts, and marshmallow roasting over a fire pit. Reserve your spot by emailing [email protected] or call 860-354-4600 and leave a message. $7 per person; $20 maximum per family (includes pancakes and hot drinks).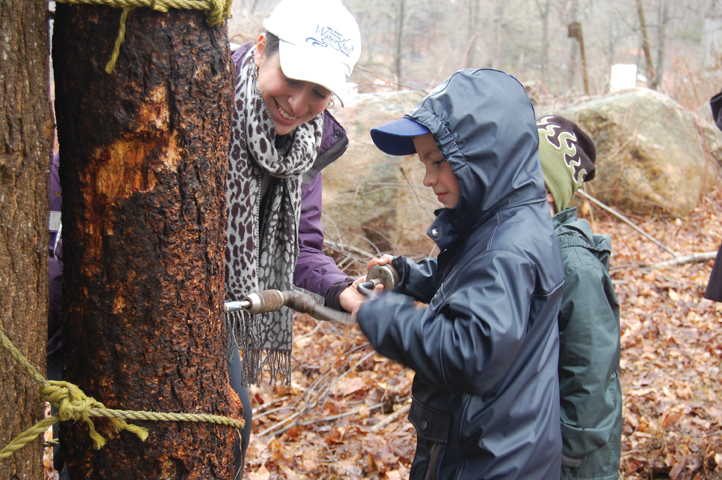 Stamford Museum & Nature Center
39 Scofieldtown Road, Stamford, CT
203-322-1646 x652

Maple Sugar Festival Weekend: March 1-2, 11am-3pm. Celebrate the sweetness of the maple sugaring season as this annual family favorite event. Visit the little red sugarhouse on Heckscher Farm and see firsthand how sap is turned into maple syrup. Witness how trees are tapped and sap is collected, make a maple-themed craft, go on a scavenger hunt, have your face painted, sing and dance to live music, and more. On Saturday, sample delicious dishes from local teen chefs featuring SM&NC maple syrup in First County Bank's Teen Chefs Challenge and vote for your favorite. On Sunday, enjoy the popular pancake brunch. $10; free for children younger than 3; $5 additional for brunch on Sunday. Festival admission and pancake brunch tickets can be purchased in advance via the website.
Warrup's Farm
11 John Read Road, West Redding, CT
203-938-9403
Maple Sugaring Demonstrations: March 1-2, 8-9, and 15-16, 12-5pm. Watch the process of collecting sap and turning it into maple syrup and sugar candies (both of which will be available for purchase). FREE!
Wilton Ambler Farm
257 Hurlbutt St., Wilton, CT
203-834-1143
Maple Syrup Open House: March 1 and March 8 at 1pm. Families can tap a tree, take part in a maple syrup taste test, and learn about the Native American, colonial, and modern techniques of making syrup. Then everyone can taste Ambler Farm's own maple syrup over vanilla ice cream. FREE!
SOUTHEAST NEW YORK
Orange County, NY
Hudson Highlands Nature Museum
Outdoor Discovery Center, Muser Drive, Cornwall
845-534-5506
Maple Sugar Tours: Saturdays and Sundays, March 1-30 (except March 29), 10:30am-3pm. Environmental educators lead special maple sugaring tours at this popular, annual event. Tours start every half hour and include a 45-minute walk through the forest with stops at points of interest to learn about the process of maple sugaring. $10; $7 children ages 4-11; free for children younger than 4.
Putnam County, NY
Green Chimneys
Clearpool Campus, 33 Clearpool Road, Carmel
845-225-8226 x605
Maple Sugaring & Annual Pancake Breakfast: March 16, 10am-2pm. Visit the sugarhouse for a tour and live demonstration of the sugaring process, then sit down to a hearty breakfast of pancakes with Clearpool's own maple syrup. Families can enjoy crafts and outdoor activities including campfire cooking and interpretive hikes. To register, call or email [email protected] $5 per person or $15 per family (up to six people).
Rockland County, NY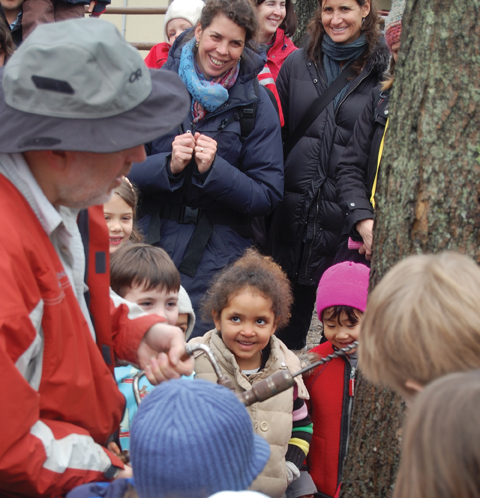 The Nature Place Day Camp
285 Hungry Hollow Road, Chestnut Ridge
845-356-6477
Maple Sugaring: March 1, 11am-12pm. Families are invited to tap maple trees, boil sap over a fire, and sample some fresh maple syrup. The event will be followed at 1pm by an open house for The Nature Place Day Camp. This includes a tour of the camp as well as a slide show from past summers. FREE!
Nearby in Bergen County, NJ
Tenafly Nature Center
313 Hudson Ave., Tenafly
201-568-6093
Maple Sugaring: Feb. 9, 16, 23; March 2, 9, and 16 at 12:30pm and 2pm. Learn how to identify a maple tree, explore the history and process of making syrup, then check tapped trees around the nature center and boil down sap to make fresh, warm maple syrup. $10; free for children younger than 2.
Pancake Brunch and Maple Sugaring: March 23, 10:30am-12:30pm. Families with children ages 5 and older can enjoy real maple syrup on pancakes made on a griddle in the nature center's pavilion. First, participants will learn how to identify a maple tree, hear about the history of syrup making, and find out how technology has changed the way sap is harvested. The group will check actual tapped trees at the nature center and boil down sap to make fresh, warm maple syrup, a sweet treat for all to taste on their special breakfast. Registration is required. No strollers. Coffee and hot cocoa will be served with pancakes. $10 per person.
Westchester County, NY
99 Dromore Road (off Central Avenue), Scarsdale
914-723-3470
Maple Sugaring Party: March 9, 11am-3pm
Family fun to highlight the end of winter and the peak of the maple sugaring season. Featured events include demonstrations of sap collecting, depictions of Native American and Colonial style sugaring sites, candy and porridge making, and crafts.
$10 per person in advance (by March 8); $12 per person at the door.
Route 100, Somers
914-864-7282
Maple Sugaring on The Farm Series: Feb. 23; March 2, 9, and 16, 11am-2:30pm
Families are invited to see the process of making maple sugar from beginning to end. Starting with tapping the farm's maple trees, to seeing the boiling process and sampling the final product. FREE!
Sugaring Off Party: March 16, 1-3pm
Join the party, go on a scavenger hunt, and taste the difference between real and artificial syrup. Note: There will not be a Pancake Breakfast in 2014.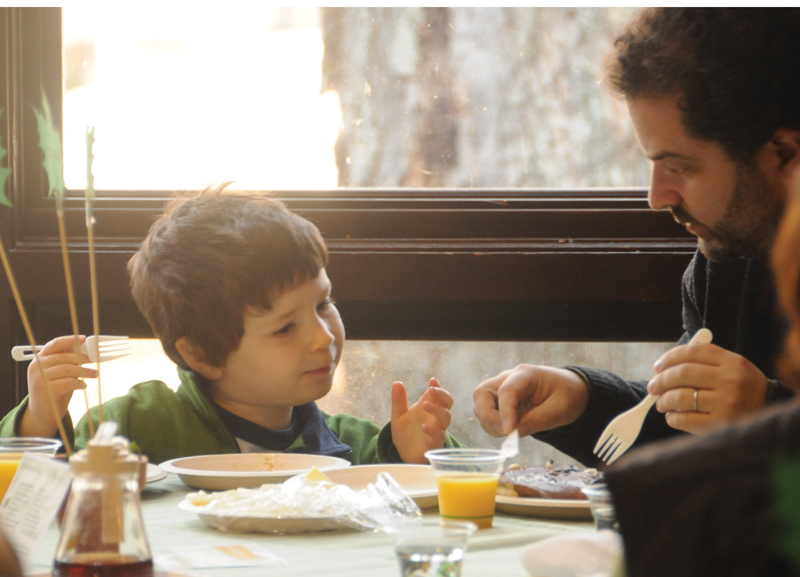 Teatown Lake Reservation
1600 Spring Valley Road, Ossining
914-762-2912 x11
Sugaring Sundays: Feb. 23, March 2 and March 9 at 1pm, 2pm, and 3pm. From tapping to collecting, boiling to bottling, Teatown's naturalists will be in Warren's sugarhouse sharing facts and folklore about this sweet time of year. Registration required. $5.
Pancake Brunch: March 15; seatings at 8:30am, 9:45am, 11am, and 12:15pm. Start your day off with stacks of hotcakes and maple syrup, hot coffee, sausages, and more. Visit the sugarhouse to watch a demonstration of how the "liquid gold" is produced. Call to register: 914-762-2912 x110. $15; $7 ages 12 and younger.
Rent-A-Bucket: Throughout February and March. Love maple syrup? Buy a bucket of your own. Marked with your name, it will hang from one of the trees being tapped. After it's filled, the sap gets turned into syrup in the sugarhouse. $45 (includes two tickets to the Pancake Brunch on March 15, and an 8-ounce bottle of Teatown's award-winning grade-A pure maple syrup). Call to purchase a bucket.
Ward Pound Ridge
The Trailside Nature Museum at Ward Pound Ridge Reservation, Routes 35 and 121, Cross River
914-864-732
Sugarhouse Chat: March 8 and March 22, 10am-2pm. Stop by the sugarhouse anytime for an informal chat with the museum staff as they turn sap into syrup. FREE
Sugaring-Off Party: March 29, 1pm. Celebrate the end of the sugaring season with tasting, toasting, music, and more. FREE
(NOTE: Programs are free, but parking is $10; $5 with a Westchester County Park Pass)
260 Chestnut Ridge Road, Mount Kisco
914-666-844
Adopt a Sugar Maple: Throughout February and March. Adopt a sugar maple at Westmoreland and learn first-hand how to produce delicious syrup from maple sap. Families, groups, and individuals are welcome to adopt one of Westmoreland's sugar maple trees for the sugaring season. Participants should plan to attend a series of programs on Feb. 8, Feb. 22, and March 8 or 9. Each family will receive free admission (four people maximum) to SugarFest 2014 (see below), and one bottle of maple syrup produced from Westmoreland's maple trees. $75 for members only. Only 10 trees are available for adoption (limit one tree per family) so early registration is highly recommended; call or or email [email protected] to register.
Tapping the Sugarbush: Feb. 8 at 10am. Families who have adopted a sugar maple should attend to pick their tree and learn how the sugaring process begins. Tips for selecting the proper tree and hands-on instruction for tapping will be the focus of the visit. Each family will select and tap their adopted tree with the equipment provided.
Sap to Syrup: Feb. 22 at 1pm. Families who have adopted a sugar maple will learn to turn maple sap into maple syrup with an in-depth look at the collection and cooking process. This will also be a great chance for families to visit "their" tree to check in on how much sap the tree has produced to date.
SugarFest 2014: March 8-9; Two Seatings: 9:30-10:30am and 11:30-12:30am. An all-you-can-eat homemade pancake feast served with 100 percent New York maple syrup. Call to register by March 4. $12; $6 children ages 4-10; free children younger than 3.
Maple Sugaring Through the Ages: March 8-9, 10:30am and 12:30pm. Take a look at the evolution of making maple syrup, from the harvesting and processing techniques used by the Native Americans and early colonists through present day. Learn how to tap a tree and take a taste test to see if you can tell the difference between 100 percent maple syrup and imitation syrup. FREE!
More Fun
Search for more fun family activities in the NYC area in our full calendar of events!