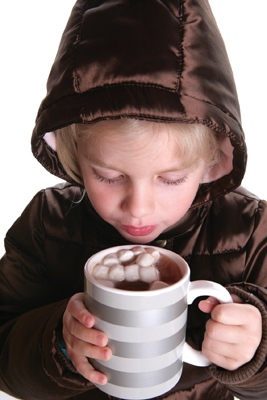 While the weather outside may be turning quite frightful, the length of your holiday shopping list may seem even more daunting. The next time you venture out in the sleet and snow to gather a few more gifts, make it a point to take a break and treat yourself (and your little holiday helper, of course!) to a steaming mug of tea or hot chocolate at one of the cozy spots below. Before you know it, the grumpies will be gone, and you'll be left with that warm, fuzzy, I'm-Dreaming-of-a-White-Christmas feeling.
Manhattan
Alice's Tea Cup is a tea shop with an Alice in Wonderland theme, perfect for parties or an afternoon meal. The shop carries more than 130 varieties of tea in three-cup pot ($6) and six-cup pot ($8) servings, all of which can be included in the Afternoon Tea selections. Options for Afternoon Tea include the "Wee Tea" for children (choice of tea, scone, sandwich from the "menu for the small," and cookies for $15); "Nibble" (choice of tea, scone, sandwich, and cookies for $23); "Mad Hatter" (choice of tea, scones, two sandwiches, and a dessert for $30; $37 for two); and, for those throwing caution to the wind, the "Jabberwocky" (choice of tea, scones, unlimited sandwiches, and two desserts for $38; additional $20 to share). In addition, Alice's serves a traditional hot chocolate, and a "Loco Cocoa," with cayenne, cinnamon, and nutmeg ($4). Open daily 8am-8pm. 102 West 73rd Street; 156 East 64th Street; 220 East 81st Street, Manhattan. 212-734-4TEA.
City Bakery's hot chocolate is made from a secret recipe ($5), and every cup is served with homemade marshmallows. Each February, the bakery hosts an annual Hot Chocolate Festival, featuring a different flavor of hot chocolate each day of the month. Enjoy flavors like Banana Peel, Espresso, Hi-Ho Pistachio, and many more. Open Monday-Friday 7:30am-7pm, Saturday 8am-7pm, Sunday 9am-6pm. 3 West 18th Street, Manhattan. 212-366-1414.
Hot chocolate is the specialty at Cocoa Bar, where the drink comes in a variety of flavors, including dark, milk, mint, spicy, cinnamon, and white ($4-$4.50). Chocolate is also the theme of a variety of different beverages, including the Choco-latte (a combination of espresso, hot chocolate, and syrups), and the Cocoa Bar blend of tea, a black tea mixed with chocolate ($1.85-$2.75). In the evenings, Cocoa Bar features a wine and cocktail menu that offers French hot chocolate, a dark blend made with port, or the spicy chocolate martini made with hot chocolate and sake. Upcoming art shows and Thanksgiving specials are featured on its website. Open Sunday-Wednesday 8am-12am, Thursday-Saturday 8am-2am. 228 Seventh Avenue, Brooklyn (718-499-4080); 21 Clinton Street, Manhattan (212-677-7417).
Jacques Torres makes its own hot chocolate powder from real chocolate. The Classic Hot Chocolate comes with a variety of add-ins, including handmade, all-natural ingredients (no syrups!) like peanut butter, caramel, orange, and mocha. All of these flavors can be mixed with ground ancho and chipotle peppers, which transforms the hot chocolate into Wicked Hot Chocolate (starts at $3.25; add-ins are 50 cents each). Manhattan locations: 350 Hudson Street at King Street; 285 Amsterdam Avenue; 75 9th Avenue in Chelsea Market. Also at 66 Water Street in Brooklyn. Call for location hours. 212-414-2462.
Lady Medl's Tea Salon has been consistently rated the best and most romantic Tea Salon in New York City. The Victorian-style architecture and furnishings help transport customers to a time of sublime elegance. The Five Course Royal Tea Service ($35) includes a seasonal amuse bouche, selection of tea sandwiches, scones with clotted cream and preserves, a slice of Lady Medl's signature cake, assorted cookies with chocolate covered strawberries, and a pot of freshly steeped tea. Reservations required. Seatings: Monday-Friday 3pm-5pm (additional seating Wednesday at 12pm), Saturday-Sunday 12pm, 2:30pm, and 5pm. Located at the Inn at Irving Plaza, Irving Place between 18th and 19th Streets, Manhattan. 212-533-4466.
Max Brenner's hot chocolate (made with 100 percent chocolate) is a light and frothy beverage that comes in dark, milk, white, or Swiss whipped cream varieties ($5.25; $1 for additional flavor shot, from hazelnut to banana) and is served in a Hug Mug. Classic chocolate beverages like Italian Thick Hot Chocolate (with vanilla cream) and Mexican Spicy Hot Chocolate (with red chili, nutmeg, cinnamon, and pepper) are also on the menu. Monday-Thursday 9am-12am; Friday and Saturday 9am-2am; Sunday 9am-11pm. 841 Broadway between 13th and 14th Streets. 212-388-0030.
Serendipity 3 is well known for its tasty desserts and exquisite beverages. Its hot chocolate is $5.50; for an extra 50 cents, customers can get the Serendipitous Hot Chocolate, topped with whipped cream, grated orange, cinnamon, and shaved French chocolate. Other options include the Frrrozen Hot Chocolate ($8.95), Peanut Butter Frrrozen Hot Chocolate ($9.50), and Frrrozen Mint Hot Chocolate ($8.95). Tea-lovers can indulge in one of seven varieties ($3.50 per pot). Serendipity also serves a full lunch and dinner menu. 225 East 60th Street, Manhattan. 212-838-3531.
Tea & Sympathy requests that you come hungry for their Afternoon Tea. Service includes your choice of tea, six finger sandwiches, two scones with clotted cream and jam, and a piece of cake ($35; $60 for two). In addition, Tea & Sympathy stresses a no-frills environment, with a very kid-friendly menu and atmosphere. Tea is also sold by the pot ($4.75), and comes in about 30 varieties. 108 Greenwich Avenue, between 12th and 13th Streets, Manhattan. 212-989-9735.
Brooklyn
The Chocolate Room offers hot cocoa three ways: classic milk chocolate, a 61 percent dark bittersweet chocolate, or a spiced dark chocolate made with ancho chiles, cloves, cinnamon, and chipotle ($4.50). Add homemade marshmallow or fresh whipped cream for an extra 75 cents each. The Chocolate Room also serves a full chocolate-themed dessert menu ($5.50-$10.50), and chocolate teas ($2). Open Sunday-Thursday 12pm-11pm, Friday-Saturday 12pm-12am. Two locations: 86 Fifth Avenue (718-783-2900) and 269 Court Street (718-246-2600), Brooklyn.
Sweet Melissa Patisserie serves three types of three-tiered adult tea options: the Afternoon Tea ($25) includes a pot of tea, scone with clotted cream and preserves, mini quiche, salmon spring roll, curried chicken salad finger sandwich, and an assortment of petit-fours; The Queen's Tea ($35) adds a soup and salad to the meal; and the Champagne/Mimosa Tea ($40) adds a glass of bubbly to the Queen's Tea. For kids, the Prince/Princess Tea ($15-$19.95) includes tea, scone, children's sandwich, and petit-fours. The experience is heightened for children with the available dress-up trunks, featuring an assortment of costumes from princesses to pirates. Sweet Melissa also offers custom-made hot chocolate with real chocolate morsels and homemade vanilla marshmallows. The Mexican hot chocolate is blended with cinnamon and topped with a cinnamon marshmallow (all $4.50/mug, $6/bowl). Open Monday-Thursday 7:30am-10pm, Friday 7:30am-12am, Saturday 8am-12am, Sunday 8am-10pm. Two locations: 276 Court Street (718-855-3410); 175 Seventh Avenue (718-788-2700), Brooklyn.
Queens
Canelle Patisserie's original hot chocolate is a homemade blend of milk and dark chocolate, milk, vanilla, and secret ingredients ($2.25-$3). The French patisserie also serves more than 10 varieties of Harney and Sons full-leaf teas, as well as classic Lipton ($1.25-$1.50). Additionally, it serves a wide array of quiches, sandwiches, cakes, and tarts. Open Monday-Friday 6:30am-8pm, Saturday 7am-8pm, Sunday 7am-6pm. 75-59 31st Avenue, Jackson Heights. 718-565-6200.
Martha's Country Bakery carries a variety of eight herbal teas ($1.95), a chai tea ($3.25), and chai latte ($4.25). It also serves a homemade hot chocolate, blended from melted Hershey's chocolate and steamed milk ($2.25). Seasonal flavor varieties include peanut butter and pumpkin hot chocolates ($3). In addition to delicious beverages, Martha's offers desserts and pastries, including a number of pumpkin-flavored treats for fall. Open Monday-Thursday 6am-11pm, Friday-Saturday 6am-12am, Sunday 6am-11pm. 70-30 Austin Street, Forest Hills (718-544-0088); 36-21 Ditmars Boulevard, Astoria (718-545-9737); 41-06 Bell Boulevard, Bayside (718-225-5200).
Suffolk County, Long Island
Caffé Portofino serves breakfast, lunch, and a full espresso bar in a kid- and stroller-friendly environment. Its rich hot chocolate is made with Guittard chocolate sauces ($2.50-$3) and comes in a variety of flavors. Its specialty hot chocolate, called Campfire Cocoa, is made with milk chocolate and toasted marshmallow syrup and topped with marshmallow cream and graham cracker crumbs. The café carries full-bodied Mighty Leaf teas in 10 varieties ($1.90-$2.40) and offers an organic chai tea latte ($4-$5). Its specialty is the Dirty Hippie, a chai latte with espresso ($4-$5). In November, the café will host a Sunday Jazz Brunch and a free comedy night for parents; more info about both events can be found on the website. 249 Main Street, Northport. 631-262-7656.
Georgio's Coffee Roasters in Huntington sells coffee and teas from all over the world. It offers about 15 varieties of exclusive and exotic teas, including white, black, and green teas ($2.25-$2.50). Its rich and creamy hot chocolate is a blend of dark chocolate, sweetened cocoa, and steamed milk ($2.25-2.50). Georgio's products are eco-friendly and fair trade-certified. 146 West Jericho Turnpike, Huntington. 516-238-2999.
Tea Time Cottage in Jamesport has a casual environment where country music plays in the background, families can enjoy a walk through the garden, and kids can go outside to feed the goats. It offers 42 different types of tea, from white to green to black ($3.95 for one, $7.50 tea for two, $12.95 tea for four), along with a daily flavor of iced tea and hot chocolate ($2.95). For anyone looking to make their own, the cottage also sells its teas loose by the ¼ lb. ($6.95-$19.95). A lunch menu with soups and sandwiches along with scones and a small variety of baked goods is available. 5913 Sound Avenue, Jamesport. 631-722-5329.
The Greenport Tea Company's High Tea for two includes assorted tea sandwiches, scones with jam and cream, mini pastries, fruit tart, and hot or iced tea ($28.75; $55 for the Double High Tea, which serves three to five people). Pots of tea are $2.25-$4.50 per person. It also has a full lunch menu with daily specials. 119A Main Street, Greenport. 631-477-8744.
Robinson's Tea Room is a full-service restaurant that serves both tea and lunch items such as wraps, salads, sandwiches, soups, and quiches. The tea room provides a quaint English cottage atmosphere for customers and offers a traditional afternoon British tea service by reservation. The tea service includes unlimited tea, iced tea, or coffee; scones; assorted finger sandwiches; and assorted desserts ($25 per person). There are about 75 varieties of tea available, ranging from traditional English Breakfast, jasmine, and apricot to more exotic flavors like Chocolate Macadamian Nut and Butterscotch Caramel Toffee. While you're there, also pick up one of their popular scones ($3.50). Open Tuesday-Friday 10am-4pm; Saturday 10am-6pm; Sunday 11am-5pm; closed Mondays. 97 East Main Street, Stony Brook. 631-751-1232.
Urban Coffee is a family-owned shop in Greenlawn serving a wide selection of hot beverages. Its hot chocolate can be made with white, dark, or milk chocolate syrup and regular or soy milk ($2.49 and up). All are made from scratch and steamed in an espresso machine. Add a flavor shot, like raspberry, mocha, peppermint, or peanut butter (a popular choice), to make it a special treat (more than 24 flavors to choose from). If you prefer vanilla to chocolate, try the Vanilla Crème, served hot for the colder seasons. The café carries about 25 varieties of tea ($2 and up), and the most popular is its homebrewed chai, made with all-natural ingredients. If you're looking for a pick-me-up, try the Teaspresso-a strong black tea brewed through an espresso machine ($3.29 and up). A variety of baked goods, including gluten-free and sugar-free selections, are available. Free wireless internet, board games, and occasional live music lend a subdued, sit-down quality to the atmosphere. 101 Broadway, Greenlawn. 631-261-7979.
Nassau County, Long Island
Chat Noir Teahouse offers a country, French- style atmosphere perfect for brunch or afternoon tea. The teahouse carries about 50 different teas, which include selections of black, green, herbal, fruit, and oolong. A Tea Service is offered at $18 and includes finger sandwiches, scones, and a pot of tea. Tea is also served alone by the pot ($4 for one person; $7 for two). Lunch is served as well and prices range from $7-$13. French-inspired pastries are a staple here and specialties include fruit tarts, macaroons, sweet pies, and freshly baked croissants and brioche. Reservations can be made for tea parties for children or any other occasion. Open Monday-Friday, 8am-5pm. 230 Merrick Road, Rockville Centre. 516-208-8521.
The Cupcake Corner provides a whimsical and comfortable environment to relax with a cup of hot chocolate or tea. Hot chocolate ($3.25) is made with Valrhona cocoa and cacao barry. An assortment of teas is also available ($1.25-$2.2). There is also a huge selection of tasty cupcakes and gluten-free pastries. Available for family-friendly parties (by reservation), such as baby showers or children's birthday parties (the store boasts a pink and brown theme and a candy wall). Open Monday-Thursday 9am-8pm; Sunday 9am-5pm. 61 New Hyde Park Road Garden City. 516-328-2253.
The Garden City Hotel's Rein restaurant serves a traditional afternoon tea, which includes tea sandwiches, scones, pastries, and your choice of tea ($29). The menu also includes an A La Carte section. Rein's Polo Room is available for birthday tea parties, baby shower tea parties, and other special events. Reservations highly recommended as afternoon tea is not available every Saturday. 45 Seventh Street, Garden City. 516-877-9353.
The Witches Brew is a funky, family-friendly spot that carries 85 organic, loose-leaf tea varieties, most of which are organic or fair trade-certified. The teas are served in a cast iron pot ($2.75-$4.75). It also carries several varieties of homemade hot chocolate ($3.00-$5.50), including a standard brew made with milk chocolate, coffee, and hot chocolate combos, soy hot chocolate, and a vegan version made with dark chocolate and topped with vegan marshmallows. One of the unique offerings is the Hot Chocolate Float, made with ice cream and topped with whipped cream. November will bring out the fall-themed teas, which include a dark chocolate matte, pumpkin spice tea, "Get Soothed" tea, and a variety of other wellness teas. Stop by for a late night treat-the café is open till 1:30am every Thursday, Friday, and Saturday and 12am every other day (closed Monday). 311 Hempstead Turnpike, West Hempstead. 516-489-9482.
Westchester County, NY
Visit Chocolations' newest location in Mamaroneck (which opened in late September) and sample its multiple frozen hot chocolates, featuring flavors such as peanut butter, mint, caramel, and coffee ($3.50). The shop also carries regular coffee, many tea varieties, regular hot chocolate (starting at $1.50), and a new "decadent" thick, dark hot chocolate, sure to be a parent's delight ($3.50). Chocolations is most well known for its homemade molded chocolates, and in November it will introduce its holiday treats line (perfect for teachers' gifts). Call for hours. 607 East Boston Post Rd, Mamaroneck. 914-777-3600.
After opening the celebrated chocolate shop Cocoa eight years ago, owner Angela Ingrao teamed up with Laurie Vanderwoude to open nearby Bread & Cocoa, featuring their signature thick hot chocolate ($1.85-$4.90) along with new flavors like peppermint and cayenne. Dishing out made-to-order Belgian waffles and paninis, Bread & Cocoa is the perfect spot to grab breakfast or lunch with a rich cup of cocoa. Don't forget to dash across the street for seasonal chocolate turkeys! Cocoa is located at 2107A Boston Post Road, Larchmont; Bread & Cocoa is located at 2110B Boston Post Road, Larchmont. 914-834-6464.
Coffee Labs Roasters, widely known for its sublime selection of sustainable coffees and pet-friendly atmosphere, is proud to announce a bold new hot chocolate featuring small-batch artisan chocolate from the Mast Brothers ($3.50). The shop continues to serve kid-friendly Ghirardelli hot chocolates (starting at $1.50), along with a variety of teas ($1.75-$2.25). In addition to delightful drinks, Coffee Labs serves up locally baked pastries. Open Monday-Tuesday 6:30am-6:30pm, Wednesday-Thursday 6:30am-8pm, Friday 6:30am-10:30pm, Saturday 8am-10:30pm, Sunday 8am-7pm. 7 Main Street, Tarrytown. 914-332-1479.
Dragonfly Café, marked by its exotic Southeast Asian décor, serves more than 30 full-leaf teas (notable brands include Harney & Sons and SerendipiTea), along with an assortment of coffees, hot and cold apple cider, and at least two flavors of hot chocolate drinks. Try one of their chai tea lattes, ranging from a traditional Moroccan taste to a creamy house blend reminiscent of hot chocolate. Drinks range from $2-$5. Breakfast and lunch served daily; menu includes baked goods, wraps, salads, and soups. Open Monday-Friday 6am-7pm, Saturday 8am-7pm, Sunday 8am-6pm. 7 Wheeler Avenue, Pleasantville. 914-747-7477.
Come to The Kneaded Bread in Port Chester for one of more than 20 varieties of bread, but stay for the cocoa. Made from scratch by melting down a bar of semisweet chocolate and frothing it to order, the result is a thick and delicious brew with a hint of cinnamon and cream ($2.75-$3.25). With the fall season comes the arrival of the shop's coveted pumpkin bread and muffins, the perfect compliment to the rich hot chocolate. Open Monday-Friday 7am-5pm, Saturday 8am-4pm, Sunday 8am-1pm. 181 N. Main Street, Port Chester. 914-937-9489.
Lola's Tea House of Pelham, dubbed "a place for simple pleasures," boasts an impressive selection of nearly 30 teas in two-cup pot ($4.50) or four-cup pot ($6) servings (add $1 for premium teas). Stop by for a themed "English Afternoon Tea," ($25; $40 for two) complete with your choice of tea, a scone with preserves and clotted cream, your choice of tea sandwich, and two bite-sized desserts or a slice of cake. For the kids, Lola's offers Children's Tea ($15), including a choice of beverage-tea, hot chocolate, lemonade, milk, or juice-plus a mini scone with preserves, choice of children's tea sandwich, and two bite-sized treats. Open Tuesday, Wednesday, Thursday, and Sunday 12pm-6pm; Friday-Saturday 12pm-8pm. 130 5th Avenue, Pelham. 914-738-2100.
Offering a more exotic blend, Paleteria Fernandez serves up a delicious, homemade champurrado ($3), Mexican hot chocolate thickened with masa harina (finely ground corn powder). The result is a filling, rich blend, the perfect compliment to the restaurant's esquite, a hot corn dish accompanied by seasonings and cheeses ($3.50). Open daily from 10am-10pm. 33 N. Main St., Port Chester. 914-939-3694.
Peekskill Coffee House serves a signature hot chocolate, with the option to flavor it as you please with a selection of 12 syrups. Fall favorites are gingerbread, pumpkin spice, and peppermint ($1.88-$4.03). If you prefer chai, the coffee house offers fair trade and organic tea in original, honey-vanilla, and decaf varieties ($4-$5), or try the yerba mate for a uniquely South American flavor. Live music on Fridays and Sundays. Open Monday-Thursday 6am-9pm, Friday-Saturday 6am-11pm, Sunday 8am-7pm. 101 South Division Street, Peekskill. 914-739-1287.
Silver Tips Tea Room is serious about their love of tea. Home to about 175 varieties of full-leaf blends in two-cup ($2.95), four-cup ($3.50), and six-cup ($4.25) pots, Silver Tips also features an Afternoon Tea that includes two tea sandwiches, a scone with cream and preserves, a slice of cake, and your choice of a two-cup tea pot ($17). A fall favorite is the cranberry-orange hot cider, which takes original apple cider and blends it with fruit tea ($3.50). Stop by during the weekend of November 13-14 to celebrate Silver Tips' 11th anniversary with parties, specials, raffles, and a chance to experience the holiday décor. Open Monday-Saturday 11am-6pm, Sunday 11am-5pm. 3 North Broadway (Route 9), Tarrytown. 914-332-8515.
Slave to the Grind, popular with families and Sarah Lawrence students alike, features three distinctly delicious chai teas for your indulgence: original, vanilla, and spiced. Slave is also home to three hot chocolates - original, peppermint, and hazelnut - and a variety of teas, including herbal raspberry. Relax with a board game or a book in this welcoming and local setting. Drinks range from $1.75-$5. New hours for fall: 6am-11:30pm. 58 Pondfield Road, Bronxville. 914-961-7777.
With three locations in Westchester County, there is no need to travel far to sample Tazza Café's rich, decadent Belgian Sipping Chocolate. In addition, the café serves hot chocolate, frozen hot chocolate, Harney and Sons full-leaf teas, chai teas, and apple cider (all $2-$4). It offers a full lunch menu and a selection of baked goods made on the premises. Open Monday-Saturday 6:30am-7pm, Sunday 7am-5pm. 230 Saw Mill River Road, Millwood; 914-488-5227. 382 Main Street, Armonk; 914-273-0788. 6 Heritage 202 Center, Somers; 914-276-2233.
Rockland County, NY
The newly expanded back seating section of the Art Café of Nyack welcomes more guests to taste the café's wide selection of hot beverages. It serves organic, herbal, floral, and black teas, as well as specialty teas and a Moroccan mint blend ($2.25-$2.50). It also has a chai latte ($3-$3.50), a traditional hot chocolate, and a hot white chocolate ($3.15-$3.65). For those looking for something different, the café offers steamers - a hot milk drink that comes in flavors like caramel or vanilla ($3.15-$3.65) - or a seasonal hot apple cider ($2.75-$3.50). In addition, Art Café has a full menu of breakfast and lunch specialties. Open Monday-Thursday 7am-4pm, Friday-Sunday 7am-5pm. 65 South Broadway, Nyack. 845-353-4230.
Bunbury's Coffee Shop boasts an impressive selection of 20 loose leaf teas including herbal, black, and green teas, as well as fruit tisanes ($1.75-$2.35). Among its long list of hot beverages is a homemade hot chocolate ($3.75-4.75), and with the fall season comes the addition of a hot apple cider served with cinnamon sticks ($1.75-$2.35). Other fall offerings include pumpkin harvest and apple cinnamon muffins. Open Monday-Friday 6am-6pm, Saturday-Sunday 7am-6pm. 460 Piermont Avenue, Piermont. 845-398-9715.
Lulu's Café is a retro-inspired family spot with a full menu of teas, hot chocolate, and meals. Carrying both traditional teas and seasonal flavors like apple and pumpkin ($1.95), the café also offers a chai latte ($3.50) and Ghirardelli hot chocolate topped with whipped cream, chocolate chips, and chocolate syrup ($3.25). Stop by for brunch on Sundays. Open Tuesday-Sunday 11:30am-9pm. 726 West Nyack Road, West Nyack. 845-358-5822.
Temptations Café is a rustic and cozy spot, perfect for families. The café serves about 25 flavors of tea, including herbal, black, and green varieties ($1.50-$2.25), as well as a delicious chai latte ($3.95). Hot chocolate lovers can indulge in the homemade version, which is topped with whipped cream ($2.95-$3.75). The café is also home to soups, sandwiches, and sundaes. Open Sunday-Thursday 11:30am-10pm, Friday-Saturday 11:30am-11:30pm. 80 ½ Main Street, Nyack. 845-353-3355.
Fairfield County, CT
Arogya Tea prides itself on its hundreds of tea and herb varieties, ranging from traditional imported Chinese and Japanese selections, to in-house medicinal blends, to an assortment of flavors, including children's and decaffeinated options ($3). All teas are loose-leaf and the shop is eager to help consumers learn the proper technique for brewing and tasting at in-store workshops. Sampling is encouraged, and Arogya will happily put together variety packs that make perfect holiday gifts. A favorite fall/winter blend is a mixture of chocolate, rosebud, and black tea. Monday-Saturday 9:30am-5:30pm, Sunday 10am-4pm. 131 Post Road East, Westport. 203-226-2682.
Chocopologie offers families the unique opportunity to witness first-hand how hot chocolate and other chocolate treats are made, through viewing windows into the kitchens. And with four choices of hot chocolate, patrons are sure to be pleased. The original is a dark chocolate blend made from 71% cocoa ($5.25). The "spicy" combines South American criollo cocoa beans at 64% cocoa content with a mix of cayenne and cinnamon ($5.25). Kids will love the "mild," a milkier blend with homemade marshmallows ($5.25). Fritz's Hot Chocolate is topped with a passion fruit and ginger foamed milk ($6.50). Another unique take on the drink is the Chocopologie, a blend of espresso and dark hot chocolate that's topped with lavender foam ($5.75). The iced ($5.50) and frozen ($6.50) versions of hot chocolate are available in regular or spicy. Monthly truffle-making class on November 20 at 7pm. Special tours available upon request. Open Monday-Tuesday 11:30am-5pm, Wednesday 11:30am-9pm, Thursday 11:30am-11pm, Friday 11:30am-12am, Saturday 9am-12am, Sunday 9am-5pm. 12 South Main Street, Norwalk. 203-854-4754.
Recently expanded, Cocoa Michelle features a chocolate lounge where one can indulge in an extensive list of artisan chocolates or sip a delicious chocolate beverage. For more advanced palettes, Cocoa Michelle offers a Euro-Cocoa, a thick, rich shot of European sipping chocolate ($2.50). A different spin on the drink comes in the form of the Chocopino, which combines a shot of Euro-Cocoa with milk and foam for a cappuccino-like effect ($2.90). Finally, Cocoa Michelle offers a Choco-Latte, which blends steamed milk with Euro-Cocoa for a more traditional taste ($3.25). In addition to chocolate, the café serves Harney and Sons teas ($2; soon available in pots). Open Monday-Friday 5:30am-5pm, Saturday 9am-5pm, and opening soon on Sundays 9am-1pm. 54 Railroad Place, Westport. 203-221-0020.
Connecticut Muffin has a hot chocolate made from steamed milk (regular or skim), and an assortment of syrups to flavor it to one's liking ($2.70-$3.65). The café also offers more than 10 loose leaf tea blends ($1.60-$2.10; $3.85 per pot), an array of all-natural muffins and scones, and lunch specials, including paninis. Monday-Saturday 5:30am-5pm, Sunday 6:30am-3pm. 108 Main Street, New Canaan. 203-972-7557.
Doc's Café, a favorite stop for morning commuters, offers 25 varieties of specialty teas ($1.75-$2.50), and a homemade chai latte ($3-$4). Other fall favorites include hot chocolate and steamers, made from steamed milk and flavored syrups (vanilla, caramel, almond, etc; $2-$3). In the mornings, Doc's serves homemade muffins, biscotti, and scones to accompany its hot beverages. Monday-Friday 7am-5:30pm, Saturday 7am-5pm, Sunday 7am-1:30pm. 570 Riverside Avenue, Westport. 203-226-9444.
The Drawing Room, a home accessories shop with an adjacent tea and espresso bar, offers an expansive list of full-leaf teas that revolve with the seasons in two-cup ($4.95) and four-cup ($7.95) servings. For breakfast, the classic Cream Tea ($13.95) offers two scones with clotted cream and choice of jam, and a small pot of tea. Later in the day, try the three-tiered Afternoon Tea ($26; $52 for two), including a freshly baked scone, clotted cream, artisan jam, an assortment of six finger sandwiches, a selection of desserts, and of course, a small pot of your choice of tea. In addition, The Drawing Room offers catering to groups of 10 or more. Open Monday-Saturday 8am-5pm. 5 Suburban Avenue, Cos Cob. 203-661-3406.
The 100% organic and eco-conscious menu at Kaia Café & Organic Juice Bar features a list of more than 20 organic teas that can be enjoyed by the cup ($2-$3), or in two-cup ($3.50) and four-cup ($5.50) pots. Flavors range from herbal and black to more exotic blends, such as the Pu-erh (a fat burning tea), or the Red Raspberry (recommended during pregnancy). In addition, the café offers an organic hot chocolate ($3.50-$4.50), an array of flavored lattes ($3.75-$4.75), and a full-organic menu. Open Monday-Friday 7:30am-8pm, Saturday-Sunday 8am-6pm. 328 Pemberwick Road at The Mill, Greenwich; 1200 Post Road East, Westport. 203-532-0660.
The Little Chocolate Company makes every cup of its homemade hot chocolate from scratch, combining Belgian chocolate shavings with milk and topping them off with a dollop of freshly whipped cream. This winter, the café offers single-origin hot chocolates, which use chocolate made from cocoa beans harvested in specific countries such as Mexico or Sao Thome, in addition to a sweeter white hot chocolate that kids will love. The Little Chocolate Company also serves freshly-brewed, Connecticut-roasted organic coffees, including chocolate cherry and chocolate truffle flavors, as well as Harney and Sons teas. All beverages are to-go ($2.50-$3.50). Open Monday-Thursday 9:30am-4:30pm, Friday-Saturday 9:30am-8pm. 99 Mill Street, Greenwich. 203-531-6190.
New Canaan's Rosie is the perfect stop for families looking to warm up this fall. Rosie's homemade hot chocolate is a blend of steamed organic milk and dark Belgian chocolate served with whipped cream ($2.50-$4). Other hot treats include cappuccinos made from Italian coffee ($3.75), and a November special, the hot mulled cider ($3). Rosie also offers a full organic children's menu, or will serve smaller portions of its regular menu items. Kids will love the full basket of toys in back to play with while waiting for their food. A New Orleans-style brunch is served on Sundays. Open Tuesday-Saturday 8:30am-5:30pm, Sunday 9-3. 27 Elm Street, New Canaan. 203-966-8998.
Schakolad Chocolate Factory offers three varieties of hot chocolates ($3.50) at its Stamford location-a sweet white chocolate blend, classic milk, and a bitter, rich dark chocolate. Its signature frozen hot chocolate ($3.50) is also available in these three flavors, and is sure to delight the tongue. The shop offers a wide assortment of truffles to compliment its chocolate beverages. Open Monday-Friday 11am-6pm, Saturday 11am-5pm. 172 Bedford Street, Stamford. 203-359-1886.
Sono Caffeine carries a wide selection of specialty coffee and tea drinks, served either iced or hot. For chocolate lovers, taste the Hot Dark Chocolate ($3.70) or Hot Blanca White Chocolate ($3.95), both mixed from Ghirardelli chocolate and creamy steamed milk. Add flavors like pumpkin spice or banana, or whipped cream for an extra 50 cents. In addition, Sono Caffeine has hot apple cider for fall, and more than 10 varieties of loose-leaf tea ($4.75 per two-cup pot). The café's extensive list of gourmet desserts, cheeses, and truffles also make for a worth-your-while visit. Open Monday-Tuesday 7:30am-6pm, Wednesday 7:30am-8pm, Thursday 7:30am-10pm, Friday 7:30am-11pm, Saturday 8am-11pm, Sunday 8am-8pm. 133 Washington Street, Norwalk. 203-857-4224.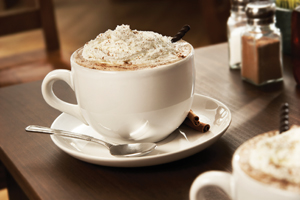 Tea Blossom started as just a tea boutique, but has recently added its "tea-to-go" service, allowing customers to enjoy a cup as they browse or on the run ($2.50 and up). The shop offers more than 90 varieties of loose leaf blends and puts together a monthly sampler pack, which is geared towards the weather or season. In addition, Tea Blossom stocks teapots, cups, accessories, and tableware. Open Tuesday-Friday 10am-5pm, Sunday 10:30am-5pm. 64 Garth Road, Scarsdale. 914-472-1128.