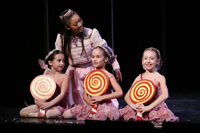 It wouldn't be the holidays without The Nutcracker. Wherever you are, whatever your budget, however old your kids are, there sure to be a performance of The Nutcracker your family won't want to miss. Here are some options:
MANHATTAN


New York City Ballet
New York State Theater at Lincoln Center
212-870-5570; www.nycballet.com
Little Marie at the Christmas party, the marching toy soldiers, the adorable mice, the Sugarplum Fairy and Mother Ginger in her 85-pound dress. A dreamy onstage snowstorm and Tchaikovsky's memorable music. So many beautiful ballet dancers, so many magical sets, and the one-ton Christmas tree that no one can ever forget. November 28-January 3. $20-$215.


New York Theatre Ballet
Florence Gould Hall
55 East 59th Street
212-355-6160; www.nytb.org
A one-hour Nutcracker performed in a an intimate theater that seats fewer than 400, allowing children to feel like they are part of the show, from Uncle Drosslemeyer's opening greeting to the final moments when Clara awakens from her amazing dream. Choreographed by Keith Michael, NYTB's production is the only hour-long professional Nutcracker in New York City created especially for children. December 12, 10am; December 13, 11am, 1pm, 3:30pm; December 14, 11am, 1pm, 3:30pm; December 20, 11am, 1pm, 3:30pm; December 21, 11am, 1pm, 3:30pm. $25-$30.


Peter Norton Symphony Space
2537 Broadway
212-864-5400; www.symphonyspace.org
Valentina Kozlova's Dance Conservatory on New York (VKDCNY) performs its annual production of The Nutcracker. Journey with the talented and award-winning students from VKDCNY to the Land of Snow and the Land of Sweets with the beautiful Sugar Plum Fairy and her Cavalier. December 13, 4pm and 8pm. $30, $20 for seniors and students.


Vital Theatre Company
2162 Broadway, 4th floor, at 76th Street
212-579-0528; www.vitaltheatre.org
A production of The Klezmer Nutcracker. Sara is miserable at the family Chanukah party. But when mysterious Tante Miriam arrives with the gift of a Golden Dreydl, everything changes. The Dreydl, an enchanted princess in disguise, whirls Sara away on an exciting adventure through a magical world. A delightful holiday tale that weaves together threads of folklore and tradition with fantasy and humor. December 6-January 3. $20.


Skirball Center for the Performing Arts at NYU
566 LaGuardia Place, at Washington Square South
212-992-8484; www.skirballcenter.nyu.edu
Students from the Joffrey Ballet School perform Nutcracker 2008. December 12, 7pm; December 13 and 14, 2pm, 7pm. $25-$65.
BROOKLYN


Brooklyn Center for the Performing Arts at Brooklyn College
2900 Campus Road
718-951 4500; www.BrooklynCenterOnline.org
Tchaikovsky's brilliant music comes to life in Yorktown, in The Colonial Nutcracker, complete with a red-coated mouse army, an enchanted nutcracker prince, and compelling narration that will illuminate this timeless story for both the young and the young at heart. Created especially for children, this hour-long version of the holiday ballet is performed by Dance Theatre in Westchester. For grades pre-K to 6. December 14, 2pm. $6.
Photo Caption: The Colonial Nutcracker at Brooklyn Center for the Performing Arts


Leonard M. Goldstein Performing Arts Center at Kingsborough Community College
2001 Oriental Boulevard
718-368-6680; www.kbcc.cuny.edu
Resplendent in breathtaking costumes, dancers from Brighton Ballet Theatre's professional and junior companies recreate that magical night when a young orphan girl named Marie is astonished to see a nutcracker and other toys come to life, doing battle and dancing in her living room. Recommended for ages 5 and up. December 16, 2pm. $10.


Brooklyn Music School Playhouse
126 Saint Felix Street, between Hanson Place and Lafayette Avenue
(718) 638-5660/5661; www.brooklynmusicschool.org
Tchaikovsky is transported to Brooklyn for the ninth consecutive year as A Brooklyn Nutcracker returns to the Brooklyn Music School Playhouse. Students, faculty and guest artists perform against the background of familiar Brooklyn landmarks like Coney Island and Brighton Beach. December 11-14. Call for times. $25; $15 ages 18 and under.
QUEENS


Flushing Town Hall
137-35 Northern Blvd.
718-463-7700; www.flushingtownhall.org
Join Ballet for Young Audiences on an enchanted visit to the Land of Sweets, filled with the glorious music of Tchaikovsky. December 21 and 28, 2pm. All ages. $10-$15.


Colden Auditorium at Queens College
65-30 Kissena Boulevard, Flushing, at corner of LIE.
718-793-8080; www.kupferbergcenter.org
Moscow Ballet's full-length The Great Russian Nutcracker is performed by an all-Russian cast, with spectacular scenic design and sumptuous costumes. December 28, 3 pm. $24, $12 ages 12 and under.
Queens Theatre in the Park
Flushing Meadows Corona Park, 11101 Corona Ave
718-760-6565; www.flushingmeadowscoronapark.com
Ballet for Young Audiences – a ballet for the young and young at heart! December 28, 1pm and 4pm; December 29, 1pm and 4pm. $9-$12
THE BRONX

Hostos Center for the Arts and Culture
450 Grand Concourse
718-518-4455; www.hostos.cuny.edu
The Bronx Symphony Orchestra and Contemporary Ballet Theatre present The Nutcracker, conducted by Jose Alejandro Guzman. Call for dates. $12, $7 children.
WESTCHESTER COUNTY

Yorktown Stage
1974 Commerce Street
Yorktown Heights
914-271-6833; www.yorktownstage.org
A Yorktown Stage classic! The tale of a young girl's Christmas Eve journey to a place with an evil Mouse King, waltzing flowers, and dancing candles was created more than 100 years ago by Russian composer Piotr Ilych Tchaikovsky. Saturday, December 20, 1pm and 5pm; December 21, 1pm. $25, $19 children under 12.


Paramount Center for the Arts
1008 Brown Street, Peekskill
917-739-2333; www.paramountcenter.org
New York Theatre Ballet (NYTB), a New York City-based company, has created a unique hour-long production of this enchanting holiday ballet especially for families. Founded in 1978 by artistic director Diana Byer, NYTB is the most widely seen chamber ballet company in the U.S. December 5, 7:30pm; December 6, 1pm. $10-$25.


Purchase College Performing Arts Center
735 Anderson Hill Road, Purchase
914-251-6200; www.artscenter.org
Purchase Dance Corps brings you an original version of this classic tale. Guest artists from the New York City Ballet and more than 100 area children join in to present this spectacular production. December 5, 7:15pm; December 6, 2pm and 7pm; December 7, 1pm and 5pm. $25-$50.
Westchester County Center
198 Central Avenue, White Plains
845-454-3388; www.countycenter.biz
The production features 90 professionally trained student dancers from communities throughout Westchester and neighboring counties, along with two professional guest soloists. Under the direction of Beth Fritz-Logrea and Jean Logrea, this production includes spectacular scenery and costumes, classic choreography, and special stage effects that rival the best productions in the New York metropolitan area. December 19, 10am; December 20, 12:30pm and 4:30pm; December 21, 2pm. Advance sales: $18, $12 children; day of performance, $22 all tickets.
FAIRFIELD COUNTY


Westport's Academy of Dance
Staple High School, 70 North Avenue, Westport
203-226-9987; www.westportdance.com
Westport's Academy of Dance will present its 27th production of the holiday classic The Nutcracker. The Academy will perform E.T.A. Hoffman's enchanting story set to Tchaikovsky's luminous music in a full-length production featuring more than 100 local children, ages 6-18, as well as guest artists and professionals. December 6, 3pm and 7pm; December 7, 2pm. Ages 3 and up. $25, $15 for students and seniors.
The Ridgefield Conservatory of Dance Ridgefield Playhouse for Movies and the Performing Arts, 80 East Ridge Avenue, Ridgefield 203-438-5795; www.ridgefieldplayhouse.org This Nutcracker captures all the wonder and childlike joy of the season with exquisite costumes and choreography under the artistic direction of Anthony Jones. Featuring professional dancers and students from the Ridgefield Conservatory of Dance. December 13, 2pm and 6pm; December 14, 2pm. $25. New Haven Ballet Shubert Performing Arts Center, 247 College Street, New Haven 203-624-1825; www.capa.com/newhaven. The traditional story of The Nutcracker is brought to life in this classical ballet performed by students of the New Haven Ballet, with music by Orchestra New England. December 12, 7:30pm; December 13, 2pm and 7:30pm; December 14, 2pm. $18-$53.
ROCKLAND COUNTY


Rockland Youth Dance Ensemble
Cultural Arts Theatre at SUNY Rockland Community College
845-624-7933; www.sunyrockland.edu
This year the Rockland Youth Dance Ensemble (RYDE) presents its 28th annual production of The Nutcracker, under the artistic direction of Diane Frankel. December 7, 7pm (special for disabled residents and senior citizens); December 13, 3pm and 7pm; December 14, 1pm and 4pm.
BERGEN COUNTY

Bergen Performing Arts Center
30 North Van Brunt Street, Englewood
201-227-1030; www.bergenPAC.org
Year after year, this traditional production of The Nutcracker never fails to enchant youngsters and grownups alike with special effects, colorful costumes, gorgeous scenery, and dancing by New Jersey Ballet's acclaimed troupe of international artists. December 6, 1pm and 4:30pm; December 7, 4:30pm. $20-$50.


Paper Mill Playhouse
Brookside Drive, Millburn
973-376-4343; www.papermill.org
A spectacular holiday production featuring the Paper Mill Orchestra, a cast of over 90 performers, stunning sets, the Sugar Plum Fairy, toy soldiers, an enormous Christmas tree, the villainous Mouse King, and Clara and her valiant Nutcracker Prince. December 19, 8pm; December 20, 2pm and 7pm; December 21, 1pm and 6pm; December 22, 7pm; December 23, 7pm; December 24, 2pm; December 26, 2pm and 7pm; December 27, 2pm and 7pm; December 28, 1pm and 6pm. Ages 4 and up. $19-$54.