You may wonder "Is yoga right for my child?" but the answer is simple: yoga is beneficial for everyone. Yoga helps kids stay healthy but it also helps kids release stress and gain confidence. Yoga classes for kids are all-inclusive, and you can practice yoga poses at home with your child, too.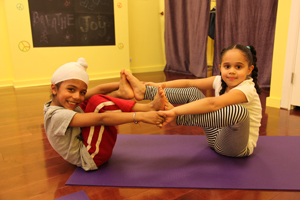 What's the remedy to easing the stress of our overscheduled, homework-laden children? Curling up with a good book is always a relaxing (not to mention educational) escape, but there's a more physical alternative to releasing that pent-up energy: yoga.
If you're already a yoga devotee, it probably comes as no surprise that your discipline of choice also has real benefits for children. But if you're more the type to don yoga pants just for school pickup and errands, yoga may seem like an unlikely choice for your kid.
"Yoga provides us with tools to maximize our health and to gently soften the hard edges of our lives," says Vitalah Simon, M.Ed., RYT-500, LCAT, ADTR, a teacher and therapist at YogaShine in Valhalla. It is a wonderful entry into physical activity for youngsters who are not predisposed to ultra-competitive sports, as well. Through the yoga tradition, Simon says, "We are invited to treat our bodies with respect rather than force, and to let go of our needs to push ourselves."
We gathered advice from physical therapists and yoga instructors who teach kids sun salutations and downward-facing dog to see what advice they had to share.
Introduction and Benefits
If you've considered trying yoga before, getting involved with your child may be a great way to start your own practice. Kids as young as 2 can participate in yoga during parent-child classes. By age 4, they're able to take classes on their own. And, unlike some activities that require children to have already developed fine motor skills, yoga has no prerequisites.
"Yoga can actually help teach younger kids certain motor skills such as balance, walking, and sitting upright," says Regina Petralla, the LifePower Yoga department head at Syosset Life Time Athletic. "For older kids yoga can help build strength and agility."
By working on strength, flexibility, and body awareness, children not only master age-appropriate motor skills, but also prevent injury and ensure their bodies will grow in a healthy way. These skills help children become successful in physical education classes. They're also more likely to use these skills during after-school activities such as soccer, piano lessons, karate, or swimming, as well as many others, says Magda Oledzka, pediatric physical therapist at Manhattan's Hospital for Special Surgery's CA Technologies Pediatric Rehabilitation Center. Oledzka uses yoga postures with children as young as 6 months old.
Children who practice yoga learn about mental calmness, experience stress reduction, increase their self-awareness, build confidence, and improve their self-esteem. Children who have a hard time concentrating will be able to improve those skills too.
An All-Inclusive Approach
Yoga isn't just for typical kids. Children who have special needs can thrive thanks to yoga, too. Special needs yoga and movement therapy provide an effective tool for building new motor and behavior skills in children with special needs. A yoga instructor who specializes in special needs will pay attention to the developmental needs of the child and create movement challenges, yoga postures, and games that specifically address each child's needs, helping children become grounded, improve their impulse control, and become more respectful of themselves and others.
"Yoga for special needs children helps re-establish harmony within the child and the family," says Simon, who uses therapy to help children with ADHD, developmental disabilities, autism, physical limitations, excessive aggression, and depression. "Very often children's difficulties or limitations are manifest in their behavior and in their bodily expressions."
Parents must make sure that their child's instructor is certified to work with their children. Unlike adult instructors, certified kids' yoga instructors are trained to add an element of fun to their classes through stories, songs, games, and imagination. Most teachers have heightened levels of compassion, steadiness, and playfulness. Many teachers also use different names that focus on animals or child-friendly terms to help children stay engaged with the practice.
More importantly, if children have special needs, parents must make sure that teachers have advanced training. Parents should ask about the instructor's experience in working with children and their level of comfort with various conditions.
Bringing the Zen Home
Once children start practicing yoga, parents who haven't participated can still get involved in the classes. There are DVDs and online resources for parents who want to help their children practice at home.
"Parents can take yoga themselves to reduce one's own stress levels," Oledzka says. "As parents become calmer and less stressed, they are more able to see what will help their child."
Parents can work through several easier positions with their children, too, Petralla recommends. Children can easily learn poses such as tree, where they stand on one foot and bend the opposite leg until the sole of the foot meets with the opposite inner thigh. The pose helps build balance and coordination. In butterfly position, children sit on the ground, bend both knees and bring the soles of their feet together to stretch the legs and spine. Cat-cow, which allows you to arch your spine toward the sky while on your hands and knees, strengthens the spine and abdominals. Downward-facing dog, cobra, and child's pose are also top choices to stretch the legs, spine, chest, lower back, and shoulders.
"Yoga is about enjoying whatever your body can do with peace and curiosity, and challenging yourself to do just a little more, without force," Simon says. "Each student is unique and there are no 'best' positions for kids, other than the ones they love to do or have fun being challenged by."
To learn about yoga poses you and your child can do in the comfort of your own home, visit nymetroparents.com/poses.